THHS musicians perform in an eventful month of concerts and festivals

Last Friday, the THHS Jazz Band, Chamber Strings, and Wind Ensemble played both installments of their spring concerts for an in-school performance, concluding their annual lineup of school concerts. While the event was marked by the momentous yet familiar occasion of performing in-person for the first time since 2019, it was just as much of a celebration of the THHS music program's eventful month. 
In recent weeks, the school's musicians earned several honors in the New York State School Music Association (NYSSMA) festival, performed in the spring concert and said their goodbyes to student teachers Carlin Lee and Juliana Grant. Then today, the THHS Wind Ensemble is traveling to Washington D.C. to perform in a series of various concerts.
Prior to leaving for the Washington D.C. trip, The Classic spoke to music teacher and band and wind ensemble director Kevin Heathwood. He was quick to highlight his musicians' ability to improvise and improve their craft despite the chaotic performing schedule and setbacks due to COVID-19. "With this year and all these performances, we've created new traditions and the legacy that the seniors are leaving the underclassmen is just gonna be a continuous, year after year process of elevating the program to be able to perform at the highest level," he said.
He also credited his band and Wind Ensemble student leaders and student teachers for helping make all the performances and events possible by managing the logistics of every event. He said, "because of the student leadership that we're able to do all this stuff… it's impossible to [navigate through everything] unless you have a team. And in addition to that, I've been fortunate enough to have student teachers with me this year, Mr. Carlin, Mr. [Matthew] Innamorato and Mr. [Daniel] Roman. They helped me be able to delegate." 
The band board is led by president Alyse Sayed (senior), vice presidents Matthew Merino (senior, and Matthew is also a Classic editor) and Aviv Fetaya (senior), treasurer Kiera Chan (sophomore), financial secretary Regina Abes (sophomore), secretary Kaitlyn Kaii (junior), librarian Noor Muneeb (junior), band manager Ella Quan (freshman) and concertmaster Rebecca Ortiz (junior).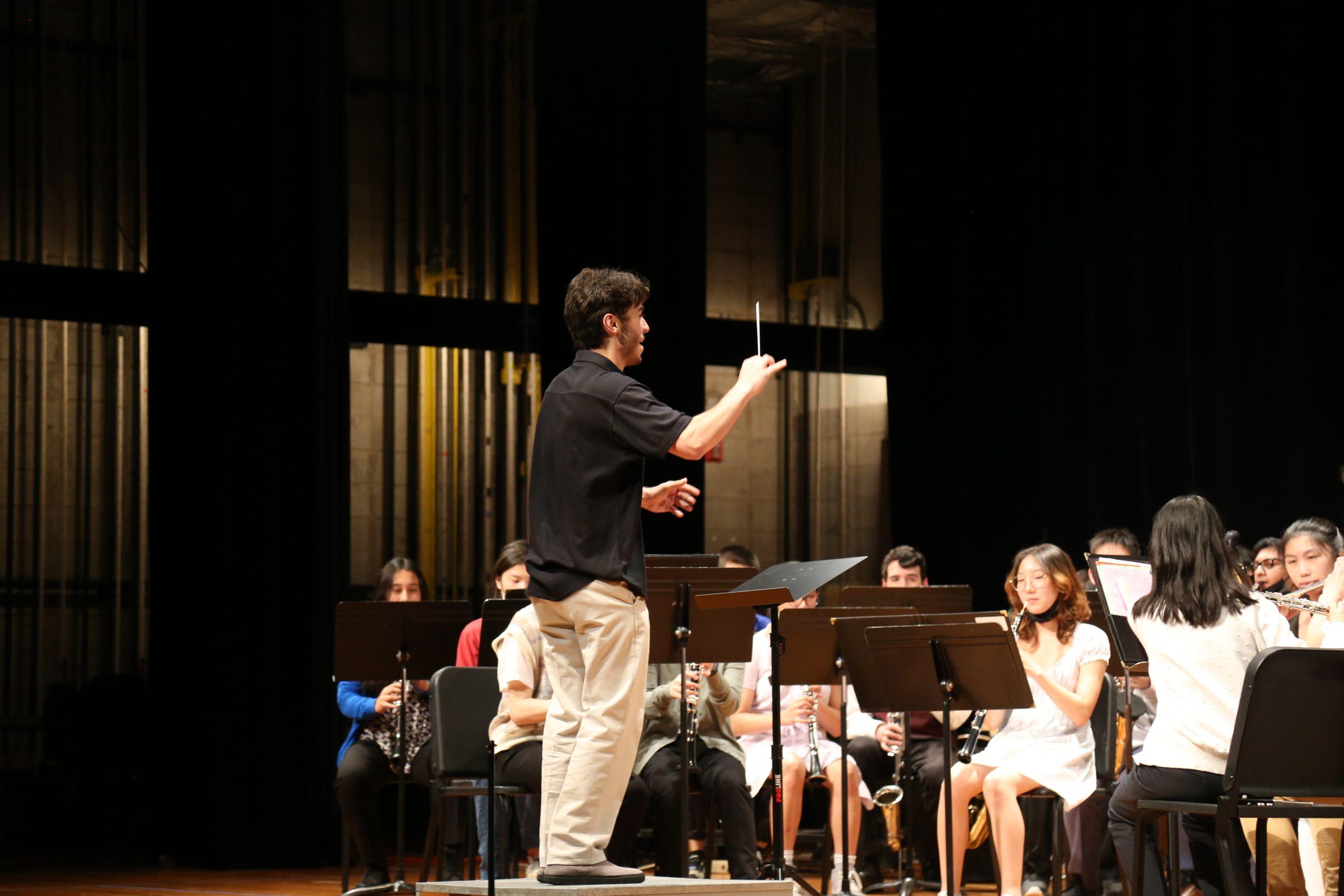 NYSSMA
At the NYSSMA festival, the THHS Jazz Band, Chamber Strings, and Wind Ensemble groups partook in the event, earning several honors. The chamber strings captured gold, the wind ensemble claimed silver, and the jazz band received a bronze medal. 
Chamber Strings director and music teacher Christopher Lee was quick to praise the work ethic of the orchestra members. Amused by the students' attentiveness and eagerness to improve even after being awarded the gold medal, he said, "as far as I being a music director goes, we are riding on the coattails of the successes of our students. I have tremendously talented students and I'm very fortunate."
Senior and violinist Amelia Harrington, who is a Classic editor, credited the success of chamber strings to their instructor, Mr. Christopher Lee. "Mr. Lee has created a laid back but simultaneously productive environment for students that makes them feel comfortable and welcomed. I always felt that I was part of the group in orchestra and that when my suggestions or thoughts on our music were constructive, they would be received openly by others. If a few of us make an obvious mistake, we all stop and laugh, with little to no tension or conflict regarding it," she said. 
Alyse found the experience to be memorable, especially because it was one of the few times she was able to perform due to the pandemic. She said, "NYSSMA Majors this year was the first time I had attended NYSSMA in person since my freshman year, and having the opportunity to perform one last time before graduating is an honor that I am deeply grateful for."
Reflecting on the experience, Matthew Merino, said, "Knowing that it would be my only appearance after the previous two years got canceled by COVID, I felt that moment meant much more than it seemed compared to the experience of an underclassman." Although he was slightly disappointed that judging that day was harsher than usually seen at NYSSMA festivals, he believed that ultimately he and his fellow musicians can be proud of their improvement over the final two weeks leading up to the festival. 
Regina said, "When we played at NYSSMA, I personally felt like all the work we've put together as a band throughout the school year was coming together in those few performances. Many parts of the pieces we learned were definitely challenging, and being able to play them in a major festival in front of judges made the time and effort put into those pieces feel worth it."
Mr. Heathwood expressed his pride in his musicians and hopes that participating in events such as NYSSMA can help the THHS music program expand and offer more opportunities for students. "As far as all these extra things that we're doing, it puts Townsend's musicians on full display to show the world that music is great here at Townsend. Maybe we're not quite known as well for music yet, but stuff like this, it will give our students the opportunity to shine at the highest level," he said.
Spring Concert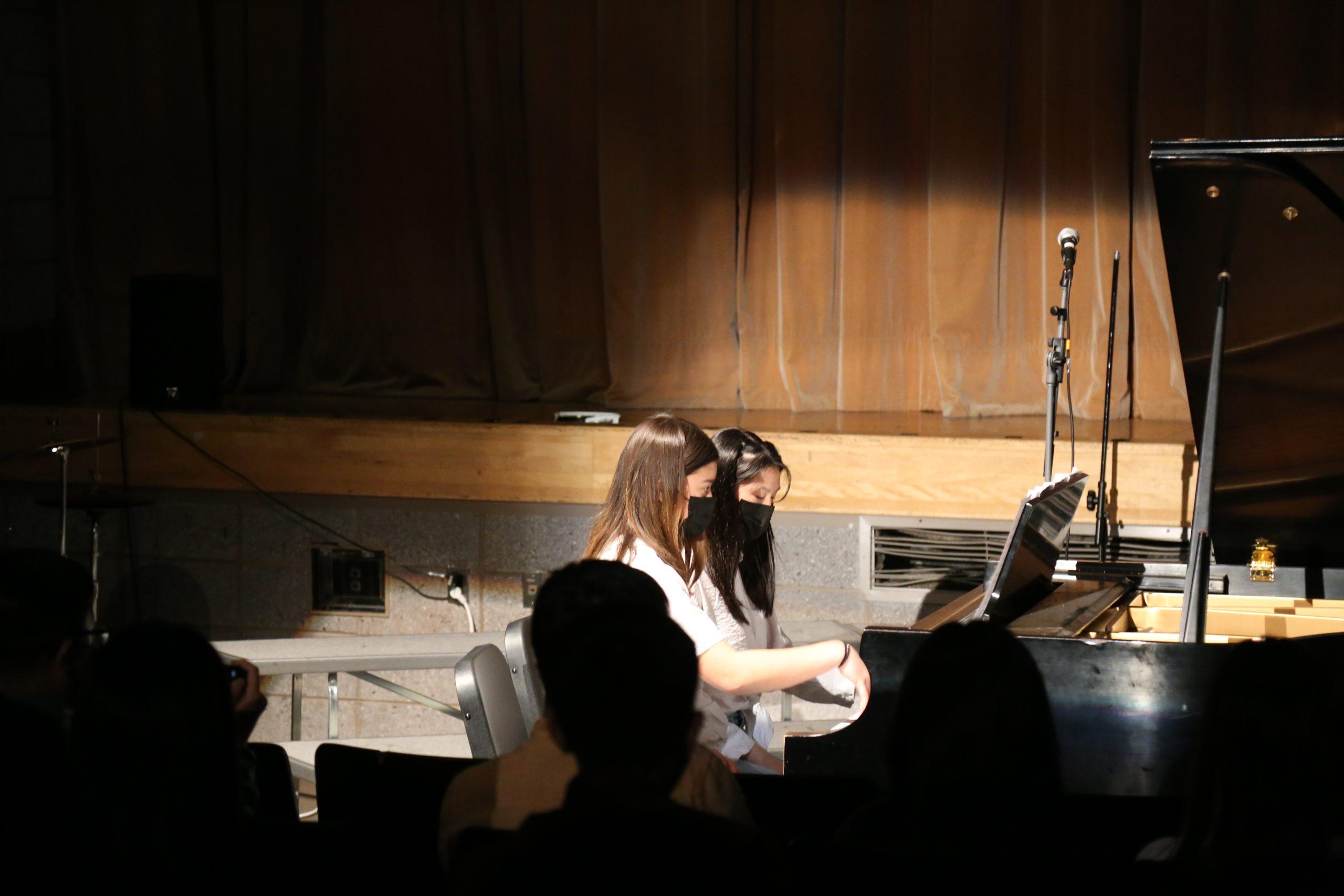 At the Spring Concert, the Jazz Band, Chamber Strings, Hawkapella, chorus and Wind Ensemble performed in three shows. The musicians played different compositions in each of the first two shows on Tuesday, May 24, and Thursday, May 26, but on the final show on Friday, May 27, they performed all the compositions from the previous two shows. Musicians reprised compositions from NYSSMA, and various other performances from the year. Among some of the highlights, senior Nathan Lin and sophomore Nicolas Lin performed together in a violin duet with junior Lana Yepifanova's piano supporting, Lana and senior Juney Liu played a piano duet rendition of the Attack on Titan theme, and the wind ensemble played a rendition of the Wii theme song. Then to cap off the show, the wind ensemble performed a rendition of various musical scores, including the La La Land soundtrack. Mr. Heathwood and Mr. Christopher Lee also gave remarks on the growth of THHS' musicians since the pandemic, and the footprint left by the school student teachers. At the end of the concert, Mr. Heathwood's band students took some time to thank Mr. Heathwood and Mr. Carlin Lee for their mentorship. 
Commenting on the gesture, Alyse said, "he [Mr. Heathwood] began his time at THHS during my freshman year, so my high school journey has aligned with his as the director of the Wind Ensemble. In the same ways that I have grown as a musician, I have been able to witness and experience Mr. Heathwood's growth and how greatly he has transformed the music program at THHS. Mr. Heathwood's presence and guidance has not only strengthened my passion for music, but he has revived the Wind Ensemble from simply a class to a pivotal experience for the growth of each of the members as musicians."
Both Mr. Carlin Lee and Ms. Grant returned to perform at the Spring Concert after their stints as student teachers ended. In describing their returns, they both spoke fondly of being able to work with their students one last time for the concert. Mr. Carlin Lee said, "both Mr. Heathwood and I were completely overjoyed with how good the band sounded, but also how much fun everyone was having. To me, the latter is far more important. The audience was engaged and full of proud parents, the students were fully committed to being the best they could be, there was celebration, it was all a teacher could really ever ask for. The fact that it was essentially the last show I'd be putting on with the band does make the event bitter sweet, and the seniors wrote me a really touching card, but overall it was an amazing, unforgettable few days."
Ms. Grant said, "I think what was so special about this concert was I was feeling everything the students were feeling. This was my first concert conducting an orchestra, so I can imagine I was just as nervous as some of my students, but I also think that I was just as excited as them. I think this mix of excitement and nervous combined created the best performance of the Dvorak piece I have ever heard from the group. I could not be more proud of all of the students I had the pleasure to work with. It felt great to see everyone again after so long and it felt even better to make such amazing music with everyone."
Speaking on the impact of his two student teachers, Ms. Herrera and Ms. Grant, Mr. Christopher Lee said,"it's nice for the students to see someone who is in the early stages of teaching and also learning their craft and I also learned a lot just working with her."
Mr. Heathwood also spoke about how the ability to return and perform in front of a live audience meant so much to the band and made for a memorable experience. He said, "all year we've been working towards a certain arrival and after two years of not being able to play, it means a little bit more this year than it has in previous years. The concert, our first in-person concert in almost three years, was such an accomplishment to be able to get to that point." 
"I didn't care about wrong notes. I didn't care about cracked notes here and there. Not that there were many because they just played so well, but it was more about being in the moment and creating a memory," he said."They felt that special moment that you feel when you're performing and, and that's why we do all the work that we do."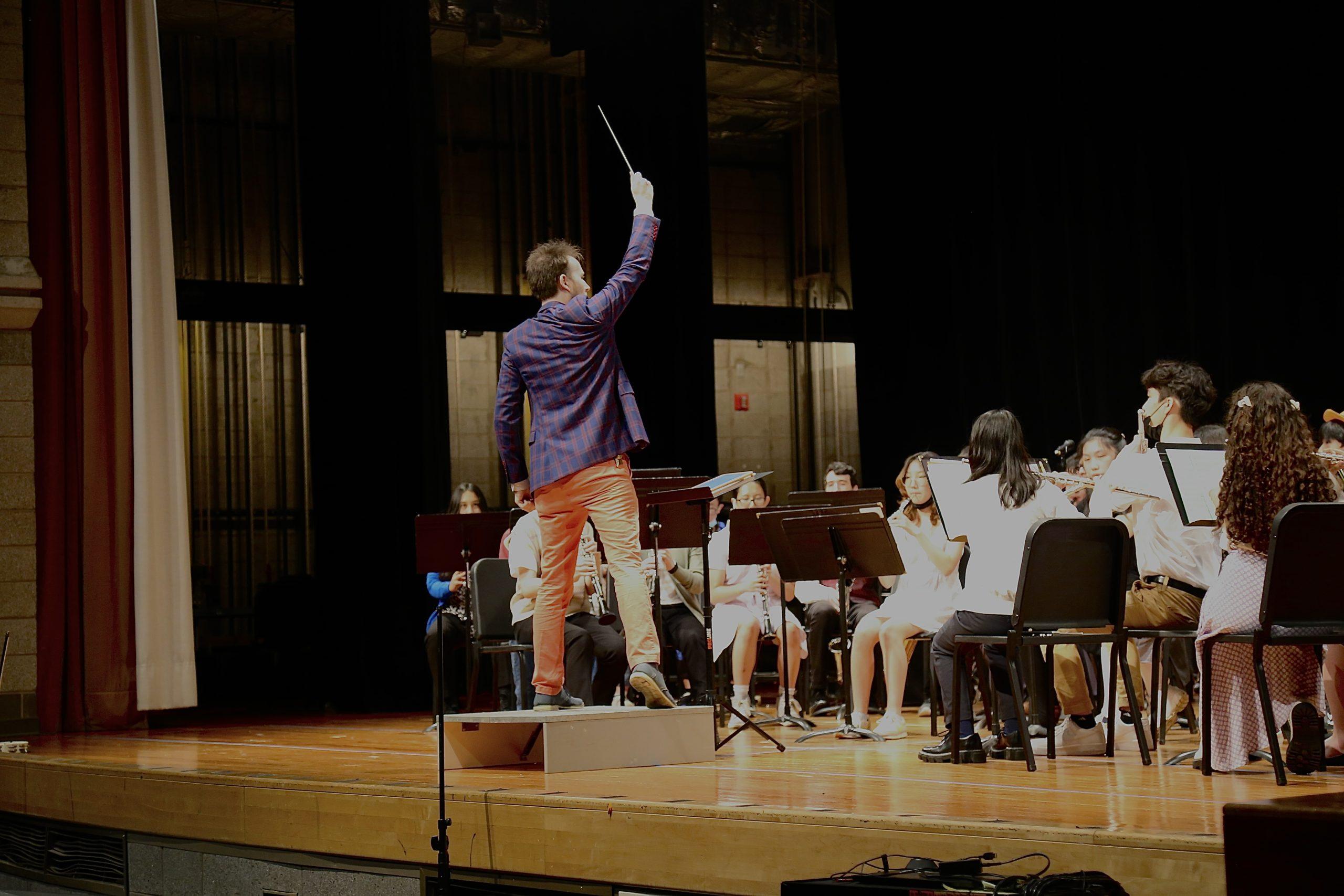 Senior and French horn player Matthew Babayev expressed a similar sentiment, viewing the opportunity to perform in one last spring concert as a way to "unplug from the craziness of the world." "Despite everything, we were able to make music virtually and eventually come back to perform in person. The revival of the music program is a light at the end of the tunnel," he said. 
Thinking back on the spring concert, Mr. Lee admitted that the unfamiliarity of navigating through all the performances after quarantining for two years was challenging, but also rewarding. "It's like being a first year teacher, again, trying to work things out and to put the events together. But, it's exciting, and it was fun. I think that was important for me because if I'm having fun, I think none of the students will be having fun," he said.
Reflecting on the experience of performing at the spring concert one final time, senior and bass guitarist Rakin Haq discussed how his passion for music helped guide him through the workload of balancing band with his other commitments. "I love music and performance so I had done everything I could to be able to play in all the events especially since this is my last year, but necessary sacrifices had to have been made for me to be able to get through everything."
For the THHS music program, the return of past traditions such as the spring concert and expansion into new festivals, honors and events give hope of an upward trend from the pandemic. For many however, it is a bittersweet chance to end high school on a high note. 
"The Townsend Harris band program is still coming off fresh from the remote year, which was a major reset button on any progress that the band had made prior, but the amount of talent and potential the students have is inspiring," Mr. Carlin Lee said. "While my time with the program is over, Mr. Heathwood is going to continue to foster the wonderful energy that the Townsend Harris High School band has and really take it to far places."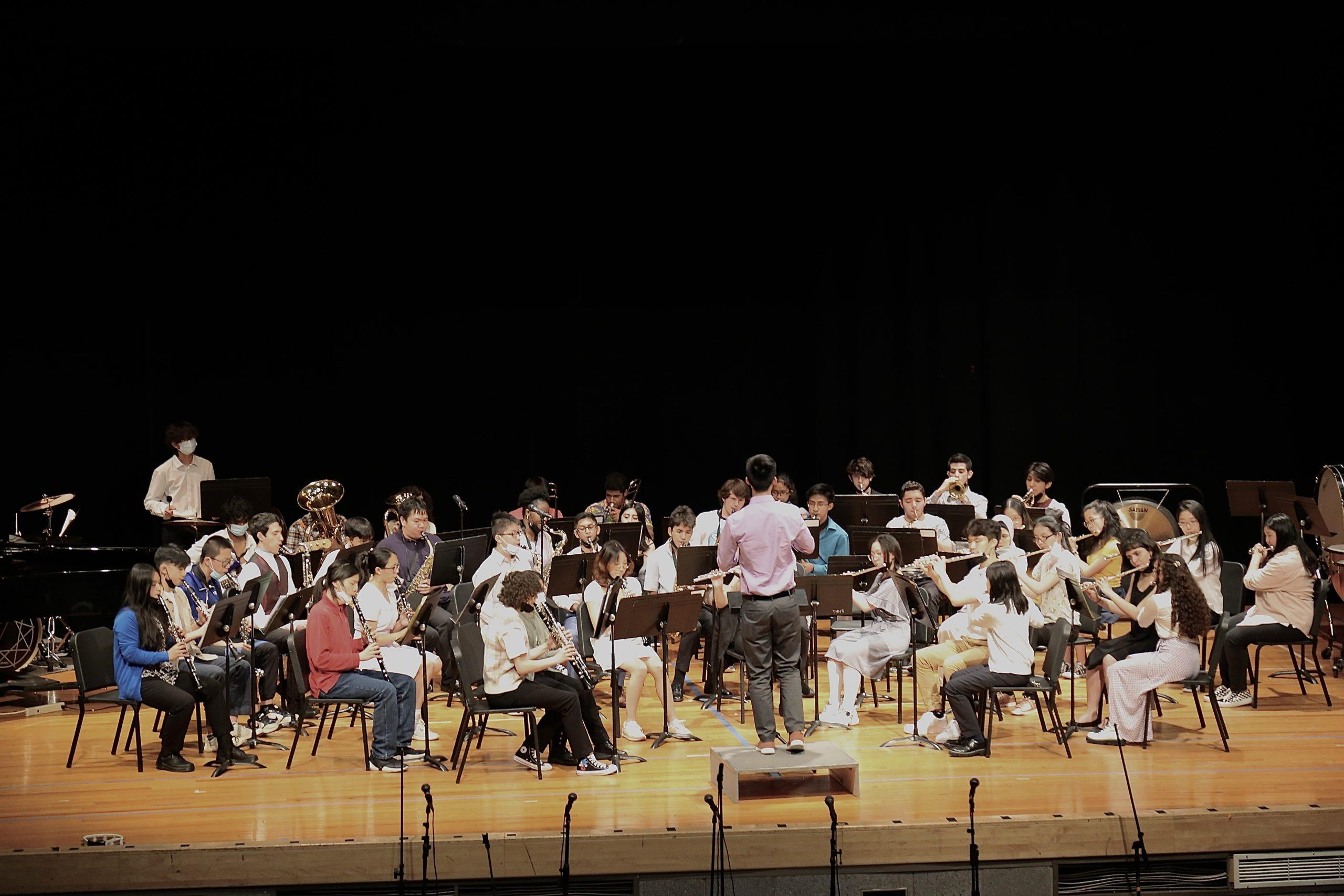 At the end of her interview, Alyse chose to discuss her gratitude for being able to end her music career at THHS with one last in-person performance.  "Our return to in-person performances and the opportunity to play in all of these events during my final year of high school revealed to me both my love for music and the impact the ensemble has had on me during my high school years. While I am grateful that the music program continued even during the pandemic, there is truly nothing like performing with the ensemble in front of an audience. Being able to play in-person my senior year was the perfect end to my time in the ensemble and made all of the difficulties that came with remote music education worthwhile." 
In a final message to his band musicians, Mr. Christopher Lee said, "Keep playing and even if you don't keep playing, keep enjoying music and then don't forget to come back and visit, and hopefully it has been fun."
In her message to her students, Ms. Grant said, "enjoy and appreciate music. Music is always all around us, everywhere we turn. Learning an instrument is a gift, and you should treasure that gift forever. Music allows you to express yourself in ways that nothing else could. While at times it could be very very boring and technical, the rewards of creating music is so much greater than the not so fun parts. And I wish all of my students the best of luck as they finish up their time at Townsend Harris and begin a new chapter in your lives!"
To senior musicians, Mr. Heathwood said, "thank you for sticking through it to the end. Most of them were freshmen when I first came to Townsend. So we kind of went through the transition together. We went through COVID together and we ended with where we're at now with public performances and elevating the program. So thank you for helping me leave a legacy and always keep music in your life and come back and visit."
Photos by Haley O'Toole, Social Media Editor
Leave a Comment
Your donation will support the student journalists of The Classic. Your contribution will allow us to purchase equipment, support our extracurricular events, celebrate our staff, print the paper periodically, and cover our annual website hosting costs.