Annual Humanities Symposium returns in-person after three years

After three years of a suspended in-person experience since 2019, the annual Townsend Harris High School Humanities Symposium took place at Queens College's Rosenthal Library on May 24 and 25. With the mentorship of Queens College professors and THHS teachers, this event was an opportunity for seniors in the Humanities Seminar course to showcase their in-depth literary research on this year's theme: the Outsider and Social Ethics. 
In addition to school faculty members, underclassmen also had the opportunity to attend at least one of the sessions during their humanities classes. A judging panel consisting of members of the junior class helped determine award winners for cash prizes including best research, best presentation, best close reading, and best overall presentation.
Faculty advisor of The Classic and Humanities Seminar teacher Brian Sweeney said, "The seniors did an incredible job at the Symposium. Every single group was impressive, organized, and engaging." A cash prize funded by Townsend Harris' alumni association was offered to participants with outstanding presentations. 
At the crux of the symposium is the idea of the literary "outsider," characters that manifest their otherness in a variety of social or psychological structures imposed either internally or externally. A malleable subject, students could exercise the creative freedom to interpret the theme in different forms exemplified by the various featured student panels, including "outside of time," "outsider philosophy and neurodiversity," and "women, outsiders, and butterflies."
Seniors Rahma Abdullah and Eliza Josephson were a part of the group that won the best overall award for their research "The Yassification of Vampires – The Evolution from Dracula to The Twilight Saga." Eliza said that via the presentation "everything ends up coming together in a final product I'm really proud of," and Rahma said that in earning the prize, "It felt like the culmination of all our hard work."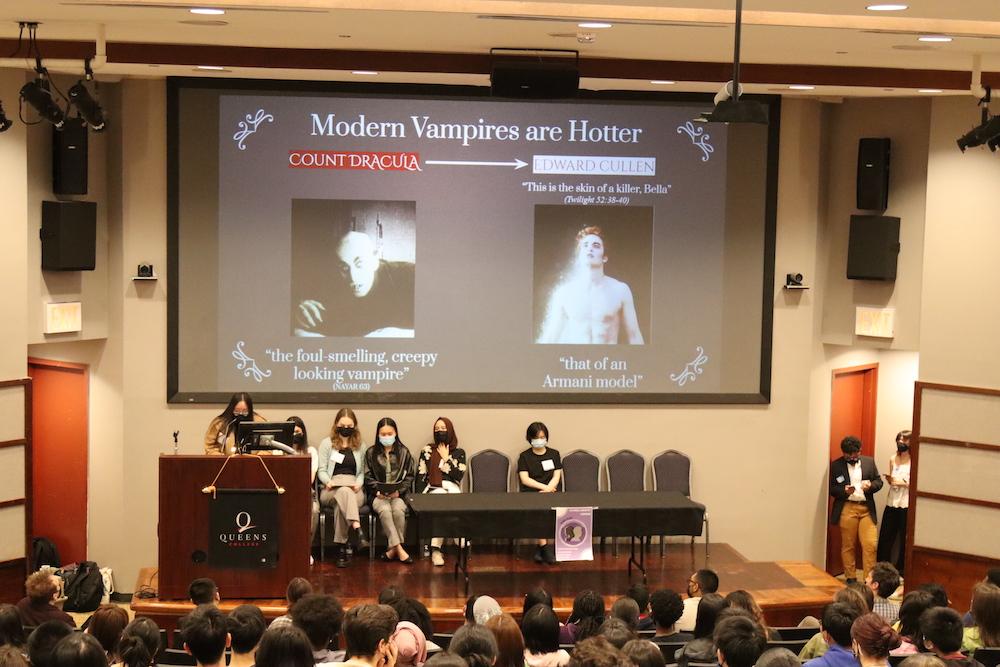 Senior Isabel Sam, one of Rahma and Eliza's other groupmates, cited the important role Principal Brian Condon played in her group's presentation. She said, "While our group was discussing Dracula, Principal Condon was visiting our class and had mentioned that Dracula was one of his favorite novels and encouraged us to further examine it, so we decided to make Dracula our thesis text."
Senior Isabella Sicilian's group took part in the mothers and outsiders panel, presenting their research titled "Maladies, Mothers, and Meals, Oh My!: Creating Mothers' Third Space through Food in Interpreter of Maladies." Having won the runner-up for the best close reading award, Isabella commented on the preparation process for the presentation: "We practiced our slide show for Mr. Sweeney and our professor for which we received feedback. Also, we spent the previous two days on Zoom calls rehearsing our parts. [In the end] it was really exciting! We put in a lot of work this past semester, and I'm really proud; our efforts paid off."
Senior Karan Ajmera reflected on his group's presentation on divergent outsiders "DID You Hear (Me) Us?" He said, "Doing all the research, reading the texts, and writing our analysis papers might have been hard at times but my group members and I really liked our topic so it was really interesting and fun."
Seniors noted the stress that came with preparing such an important presentation. Senior Benjamin Zeller, who presented "Branded by Sin: Symbolism, Society, and Exclusion in Nathaniel Hawthorne's The Scarlet Letter," said, "Even though the crowd didn't look that imposing, it was still scary."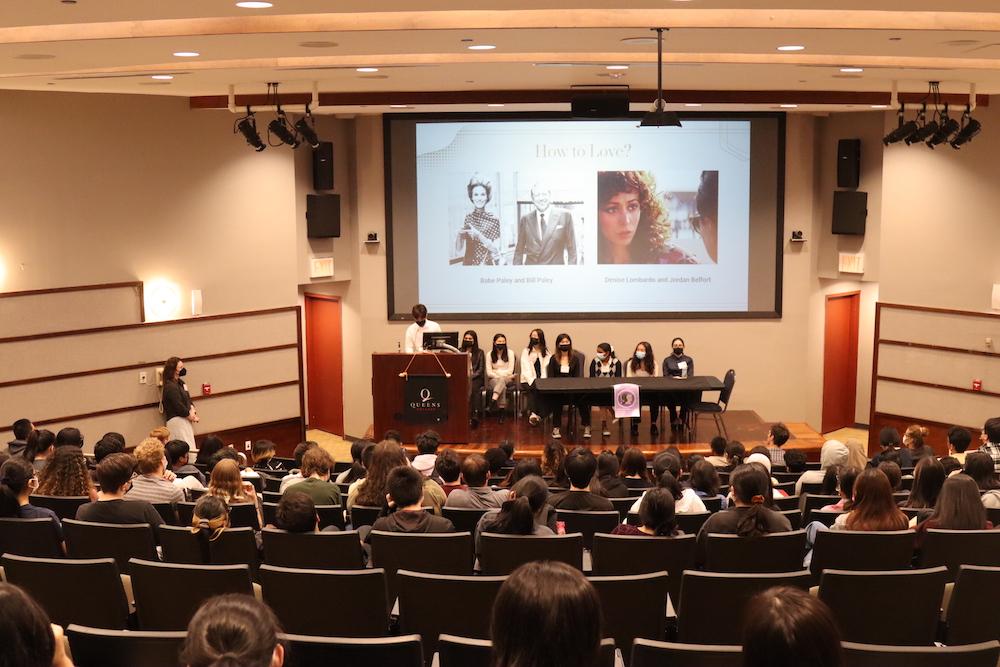 This year's seniors were the only group of students who had seen the symposium before the pandemic hit. Citing this, Mr. Sweeney said this year's seniors helped revitalize the symposium and served as an example for the underclassman audience for when they themselves must undertake the task. "They [the seniors] completely succeeded in reviving the tradition and showing the other grades how it's done," he said. 
Sophomore Brandon Tendilla said, "It really was an eye-opening experience. I definitely want to take the Humanities Seminar course and follow the seniors' footsteps."
Photos by Brian Sweeney and Haley O'Toole
Leave a Comment
Your donation will support the student journalists of The Classic. Your contribution will allow us to purchase equipment, support our extracurricular events, celebrate our staff, print the paper periodically, and cover our annual website hosting costs.