2022 Summer Theatre Showcase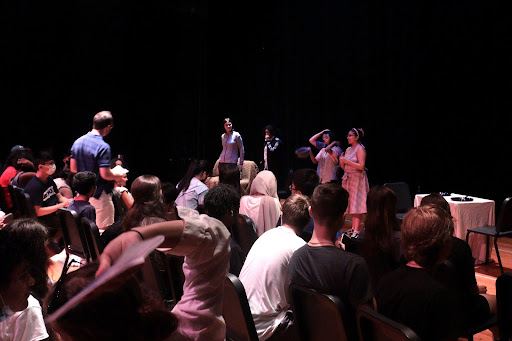 In early August, Townsend Harris High School's Theatre Workshop concluded its summer program with the Summer Theatre Showcase. The showcase entitled "Dating" consisted of two fifteen-minute long plays about the complexities of finding love. The plays were written by students in the 2021-2022 sophomore English drama class and were directed and performed by Summer Rising students. 
Directed by rising junior Amelia Lauren and rising freshman Jamelia Skeete, "Blind Date" was the first of two plays in the showcase. The main character Yin, played by rising freshman Jazlyn Febles, has to make a difficult moral decision following a crime during a date at her diner. "How Granny Got Her Groove Back," directed by rising junior Varune Seecharan was performed next. In the show, after attempting online dating, a single Granny learns an important lesson about love with the help of her grandson.
"The show, from the writing to the directing to the design, was all student done," said Mr. Dunbar. He praised the students, saying that his role was primarily to guide them. Mr. Schwab said that their role involved "giving feedback on both  plays so that by the time an audience saw it, it had gotten a lot of oversight and different interpretations."
Rising freshman Jazlyn Febles wasn't sure what to expect when she signed up for the drama summer program, but she was excited to get a chance to act. "Anything that's musical or acting related, I'm interested in," she said.  Jazlyn's hopes for this program were to "perform, enunciate, and get all [her] lines right."
Rising junior Amelia Lauren said, "I wanted to do some more theater over the summer…direct a short play and act in one. Both of these goals were accomplished."
The students and teachers also discussed how they dealt with having a relatively small group for the summer. Mr. Schwab said that because of the small number of people involved, "students had to take on a lot more responsibilities, which often makes for a tighter community…There were challenges of having to double cast some roles and trying to figure out how to make a clear story with a limited number of actors." Amelia said the "productions are very well executed but [they] hope to see more people join in the future." 
The size of the cast and the anticipated size of the audience allowed for the audience to join the performers onstage and view the production up close. "We made a choice to bring it up on stage to give it a more intimate feel. We were doing smaller scale plays, [so we thought] 'let's bring it up on stage, give it a more blackbox feel,'" said Mr. Dunbar.
The Summer Theatre Workshop and Showcase debuted last year as a part of the THHS Summer Rising program. This year's workshop was one of eleven offered as part of the 2022 Summer Rising program. The program ran every Tuesday and Thursday from July 12 to August 9. The showcase capped off the program's final session.
Photo by Katherine Lian
Leave a Comment
Your donation will support the student journalists of The Classic. Your contribution will allow us to purchase equipment, support our extracurricular events, celebrate our staff, print the paper periodically, and cover our annual website hosting costs.