As masks start to come off more frequently in school, anxieties over facial features appear to rise

On March 7, Mayor Eric Adams announced that children in New York City public schools were no longer required to wear masks indoors. Teens experienced mixed emotions as mask regulations came to an end in school districts around the country and the worst of the pandemic appeared over. Six months later, however, many Harrisites continue to wear their masks, and while there remain important safety reasons to do so, for some, the fear of being judged physically has something to do with wearing masks. 
At the end of last school year, The Classic asked students to share thoughts anonymously about their experiences with masks since returning to in-person learning. Of the nearly twenty students who took the time to write about their experiences, an equal number said they wear masks for safety as those who said they wear them because of concerns about their appearance and others' perceptions of their appearance. 
When the mask mandate was lifted, Sophomore Zofeya Dookie was relieved to be able to remove her mask during physical education class and when walking up the stairs. However, she did not expect her classmates to make comments about her appearance. "It's strange that something as simple as the way [someone's] nose looks could be shocking to someone, and I was scared that [taking masks off] would change the way [others] think about me," she said. 
"I feel like most people look different without their masks because the brain fills in features that are more Eurocentric," said recent alumna Elaine Quing. "When the rest of the face is suddenly filled in and doesn't match those features, it gives you a shock," she said.
The fear of being perceived differently due to this pandemic-induced expectation of partial anonymity can cause a sense of anxiety in teens. According to a recent study by scholars Sidney Saint and David Moscovitch, "​mask-wearing may function as a safety behavior that helps to alleviate wearers' distress about self-exposure and negative evaluation."
Despite that fear of negative perceptions, other researchers have looked at how significant the lower face is to communication and social interaction. Dr. Sarah McCrackin researched how face masks impair nonverbal communications that rely strongly on being able to see features covered by masks. "Recognizing some emotional expressions relies strongly on being able to see the mouth and nose," she said. "We can see this for disgusted expressions, where some of the most prominent features involve a downturned mouth and a wrinkled nose."
It is the mouth and nose, however, that students said they feared were likely to face judgment from others.
Sophomore Maimuna Amina said, "When one of my friends mentioned that [I looked different without a mask], the first thought that came to mind was 'did I look ugly without my mask?' I honestly didn't know how to respond to that but it definitely started to get me worried about how people would perceive me without a mask." 
Throughout remote learning, social media was one of the most frequent ways of seeing "real faces." Oftentimes, pictures on social media aren't reflective of reality as photoshopping, filters, and more are used. This leads to more tension being built up as it sets unrealistic beauty standards. 
In August 2020, Zoom released an update that allowed users to apply new video filters with a simple click that promised to "touch up [your] appearance." Zoom promises that this feature can "apply a softening effect to skin to minimize the visibility of imperfections." As students stayed at home during remote learning, some turned to this feature to cover skin blemishes and appear more presentable in the Zoom window. 
"Zoom filters over quarantine definitely helped me with showing my face on camera, and made me more comfortable with it. Otherwise I was self conscious of my appearance and didn't want to participate [in class] as much," said senior Brian Hsu.
"I would love to say I'm more concerned with the safety that masks provide, but I'd be lying if I said I didn't enjoy the way I could quite literally mask my blemishes," said Elaine. 
Many resorted to carefully choosing their mask color. In the survey, numerous respondents said they only wear black masks. Professor Cihan Cobanoglufter studied mask wearing habits and perceptions in over 4000 people and reported that black and white masks made respondents feel "slightly more attractive" as opposed to other colors.
As students move into a new school year and fewer Harrisites wear masks, it's unlikely that the insecurities expressed during this transitional period between masking and not masking will go away. 
Just last week, a new study suggested that over two thirds of young people have struggles with body image. 
In response to The Classic's questionnaire from June, one student said: "No one has commented on my appearance when I took off my mask, but I still feel insecure… I don't like showing my face."
Art by Jialin Chen
Leave a Comment
Your donation will support the student journalists of The Classic. Your contribution will allow us to purchase equipment, support our extracurricular events, celebrate our staff, print the paper periodically, and cover our annual website hosting costs.
About the Contributor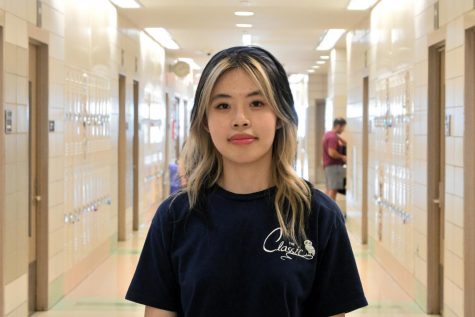 Jialin Chen, Art Editor
Jialin is a senior at Townsend Harris High School. She loves to draw and listen to music in her free time. She also likes to travel around the city and...