Valeria Jacobs joins the STEM and ISS departments

With a new year comes new additions to the school building. Valeria Jacobs recently joined the faculty. She teaches multiple science courses and works within the Instructional Support Services (ISS) department.
Nearly a month into her first year of teaching at Townsend Harris, Ms. Jacobs said she loves it at THHS so far. She said she "hasn't met anybody who doesn't like being [at THHS], which is nice."
Before becoming a teacher, Ms. Jacobs said she recalls "always having a real love for school [and] having a lot of appreciation for math and science." However, she said she never saw herself as a teacher and initially aspired to become a psychologist; once she got a taste of teaching, however, she craved more. It began with her tutoring students in chemistry and biology, and eventually she decided to pursue a career in education and earned a long list of qualifications, including a master's degree in both general and special education.
When the pandemic hit, Ms. Jacobs, who is blind, shared that she had a unique way to contribute to the profession and became a resource to her colleagues. "A lot of teachers struggled with students turning off their cameras and not getting the visual feedback they would have if they'd been in person," she said. Though she missed her in-person teaching experience, she said that the pandemic gave her a chance to help other teachers in thinking through different aspects of education.
English teacher Ryan Dunbar was on the hiring committee that interviewed Ms. Jacobs over the summer. "Ms. Jacobs impressed us during the interview process with her enthusiasm and her passion for meeting every student's needs," he said. "She will be a great addition to our classrooms, and she has already been contributing greatly to the faculty as a colleague."
Likewise, students from Ms. Jacobs's classes have several optimistic statements about her.
Emma Wu, a student from Ms. Jacobs's 8th band Biology class, said she enjoys how Ms. Jacobs teaches. "She keeps [the class] very entertaining and makes sure everyone understands before moving forward," Emma said.
Ms. Jacobs said she plans to make the most of her time as a teacher at Townsend Harris by providing her students with the care and attention they need.
"Students often spend more time with educators, teachers, guidance counselors, school staff and spend more time in [school] than they do at home," she said. For that reason, she said it's important to her to give her best in her profession and ensure that students feel seen.
Over the summer, Assistant Principal of Organization Ellen Fee told The Classic, the school planned to hire more than ten teachers by the start of September. The Classic will continue to profile these new additions to the THHS faculty throughout this month.
Leave a Comment
Your donation will support the student journalists of The Classic. Your contribution will allow us to purchase equipment, support our extracurricular events, celebrate our staff, print the paper periodically, and cover our annual website hosting costs.
About the Contributor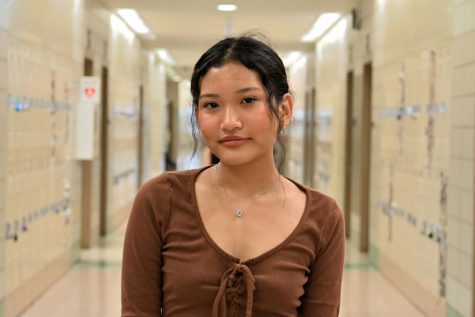 Silga Chisim, Features Editor
Silga is a junior at Townsend Harris High School. One of her favorite hobbies is reading, especially during heavy rainstorms. She also likes to bake or...