Connor, Levi, and Morzan: the new dean team

This year, Townsend Harris has appointed three deans: Social Studies teachers Charlene Levi and Ian Morzan, and Math teacher Timothy Connor. 
The deans spoke to The Classic about their work this year and what they hope to accomplish.
Ms. Levi, who teaches AP US History and AP Government, has been at THHS for twenty years.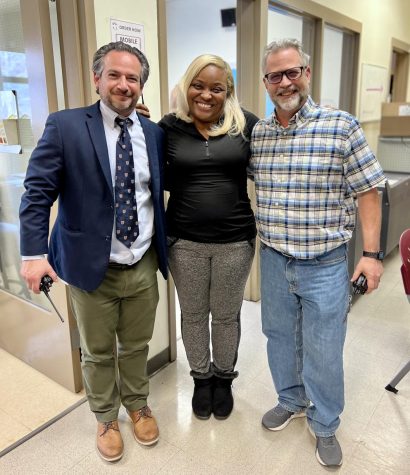 Before teaching here, she taught at Grover Cleveland High School. She said that having more deans this year is necessary due to the student population needing "more attention on the behavioral side." She said she hopes that THHS is a school that produces students "who are going to be active citizens" when they graduate, and her work will contribute to that goal. 
Mr. Connor has been a teacher at THHS for twenty years, and currently teaches all three computer science classes. He said students should know that deans are "trying to just keep a safe environment for all students to be able to feel comfortable learning." He said students should know that "there are adults that will listen to them. [The deans are] not just out here to punish."
Mr. Morzan, who teaches AP US History and Honors History, has been a dean at THHS for two years. Before he worked at THHS, he also served as dean at his previous school. Mr. Morzan said his role as dean is to not just deal with disciplinary issues, but to "shape the culture [of the school]."
He said, "So if you see me out in the school in the mornings like saying good morning to students…it's so that no matter what environment the student is coming from when they cross over into the school, they can have a good feeling about where they're coming and what's going to happen." 
Art teacher Melissa Nakos said she approved of the addition of a third dean because it would create a "balance of powers."
Sophomore Michael Hung Ng said he thought having three deans would be beneficial because students would be able to have more "personalized help."
 "Being a dean is a big responsibility," Latin teacher Christopher Amanna said, "[having three deans means] they can divide up the labor amongst each other and it's a more efficient way of working." 
Leave a Comment
Your donation will support the student journalists of The Classic. Your contribution will allow us to purchase equipment, support our extracurricular events, celebrate our staff, print the paper periodically, and cover our annual website hosting costs.