Green Team lobbies State Senator Comrie alongside Climate Reality Project to co-sponsor climate action bill

When leaders of the Townsend Harris Green Team began searching for guests for their speaker series, they never anticipated meeting with a New York State senator. But after The Climate Reality Project, an environment-focused non-profit, replied to the students' email, the opportunity soon presented itself. 
After around a week of correspondence and with the speaker series already over, Climate Reality Project representatives sent details of an upcoming meeting between them and State Senator Leroy Comrie, a Democrat who represents the 14th Senatorial District of Queens. The organization was lobbying Mr. Comrie to co-sponsor the Home Energy Affordable Transition (HEAT) Act, legislation that if passed, would place greater regulations on utility companies and cap utility bills for lower and middle income households. When senior Justin Linzan, who is co- president of the Green Team, heard back about the lobbying project and the bill, he confirmed his club's participation. 
On Friday, June 2, seniors Justin and Prisha Rao and junior Carolina Corcuera (who is The Classic's Science & Tech editor), who all hold leadership positions in Green Team, attended the virtual meeting with the senator, along with Climate Reality Project representatives Paul Kiesler and Deepa Prasad. Over the course of the session, Justin and Mr. Kiesler gave a presentation introducing and advocating for the bill, overviewing its benefits across varying sectors, including both the economy and environment. "This is at the crux of both affordability and climate action, so it's a really important bill that we'd love to have your support on," Mr. Kiesler said. 
Mr. Comrie was candid about his reservations toward the bill: "I'm concerned that we are overinvesting in only one segment of our economy," he said, referring to electric energy. "For us to say that we're going to be singularly dependent on one source of energy I think is not sustainable, especially in minority communities that don't have the same options some other folks have in other areas."
Mr. Kiesler and Ms. Prasad addressed the senator's concerns. "The window of opportunity to address our emissions goals is getting smaller and smaller," Ms. Prasad said. "Your concerns are valid and real absolutely, but we can't let it paralyze us into taking less action than we're capable of right now. The consequences of taking inadequate action are far worse than taking really decisive and aggressive action against emission." 
Despite initial hesitations, Senator Comrie ended up supporting the bill, signing on as a co-sponsor just hours after the meeting was over, the fifth state senator from Queens to do so. "I can say a lot of words and everything and he'll be hesitant, because it's all verbal," Justin said of why Comrie may have changed his mind. "The main point of lobbying is so you think 'Are you sure? Does this actually happen?' And you do research on your own and you see that these acts will genuinely help out and make the transition affordable for everyone." 
The meeting proved eye-opening for the students in attendance. "This experience was particularly helpful in learning about what politicians think of climate change initiatives," said Carolina. "Senator Comrie's perspective on the act helped us realize where other people's priorities are and how to consider that when we're lobbying."
Justin plans to stay in contact with The Climate Reality Project and may get further involved with the organization in college. As for the future of Green Team, "I'm just going to switch gears to handing the torch off to the younger people," he said. "I want to make that path kind of easy, where we give them these objectives."
Carolina, who will continue in leading the club next school year, said, "In the future, I'm sure we'll continue to lobby for acts related to improving climate, especially those that bring us closer to the goals of the Climate Action Plan."
Leave a Comment
Your donation will support the student journalists of The Classic. Your contribution will allow us to purchase equipment, support our extracurricular events, celebrate our staff, print the paper periodically, and cover our annual website hosting costs.
About the Contributor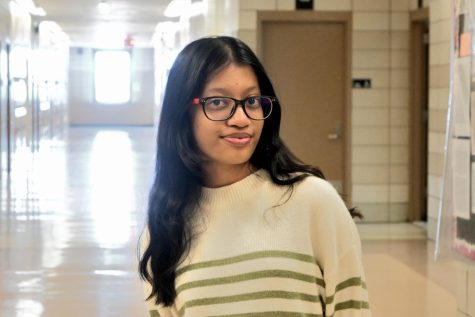 Faiza Tasnim, News Editor
Faiza is a senior at Townsend Harris High School. She loves to listen to podcasts, read books, watch anime, and practice learning her native language....