Marvin Leiner: A lifelong Harrisite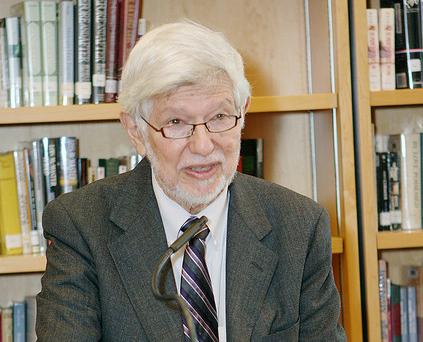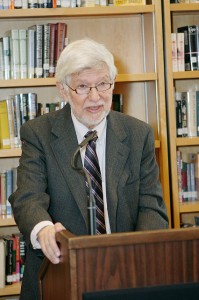 On May 21, Marvin Leiner, a Townsend Harris alumnus who was responsible for the school's close affiliations with Queens College and senior Bridge Program, passed away quietly at his home.  He was eighty-four.  A funeral was held for him on May 23 at the Plaza Jewish Community Chapel.
Dr. Leiner attended Townsend Harris for one year until 1944, when it was closed by mayor Fiorello Laguardia. From then on, his love for the school propelled his career.
"He always credited his Townsend Harris Humanities education with his success in life," said Thomas Cunningham, principal of THHS from 2001-2009.
Dr. Leiner, who attained  a Ph.D. from New York University, was involved with Queens College for most of his life. He worked there as a professor of Elementary and Early Childhood Education (EECE) and became chair of the EECE from 1980-1983.  From the early 1990s until retirement in 2004, he served as Queens College liaison and Director of the College Preparatory Program for THHS.
"Having been a Harrisite himself, he brought a unique perspective to the job," said Mr. Cunningham. "He was aware of the stresses senior year can bring to students at Townsend Harris, and he and his office staff did much to mitigate those pressures."
Dr. Leiner's main achievement during this time was establishing the senior Humanities seminar classes at Queens College with Lynne Greenfield, who was AP of Humanities from 1989-2002. They also established a lecture program in which college experts spoke about certain topics studied in the seminars and allowed Harrisites to participate in Q&A sessions. He recruited assistants to partner with seminar teachers from THHS and found the funds for the program.
The Creative Imagination Program began under his guidance as well.  The program held monthly meetings for students and teachers who were interested in learning how to be innovative in the school's approaches to studying humanities. In addition, Dr. Leiner linked the school's faculty with the Queens College drama department, which enhanced Townsend Harris's annual dramatic performances.
Dr. Leiner was also heavily involved in another one of THHS's most distinguishing aspects.
"Dr. Leiner brought Dr. Krasner from Queens College to my department to develop something really special for the 1992 Presidential Election," said Ms. Greenfield. "What came out of that collaboration was the Election Simulation Program, still in place today."
Throughout his career, Dr. Leiner was also an influential member of the THHS Alumni Association Board of Directors.
"Dr. Leiner had a unique ability to look at any problem, take a step back, dissect it, and help us all come to a solution," said the President of the Alumni Association, Craig Slutzkin.
"I can see him now – sitting in the corner at our Board meeting and saying, 'Craig, we need to keep the traditions and values of Townsend Harris intact. Let's do whatever we need to do to achieve that goal.'"
Dr. Leiner led a diverse career outside of THHS.
He was a published author, specializing in Latin America.  He published two works: Children Are the Revolution: Day Care in Cuba and Sexual Politics in Cuba: Machismo, Homosexuality, and AIDS.  Both focused on issues in Cuba in the context of the Cuban Revolution. He was also an avid summer camp director and had a second career in psychology.
"He did it all," said English teacher Judy Biener.  "He was a writer and researcher but he had a huge heart and was not stuffy at all.  He was also a humanitarian, and many of his books show his love of humankind and his belief in social justice."
Education aside, Dr. Leiner was renowned among faculty for his sense of humor.
"I can still hear his high pitched laughter reverberating off the walls as he recounted foibles from his latest skirmish with bureaucracy," recalled Mr. Cunningham. "He must have had strong humor genes because his son directed the very funny Harold and Kumar film."
Social Studies teacher Franco Scardino, who worked closely with Dr. Leiner as senior class advisor in 2002 and represented THHS at his funeral, encourages future generations of the THHS community to continue to build on Dr. Leiner's accomplishments, calling him "a gentle giant who left footprints that will be challenging to follow in but should serve as an inspiration to us all."
Leave a Comment
Your donation will support the student journalists of The Classic. Your contribution will allow us to purchase equipment, support our extracurricular events, celebrate our staff, print the paper periodically, and cover our annual website hosting costs.