Mona Aarons remembered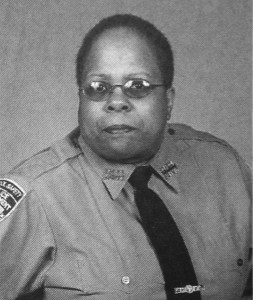 Known for her big heart and feisty personality, School Safety Agent Mona Aarons passed away at the age of fifty after a battle with stomach cancer. She served in New York City schools for 31 years, eight of which were spent in Townsend Harris High School. She is survived by her husband of over 30 years, James Aarons.
School Safety Agent Robin Anderson-Scott knew Agent Aarons for 20 years. "I met her when I first came to school safety. She was a very feisty lady, always full of jokes. She loved the students here, she called them her babies," said Agent Scott.
School Safety Agent Hattie Brailsford agreed, "She was a very outgoing person, full of life and fun."
Assistant Principal of Organization Ellen Fee said, "She didn't only want to see students from a punitive or security standpoint, but also from a guidance standpoint."
Assistant Principal of Humanities Rafal Olechowski said, "She had a very specific voice and whenever she spoke it would cheer me up. I knew her through a very small window (as a school safety agent), but her voice belied a much deeper story."
Foreman Hector Benitez said, "She was a very private person. She hid her illness for a long time. I didn't get to visit her in the hospital because that's how private she was."
Agents Scott and Brailsford remembered Agent Aarons' quirks, and her red rain boots that Agent Scott called "booties." She also could cook "finger licking good" food, and loved to watch squirrels on Queens College campus.
The obituary from her memorial said, "As quiet as Mona was, her heart was full of love for her family, friends, and music. Music was one of the things in life that made Mona happy…she lived her life the way she wanted to."
Agent Scott said, "She had the warmest heart. To know her was to love her."
View Comments (2)
Your donation will support the student journalists of The Classic. Your contribution will allow us to purchase equipment, support our extracurricular events, celebrate our staff, print the paper periodically, and cover our annual website hosting costs.