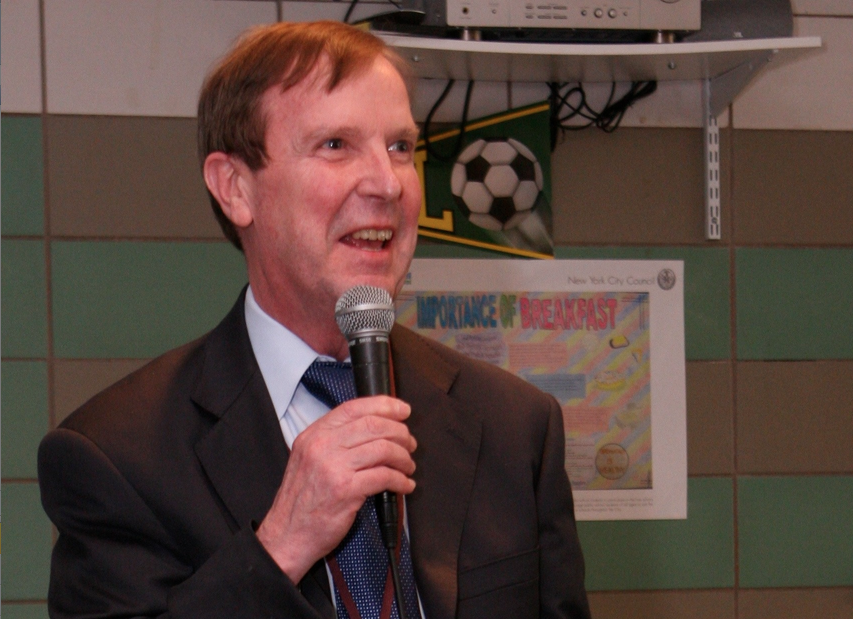 On September 25, Principal Thomas Cunningham passed away.  The second principal in THHS history, Mr. Cunningham was known for making several important reforms to the school.
Mr. Cunningham was the principal of THHS from 2001 until his retirement in 2008. He worked as a teacher and administrator for the Department of Education for over thirty years and was the principal of Far Rockaway High School before coming to THHS.
"Tom came in with a monumental task – replacing a founding principal who was immensely popular and was identified with the high school as much as anyone else ever had been.  He stepped into the role with so much poise and confidence," said Craig Slutzkin, president of the THHS Alumni Association.
Under Mr. Cunningham's leadership, THHS underwent massive academic expansions extending to several departments, the effects of which still exist today.
Along with Assistant Principal of Math, Science, and Technology, Susan Brustein, Mr. Cunningham revamped numerous aspects of THHS' science department. Ms. Brustein feels that these changes were made possible because of  Mr. Cunningham's ability to listen closely to his staff and his determination to transform any suggestions he favored into realities.
"Most of the framework of the way the science department is structured came because of his support," said Ms. Brustein.
During Mr. Cunningham's tenure at THHS, the Science Olympiad team as well as the Robotics team and elective were started. Mr. Cunningham also increased the number of science electives available to seniors. Previously, students had to take a standard science course during their senior year. However, with Mr. Cunningham's support, this class was replaced with choices of other science electives to meet the various preferences of seniors.
Zero band lab was also established under Mr. Cunningham's guidance to increase instructional time, as students used to have their science labs during  sixth band with some of the time allocated to eating lunch. This left only twenty minutes for actual classwork, so Mr. Cunningham moved this band to one longer period in the morning.
"Instruction time increased and mastery levels on tests increased as a result of this change, and it's still that way today," said Ms. Brustein.
Because of these reforms, THHS was selected as the Intel School of Distinction for Scientific Excellence in 2008-the only high school in the nation to achieve this honor. The accolade came with a $10,000 dollar cash grant and an additional $125,000 in smartboards, software, and services, with the judges commending the staff's dedication to its scientific extracurriculars and electives.
In the article "Townsend Harris HS honored for science program", Mr. Cunningham noted that although THHS was a humanities-focused school, it was important to "integrate science and math with languages, history, art and music."
Technology  also improved under Mr. Cunningham's leadership.
"[Mr. Cunningham] brought in about one-hundred new computers for our computer labs and about twenty new laptops for teachers," said Physics teacher and Technology Coordinator John Tsai.
Mr. Cunningham also initiated the use of smart boards during his final years at THHS, although the big push for smart boards came afterwards. According to Mr. Tsai, he also upgraded the school's "network backbone" to make the school's computers function more efficiently.
"All of the disciplines at THHS benefited from Mr. Cunningham's fund raising efforts for technology- whether it was the Writing Process classes or social science and science research classes," said retired AP of Humanities, Susan Getting.
However, Mr. Cunningham took innovative approaches within other subjects as well. With his support, the teaching of AP World History to all ninth and tenth graders was implemented.
Mr. Cunningham also staunchly fought against potential budget cuts to preserve the senior Bridge Year program, which is funded by the Department of Education (DOE) through a five year contract with Queens College. Mr. Cunningham realized that the DOE would be reluctant to allow the Bridge Program to continue because of fiscal difficulties. Thus, almost a year before the contract's expiration, Mr.Cunningham began efforts to ensure the Bridge Year would continue.
"Using data demonstrating the effectiveness of the program for Townsend Harris seniors, Mr. Cunningham networked, lobbied, cajoled (and probably begged and pleaded) the DOE and the City of New York to continue funding this exemplary program.  It is a direct result of his efforts that the contract was renewed," said former Assistant Principal of Guidance, Janet Solomon.
However, potential budget cuts threatened funding more than once, with Mr. Cunningham doing his best to stop them every time. He would assemble students, staff, the Parent Teacher Association, and the Alumni Association to write letters to legislators, who then prevented budget cuts to the school.
Because of his efforts, THHS was able to afford certain electives and AP courses as well as various extra-curricular activities, including the school play.
Academics aside, Mr. Cunningham showed full support for afterschool activities and simply enjoyed being in the presence of his students. Many recall how he would always attend student performances and athletic competitions after school.
"At 10 p.m. on a school night after a 15 hour day that included managing all the details of running a school and then attending FON or SING, Mr. Cunningham would be filled with joy in the students' talents and achievements," recalled Ms. Solomon.
Mr. Cunningham was also able to recruit and maintain strong faculty members, fostering strong relationships with many of them. One such member was Assistant Principal of Organization, Health, and Physical Education, Ellen Fee.
"[Mr. Cunningham] hired me to become AP of mathematics," said Ms. Fee. "Under his leadership I grew professionally and learned great aspects of leadership. I had low self esteem and felt that I didn't deserve to be here when I first started…. but he believed in me and that was his greatest gift to me. I will miss him dearly."
Those who knew Mr. Cunningham emphasize the significance of the changes he made to the school as well as his agreeable personality.
"One can look at all of the accolades that the school won during his tenure as an example of his success," said Mr. Slutzkin. "But more than anything, Tom was a world class gentleman whom I considered a friend, and I will truly miss him."