NetCliques: Stream a personalized lineup of holiday specials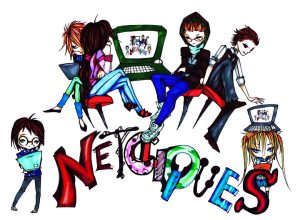 For many students at THHS, watching shows and movies online is a favored pastime. We are the Netflix generation, and for those of us who come into school and talk at length about the great shows we've spent our online time watching, we are very much a part of a growing 'Net Clique' of instant video watchers. Sometimes, however, it's not easy to dig through the endless programs available online to find something really worth your time. "Net Cliques" is a column devoted to guiding you to the shows and movies that you might not find on your recommended list. 
For our first column, we want to advise you on how best to program your online holiday viewing 'queue.' Why let television networks decide what cheesy holiday shows you want to watch when the Internet is full of cheesy holiday goodness? One of the best things that online video services (like Netflix, Amazon Instant Video, iTunes…and whatever else you may use) offer is the ability to watch nearly any episode in a TV series. While networks usually show big holiday films or made for tv holiday specials, you might be missing out on some of the classic "very special Christmas" episodes made by some great shows during their runs.
Take The Simpsons (available on Amazon Instant Video, iTunes, and … elsewhere). Did you know that the first episode ever aired was a Christmas special? In "Simpsons Roasting on an Open Fire," Marge is forced to spend the family's holiday savings on removing Bart's first tattoo, while Homer discovers that he isn't receiving his Christmas bonus. Left with no gift money, Homer goes on a quest to earn as much cash as he can, becoming a department store Santa and betting on dogs at a racetrack. Though this episode may seem much different from today's Simpsons episodes, the heart and humor are there–and the holiday spirit is certainly given the Simpsons spin you'd expect.
During its ten season run on NBC, the popular comedy show Friends never failed to disappoint when it came to Christmas-themed episodes, but what about Hanukkah? In Season 7's "The One with the Holiday Armadillo" (available on Amazon Instant Video, iTunes, and … elsewhere), Ross decides he wants to teach his son Ben about the Festival of Lights. Unfortunately, Ben only cares about getting presents from Santa and, in a desperate attempt to reach his son, Ross dresses up…as a holiday armadillo, a half-Jewish friend of Santa.
However, you don't just have to turn to old-time American favorites to enjoy holiday-centric shows this winter break. Some television imports from across the pond have the tradition of running "Christmas specials" every year on Christmas day, focusing their storylines around the magic of the season.
If you've never seen Doctor Who (BBC America), one of the longest running television programs in history, which revolve around the adventures of a 900 or so year old alien "time lord" known as the Doctor, try the latest Christmas Special "The Doctor, the Widow and the Wardrobe" (available on Netflix). Inspired by C.S. Lewis's Narnia adventure, this special takes place during World War II and features the Doctor attempting to bring some war weary friends to a winter wonderland world through a portal he placed under the Christmas tree. Mayhem, of course, ensues.
The first Downton Abbey Christmas Special (available on Amazon Instant Video) is also not to be missed. Since this episode should be seen in sequence, we recommend that you watch the first two seasons (only fifteen episodes total) before this Christmas episode, where multiple plotlines are fully paid off amid the beauty of an early twentieth century Christmas at Downton.
Now for those of you who aren't television junkies, consider making your vacation more interesting by watching some movies that aren't related to angels or Santa. (Not that the classics like A Christmas Carol or It's A Wonderful Life are bad; they're just repetitive to watch all the time!) Consider Edward Scissorhands (available on Amazon Instant Video and iTunes), a tragic tale of a modern Pinocchio who struggles to find love and acceptance as Christmas draws closer. More than anything, however, we recommend Gremlins, a deliciously dark horror-comedy film that revolves around a last-minute holiday gift with deadly repercussions. Not readily available on many instant video sites, this fine holiday film (often shamefully left off of best Christmas-themed movie lists) is this month's pick for 'most worth going out of your way to find' for your online viewing pleasures. Don't be bored this time of year; you don't have to gamble when it comes to your entertainment!
View Comments (1)
Your donation will support the student journalists of The Classic. Your contribution will allow us to purchase equipment, support our extracurricular events, celebrate our staff, print the paper periodically, and cover our annual website hosting costs.