Senior meets NYC election candidate for simulation campaign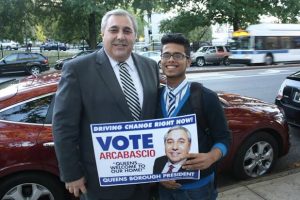 During Townsend Harris's annual Election Simulation, senior Harrisites attempt to portray real-life candidates as accurately as possible. Occasionally, simulation candidates get to meet their real-life counterparts in order to perfect and enhance this portrayal. This year, senior Tawhid Meah, who played Republican candidate for Queens Borough President Tony Arcabascio, grew especially close with Mr. Arcabascio himself.   Mr. Arcabascio lost in the real election but won in the THHS simulation, a victory that Tawhid attributes to the help he received from the candidate throughout the election season.
Tawhid met Mr. Arcabascio through the efforts of his campaign manager, senior Carie Chen.
"There wasn't much information on Tony online, so we knew that we would have to get in contact with him to learn more about him," Tawhid said. "He had a contact email on his website, and Carie emailed him and that's how we all started talking."
After getting in touch with him online, Tawhid and Carie were able to meet Mr. Arcabascio at Gino's Pizzeria, where the candidate explained his policies and guided Tawhid in how to conduct classroom visits. Tawhid also took note of Mr. Arcabascio's mannerisms.
"At Gino's [Mr. Arcabascio] not only told us all of his policies, but he told us his view of some of Melinda Katz's policies and why they weren't good for Queens," said Tawhid. "He  told us some things that would help us explain why Tony's the better candidate, which I have used several times in classroom visits."
Carie believes this experience contributed to his victory against Melinda Katz, saying it "motivated us as a team and helped show the underclassmen that we were serious about this Election Simulation and the Queens Borough President race in general."
However, besides learning information specific to Mr. Arcabascio, Tawhid and his campaign also learned about the main issues facing Queens in a way that changed their perception of politics. "Meeting Tony Arcabascio not only benefitted our campaign…but also helped each of us feel a connection to the world of politics," said Carie. "When we hear politics we automatically think of the word 'corruption' but Tony Arcabascio showed that not all politicians out there are corrupt."
Mr. Arcabascio  posted photos of himself with the Simulation campaign on his Facebook page and maintained an interest in Tawhid's progress throughout October.  On election day, he sent Tawhid an e-mail offering praise for the job the mock campaign did and asking for updates on the results.
"It really makes me feel good to show how much our mock election means to him," shared Tawhid.
Mr. Arcabascio enjoyed meeting Tawhid and his "campaign" and felt the experience pushed him to work harder within the real election. "I truly believe that even though I lost the general election for Queens Borough President, I was the only real winner having met and worked with such great students and knowing first hand that we are in good hands with our future leaders from THHS," said Mr. Arcabascio.
With a son who graduated from THHS in 2005, Mr. Arcabascio knows the demands of the Election Simulation well.  He praised the THHS community for continuing to run the annual program because of the political education it provides.
He added, "I applaud the team and Tawhid for their victory and whatever I can do in the future to assist THHS students in understanding civics, politics or be a resource of any kind, please feel free to ask."
Leave a Comment
Your donation will support the student journalists of The Classic. Your contribution will allow us to purchase equipment, support our extracurricular events, celebrate our staff, print the paper periodically, and cover our annual website hosting costs.