SING! marvels

The Se'mores took the cake—that is, the victory—at SING 2014.  With both productions centered on villainous birthday parties, the Se'mores produced a show that had the Avengers and other Marvel characters, notably Spidergirl and Spiderman, on a chase to catch Thor's Loki. The Freshior show revolved around the Joker from Batman plotting to bring ruin to the DC heroes at his party.
Students responded to the element of fantasy in this year's theme.
"At first I was extremely nervous because I've never really been into DC or Marvel comics, and did not have too much prior knowledge on superheroes or villains," said Nina Leeds, junior and Freshior director. "Once I did my homework, I ended up being extremely pleased with the theme."
Karun Bhardwaj, senior, said, "Being a huge comic book fan myself, I like how they separated the DC characters from the Marvel characters. It made the show that much better."
"'Super villain's birthday' is a very specific theme, but it wound up being amazing," said Lianna Rada, a sophomore and guitarist for the Se'more band.
On the contrary, Anaya Brannon, junior, vocal director, and choreographer for the Freshiors said, "I thought the theme didn't make a lot of sense because we could only do so much with such a specific theme, and the two shows were generally the same."
"I thought it was a good idea, but I also thought it was a childish idea," said junior Alex Tung.
Strong theme or not, many responded favorably to the productions.
"The quality of performance keeps going higher and higher each year," said Japanese teacher Mariko Sato-Berger.
The Se'more show had its fair share of musical numbers, from Fergie's "A Little Party Never Killed Nobody," to "Get Loki," a parody of Daft Punk's summer hit. Music from the Freshiors included "Joker Face," imitating the Lady Gaga single, and Alice Cooper's "Poison."
"We knew that we got points for changing the lyrics of our songs," said Anna St. Clair, senior and director of the Se'more show, who noted that she didn't take that into account last year.
"We also realized that the directors, choreographers, vocal directors, and musicians all needed to work together so we could choose songs that fit the script, but also showed off our dancing and singing talent."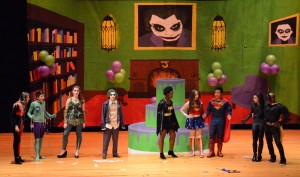 "I think my favorite part was the Joker's line, 'I'll show you crazy,'" said junior and Freshior dance director Aeriell Mansell. "He says it like a maniac and it transitioned into 'I Get Crazy,' our group dance with him. I think the crowd wasn't expecting him to dance with us also so it really got everyone hyped up."
Amanda Spang, senior and Se'more choreographer, discussed her thought process when Se'more director Nathaniel Cheng asked her to orchestrate an "ace dance"—much like their ace card—with the show's top dancers.
"I instantly had a vision in my head for what I wanted: something funny, entertaining, and something that would leave the audience in shock and wanting more."
The superhero-based theme also presented its own challenges.
"I had to find a balance between making the scenery both cartoonish and sinister because the theme is taken out of a comic book, but also focuses around the Joker, who is a dark character," said Ariana Stergiou, junior and Freshior art director.
"Doing a superhero's makeup is definitely different than how I'd do my own makeup or the makeup for someone just doing a regular play," said Stephanie Mejia, a junior and Freshior makeup artist.
She noted that the theme gave her an opportunity to do "dramatic transformations" on her peers.
Brian King, junior and Batman in the Freshior show, expressed that his own personality limited his acting.
"Before the show, I apparently had no emotion in the relationship [with Catwoman] to the point where Dimitri and Nina were going to put me and Catwoman on a date just to get us chemistry."
Anna thought that the theme necessitated a fight sequence, though the one they included was "extremely difficult to choreograph."
Some students saw SING as an opportunity to get involved with extracurriculars.
Senior Jake Crifasi, who rapped to Kanye West's "Touch the Sky" for the Se'mores, said, "I've played trumpet for the past eight years and performed in many concerts, so I was used to the idea of being on stage," but "because I was doing something new, it made it more difficult."
For freshman Jilissa Drayton, who played Batgirl in the Freshior production, SING! was her first experience with acting. She was excited to play a central character in the production.
The Captain America of the Se'mores, senior Tawhid Meah, observed that he "would see quiet students doing their homework," but when "it was time for them to practice, they would dance their hearts out."
Though the Freshiors "lost in style," as freshman and dancer Nicole Moshel put it, both teams gained plenty from their SING! experiences.
"It was such a blessing to be able to be part of the dancing and utilize my abilities to help the team as a whole," said Yoonho Cha, sophomore and Se'more dancer. Se'more director and senior Nathaniel Cheng said, "One of the biggest problems we faced was an attitude of complacency or not wanting it enough. However, two weeks before the show, our entire cast shifted their gears and we went full force and ended up putting a great production."
Junior Mahirah Billah, who sang in the Freshior production, said that director Dimitri Perdik made her realize her favorite part about SING: "the fact that high schoolers were able to blend their talents together and create a show that was actually really good."
Leave a Comment
Your donation will support the student journalists of The Classic. Your contribution will allow us to purchase equipment, support our extracurricular events, celebrate our staff, print the paper periodically, and cover our annual website hosting costs.