New Guidance Counselor arrives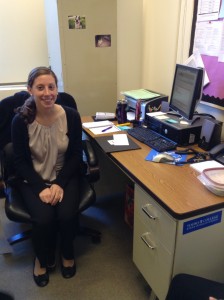 Beginning this school year, Harrisites may have noticed a new face in the Guidance and College Offices in room 312. The newest member of the Guidance and College Office Staff is Guidance Counselor Justine Singer. Ms. Singer, whose past experiences include being a College Mentor and Guidance Counselor at Fiorello H. LaGuardia High School and a Graduate Admissions Counselor at Touro College School of Health Sciences, is now the Guidance Counselor for official classes 903, 906, 909, 103, 106, and 119.
Ms. Singer had to undergo several evaluations. Assistant Principal Veronica York, Guidance Counselor Sara Skoda, and Guidance Counselor Adrienne Nasser first interviewed her in June 2013.
She was then asked to complete a writing portion, which "consisted of writing a mock college recommendation for a student." Her second interview took place in August with Principal Anthony Barbetta.
"I knew that THHS was ranked as one of the top 10 NYC public high schools and that they have a Bridge Year program with Queens College built into their curriculum. I was very enthusiastic about starting the new position," said Ms. Singer.
Ms. Singer described how she sees her role: "A guidance counselor wears many different hats, but the hat we wear every day is supporting our students. My role as a school counselor is also to create an environment that encourages students to share what's on their minds. In addition, we assist students and their families in the college application process."
Sophomore Zana Mrkulic said, "I haven't met Ms. Singer yet, but I'm looking forward to it. I hope she feels welcomed and comfortable in our school environment. I'm sure the student body and faculty will treat her with a lot of respect."
Junior Sadiqa Taaseen shared, "Ms. Singer is really cool and one of the nicest adults in the building. She probably helped me for less than ten minutes but remembered my name the next day. No adult in the Guidance has ever done that. I felt very special because of her."
In the efforts to make herself well-known, she shared interesting facts about herself.
Ms. Singer revealed her love for traveling.  She spent six months in Australia during her junior year in college. She also mentioned that she "was a three-sport athlete in high school: soccer, indoor track, and lacrosse."
Lastly she stated, "I love spending time with my Boston Terrier named Maguire."
Although Ms. Singer is new to the Townsend Harris family, she has easily adjusted to the hectic life of a Harrisite, "Being part of the THHS community has been wonderful. The staff and student body have been welcoming and friendly," confirmed Ms. Singer.
Leave a Comment
Your donation will support the student journalists of The Classic. Your contribution will allow us to purchase equipment, support our extracurricular events, celebrate our staff, print the paper periodically, and cover our annual website hosting costs.