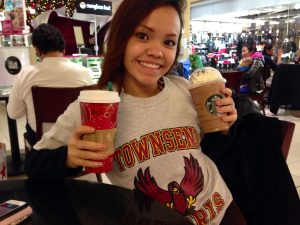 The joy of the holidays is all around—and increasingly that joy spreads from the refreshingly brisk weather and the twinkling lights to the espresso drinks available for your indulgence.
Since the beginning of November, students have come to school caffeinating themselves with the signature red holiday cups of shops offering seasonal beverages.
From gingerbread and eggnog lattes to peppermint mochas, these drinks have become another holiday institution, and the coffee lovers of THHS shared their thoughts on the trend.
Junior and Starbucks enthusiast Kasey Wagner said that she prefers the peppermint mocha latte over the other seasonal flavors, explaining that it "makes it easier to get through cold tired days."
Sophomore Olivia Krakowski enjoys the mint chocolate latte, especially "around Christmas time the most because drinking hot beverages on a cold day is the best feeling."
At roughly five dollars a cup, many argue that Starbucks drinks are much too expensive. Senior Karan Chachlani, who tried the caramel brulèe latte, thought that "it was worth it because it was really sweet and so good."
Freshman Victoria Karlic said, "Honestly the winter coffees are my favorite. They get me excited for the holiday and it's also nice to try unique flavors. Sometimes you get bored of their year round flavors."
Some, however, wish they didn't need the caffeine boost at all.
After staying up late doing homework, senior Maya Grodzka greatly appreciates a boost of caffeine. However, she says that it's a negative experience for her in the long run, stating, "It doesn't actually lighten up a long day's worth of work because I go to coffee places in order to get either a single or double espresso shot. That indicates that I have a hard and busy rest of the day in front of me and that my brain alone can't manage the work without an espresso."
While these specialty drinks are widely popular and huge moneymakers for coffeehouse chains, they won't be around for much longer. You have until the end of this month to decide whether or not these offerings are worth the price or are just another gimmick.