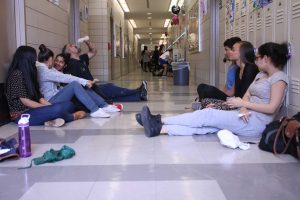 Seniors lounging around the third floor might become a rarer sight next year, with the THHS administration requiring upperclassmen to take an extra elective. The addition of a fifth class to seniors' schedules is in compliance with the Department of Education's mandate that twelfth grade students  receive five-and-a-half hours of instruction during the school day.
Up until now, upperclassmen had to take a mandated government and economics class, the bridge-year Humanities seminar, two THHS electives and one Queens college class of their choice. However, this combination of classes assigned to current seniors equates to a total amount of class time that falls short of the DOE requirement, something noticed after a review.
In an effort to compensate for lost time, the school added a weekly senior meeting and a community service allotment to programs. Even with these changes, seniors' average time spent in class only increased marginally, forcing the administration to add another elective requirement.
To coordinate the schedules of rising seniors, the programming staff must take into account the size of the 2015 cohort.  Since the class of 2015 is one of the largest in THHS history, adding one class for each student has a big impact on all class rosters.
In the past, it was common for some electives to have a roster of under fifteen students, but Ellen Fee, Assistant Principal of Organization, explained, "This year, there's not going to be seven kids [in one elective]…what's going to happen is every class is going to be filled to capacity." She noted that underclassmen currently take eight electives in addition to lunch, one extra class than the DOE requires.
Acknowledging the lack of additional funding to subsidize the cost of more senior classes, Ms. Fee said, "This is our responsibility to be wise with our budget."
Maria Assante, Senior Advisor, saw a positive side: "When there are too many free bands in a row, [seniors] don't want to go back to class… [an extra class] will improve attendance and should improve punctuality."
Ms. Assante added that "senior meeting will still meet, but maybe we'll have to find another way," since fewer seniors will be free during a single block of time.
Senior Sharifa Sahai, who took on the challenging courseload of AP Calculus BC and AP Spanish, said that "because of my frees I have to be in school for a full day anyway," and "would actually prefer more [classes] to have more variety, get AP credits, and take what [she] couldn't have taken" in previous years.
While many of the juniors and seniors maintain optimism about next year's extra senior elective, others believe that it is less fair than the schedule now in place.
Vasia Makris, senior, said that the current schedule "allows for the right amount of time for seniors because it allows for free time to do extra activities, like getting a job and working on college apps, without the pressure [of a busier courseload]."