For some, senior cut day a bust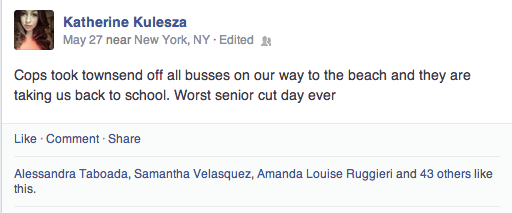 A large group of seniors became the laughing stock of the school on May 27 after word spread that their attempt to cut school on Senior Cut Day was time in THHS history.
On cut day, certain seniors went to Rockaway Beach with about half of them taking cars and the others taking Q53 buses. Those taking buses, however, used student Metrocards.
"The bus driver got suspicious and I guess called the police saying he had a bunch of teenagers on his bus with beach attire," said senior Katherine Kulesza.
As the buses reached the Cross Bay Bridge, the police pulled them over, boarded each one, and asked teenagers for IDs. Upon realizing that the seniors were high schoolers, the police made them get off the buses.
"We could see fellow students in cars passing by and laughing," recalled Katherine. "We were so upset."
The seniors explained that they were allowed to cut school on that day, so the officers called THHS but then drove the seniors back to school in vans.
Some students then spent the rest of their cut day on campus while others once more ventured to the beach-this time with success.
Dean Robin Figelman said that when the police came into her office with the first batch of students, she put on a "disciplined face."
"But as soon as the officers left, I just laughed at [the seniors]," she said.
Though she told the seniors that they wouldn't get in trouble, she reprimanded them  for telling the officers that they were allowed to cut school that day since the administration isn't legally allowed to let this happen.
While some students were upset, senior Josh Martinez  claimed to have no regrets.
On the class's failure to successfully cut, Josh said: "We,  as a class,  have failed countless times,  including roll call,  and I just thought how great of a story this makes… It's funny how a situation's mood changes just because you weren't the only one in it."
Leave a Comment
Your donation will support the student journalists of The Classic. Your contribution will allow us to purchase equipment, support our extracurricular events, celebrate our staff, print the paper periodically, and cover our annual website hosting costs.