NetCliques: Overseas shows worth streaming here in the States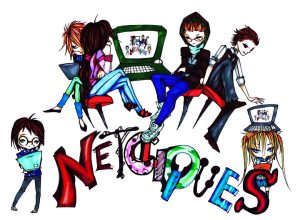 For many students at THHS, watching shows and movies online is a favored pastime. We are the Netflix generation, and for those of us who come into school and talk at length about the great shows we've spent our online time watching, we are very much a part of a growing 'Net Clique' of instant video watchers. Sometimes, however, it's not easy to dig through the endless programs available online to find something really worth your time. "Net Cliques" is a column devoted to guiding you to the shows and movies that you might not find on your recommended list. 
Just like the creepy child in the Poltergeist movies, "we're baaaaaack" and we're here to advise you with even more movies for your instant queue!
When was the last time you ventured outside of American-born shows and dipped your toe into foreign waters? It's a new year, the perfect time to try some new things; what better way to start 2013 than to take a trip to a place full of alluring accents and exotic cultures?
The folks across the pond in the United Kingdom have truly captured American television audiences with a slew of recent, award-winning hits: Doctor Who, Sherlock, and Downton Abbey, to name a few.  But with those programs becoming household names here in the states, we realize that there are quite a few titles still out there that might not be as well known but are just as likely to be enjoyed here.
Doctor Who is so popular  that multiple spin-off shows have been crafted around supporting characters.  The most notable, Torchwood (available on Netflix, Amazon, and other sites), revolves around the out-of-this-world escapades of Captain Jack Harkness (a former companion of the Doctor's) and his team of scientists working with the titular secret government agency to protect the UK, as well as the rest of the planet, from alien threats ranging from harmless encounters to full-blown invasions.  The intriguing plot lines, witty dialogue and alien content draw science fiction geeks from all over.
Period dramas have also become quite popular, as some viewers crave an escape from the present by learning about life in a different time.  Luckily, the BBC answers the call.  Upstairs, Downstairs (available on Netflix, Amazon, etc.) can be seen as the original Downton Abbey.
Although not as well known, the original series (first premiered in 1971) and its continuation (a "remake" aired from 2010 to 2012), revolve around the fictional 165 Eaton Place in London and the relationships between the "upstairs" family and their "downstairs" servants residing there during and after the Great Depression.  The show's more modern city setting and later time period provide a refreshing contrast to the close-knit small town community and its people at Downton.
Following this different-time motif is The Hour (Amazon Instant Video).  This series transports viewers straight into the heart of the Cold War- June 1956, during the time of the Suez Crisis.  The story follows unhappy reporter Freddie Lyon who has been relegated to producing newsreels for the BBC.  However, with a news magazine set out to cover the conflict in the Middle East, an intricate web of lies, murders, and espionage is uncovered.  The great suspense mixed with history is sure to please both mystery and history buffs alike.
We acknowledge that some of you aren't exactly as glued to your television sets as we are; for that, we recommend beginning this year on the right foot by taking the plunge into foreign films. The romantic comedy Notting Hill (available on Amazon, iTunes and by other means) details the ups and downs of a  British bookkeeper's tumultuous relationship with a Hollywood starlet and even gives a quiet glimpse into the lives of a typical – albeit incredibly fortunate – Brit in modern times.
For those who aren't too fond of lighthearted films and prefer movies with dark fantastical elements, Pan's Labyrinth (available on Amazon, iTunes and by other means) is an excellent choice. The critically acclaimed work by Guillermo del Toro is entirely in Spanish and seamlessly weaves together the tragic story of a girl living in post-Civil War Spain with the fantasy world she imagines.
It's not too late to make a New Year's resolution; catch the outsider influence and make a promise that you'll definitely want to keep.  Of course, there are plenty of other foreign films worthy of your attention, and with Netflix's closed captions, you need not stick to English-only movies.
Leave a Comment
Your donation will support the student journalists of The Classic. Your contribution will allow us to purchase equipment, support our extracurricular events, celebrate our staff, print the paper periodically, and cover our annual website hosting costs.