FON 2013 performs for larger crowd in new location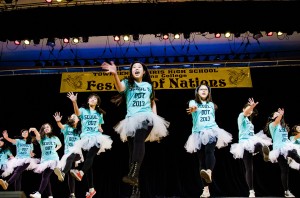 Blurs of vibrant colors flash across the stage and bells jingle noisily. The air is filled with upbeat Caribbean music one minute and tranquil melodies from China the next. Dancers leap across the stage, swirling silk red ribbons in the air and accompanied by lively enthusiasm radiating from the audience.
These were the sights and sounds of the annual Festival of Nations (FON) on February 7, a night when Harrisites performed dances to music from around the world on the stage of the Colden Auditorium at Queens College.
A wide range of performances took center stage: there was a love song performed by Japanese classes, Filipino FON's Tinikling dance, a Chinese fan dance, and a fusion of Salsa and Bachata from Tambores Latinos. CPop dramaticized their performance with white masks, and Virsa kicked off theirs by spinning a chakkar (a large, colorful ring symbolizing India's military strength). The show concluded with members gathering on stage to sing along to Michael Jackson's "Man in the Mirror," reminding the audience of FON's aspirations towards unity and common purpose.
For the first time, Caribbean Carnival brought the vibrancy of the West Indies to the table, wearing bright tank tops and skirts with bells while dancing to exotic beats.
"We didn't want to just be generalized as the 'African Americans,'" said sophomore and Caribbean FON choreographer Kaycia Wilson. "We wanted to represent the Caribbean. It was a great turnout. I never felt more proud."
FON Coordinator and Spanish teacher Beatriz Ezquerra sees them as "very promising," and the group plans on performing again next year, with male members.
Notably, this year's FON was was not held in the Townsend Harris auditorium. Last year, FON had about 400 participants, which is the capacity of the Townsend Harris auditorium itself. Thus, many students complained that tickets were sold out, and they couldn't invite others. To fix this, the FON committee decided to rent Colden Auditorium instead, which seats 2,127 people.
"Teachers took a risk and worked really hard to do this," said Lisa Mars, Assistant Principal of Language, Music, and Art.
The decision came with pros and cons.
"We were more organized when we did it at Townsend, but I think Colden Auditorium was more professional and brought out the show better," said junior Eleni Stellatos.
Because Colden Auditorium is constantly used for other events, students were not able to practice there until a few hours before the performance. Some were confused by the larger stage and unfamiliar orientation during their performance, and some found the transition from the auditorium to backstage difficult.
In addition, if students forgot something in their locker, it was hard for them to go back and get it. The committee was also concerned that since Colden was larger the auditorium would look empty during the show.
"It was a nice thought," said senior Shaleen Singha, "but it just made it harder for us."
Sophomore Gene Choi said the hectic nature of FON performances left him "in consideration of where it should be held next year."
On the bright side, both the audience and performers had more space.
When FON was held at Townsend Harris, performers would crowd in the cafeteria and watch FON on TV between their performances. At Colden, however, each FON group sat in its own section at the back of the theater between performances and watched the show live. The lighting and sound equipment were also more sophisticated at Colden.
"I felt like it was a nicer event," said junior and FON participant Diana Londono. "It looked a little bit more professional."
"I thought FON turned out wonderful this year," said junior FON coordinator Amanda Ramsaroop. "I really didn't know what to expect… after seeing the performance at Colden and hearing the reaction from both dancers and audience members, Colden was a great choice."
The FON committee hopes to rent Colden Auditorium again next year.
Looking to the future, Ms. Mars hopes to alleviate participants' confusion by taking them on a walkthrough of Colden beforehand, which only FON group leaders did prior to the show. Many students also hope to practice at Colden before show day.
In addition, Ms. Ezquerra, who has coordinated FON for three years, hopes students will incorporate more cultures in future shows, such as other Hispanic dances and more European representations.
However, the biggest problem experienced during the show was not anticipated: the communication radios stopped working before it started, so coordinators resorted to cell phones.
"I did my opening speech while texting sound cues," said Ms. Mars. "It was amazing we actually pulled it off without radios."
Despite these issues, the change in venue had no effect on its traditional spirit and message, being able to "move past mere tolerance to appreciation and acceptance…in the hope of a more peaceful world," as Ms. Mars said in her opening speech.
"I thought it was very artistic," said junior Abbey Li. "I like how people were in a group that wasn't their own ethnicity. This shows acceptance of  other cultures."
However, Ms. Mars reminds us that it is the process behind creating the show that matters the most because it "brings us together as a community."
For freshman Yasmin Ally, it was one of the best experiences of her life because it allowed for new friendships and for the experience of various cultures.
Freshman Crystal Crosby likes how FON allowed her to showcase her nationality while doing something she was passionate about: dance.
Still others enjoyed the show for the moments they had in the spotlight.
"When I was up on that stage, I literally felt like I was in a dream, and all of it went by within seconds," Gene recalls. "There was an adrenaline rush that overcame me while I was up there, and I truly loved it."
With performers often practicing every day until as late as 6:30 for over three months, performers and coordinators say that creating FON is often difficult.
"Sometimes FON is noisy in the hallways," said Ms. Ezquerra.
She added, "We admit preparing this is confusing and noisy, but the result is rewarding."
Leave a Comment
Your donation will support the student journalists of The Classic. Your contribution will allow us to purchase equipment, support our extracurricular events, celebrate our staff, print the paper periodically, and cover our annual website hosting costs.