FON adds cast size limits to performances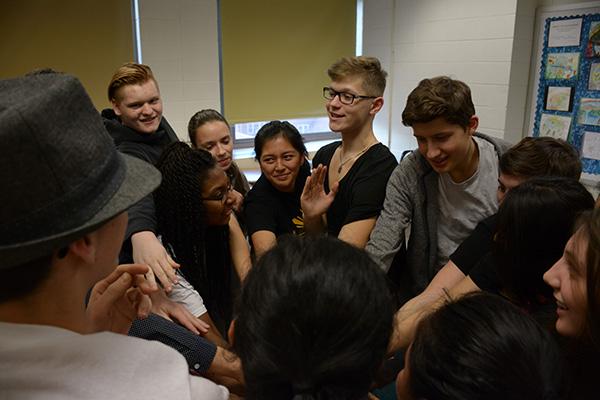 THIS YEAR, Festival of Nations (FON) performance groups must adhere to a 60 person limit. Assistant Principal Ellen Fee placed a cap on the amount of people in each FON to ensure safety on a crowded stage and adequate performance time for all groups.
FON is an event that a major chunk of the school participates in. In previous years, there was no cap on how many students could be in each FON. More than 100 students would be involved in an individual performance group. This made for a performance in which students were seen on stage for as little as 30 seconds.
"60 was the number that I came up with from experience, [seeing] how many students can be [visible] on the stage… and can be safe," said Ms. Fee.
In addition, without the limit, FON created unsafe situations in which students had an increased probability of being injured.
Ms. Fee recalled a "dangerous" situation in last year's Filipino FON finale, in which she was in charge of holding sticks vertically so that students coming on stage would not run into them. She said, "You had sticks rolling and then you had a hundred kids trying to come on stage amid those rolling sticks. "
FON leaders adjusted to the limit either by lowering the size of their FON groups or splitting into multiple FONs to avoid "cutting" performers.
KFON leader senior Clara Kim had 150 signups for her group. Together, the leaders split into two separate FONs to accommodate 120 people, but they had to turn away 30.
"After the kickoff meeting we posted [in the Facebook group] asking if anyone was willing to drop out. We asked everyone to write down their extracurricular activities so we could turn away those who have too many other responsibilities," she said.
Chinese ribbon FON leader senior Joan Nieh said, "We had too many people sign up at the interest meeting [so] I cut people from my FON because they didn't show up to our mandatory meetings."
Dhamaka, also known asBig Brown FON, split up into three FONs this year to comply with the limit. Senior Aneesha Vinayek, one of the leaders of Brown FON, said, "The leaders decided to create three different 'brown FONs': Bollywood, Punjabi and Classical/Gujarati. When people signed up, they signed up for 'Brown FON' and we had 150 people interested, so we had to place them in our three new groups. We were still unable to give everyone their first choice group [since we] had 100 people [who] wanted to be in Bollywood."
With these changes, each FON performance will be longer than it had been in the past. Ms. Fee's initiative allows for more students to get more stage time after two months of hard work perfecting routines.
Aneesha concluded, "There definitely are pros to the limit such as being much safer and everyone that's in FON gets much more stage time and can actually be seen compared to previous years, which was Ms. Fee's major goal."
Leave a Comment
Your donation will support the student journalists of The Classic. Your contribution will allow us to purchase equipment, support our extracurricular events, celebrate our staff, print the paper periodically, and cover our annual website hosting costs.