Harrislam celebrates a decade of MIST with sweep

Written
The ten year anniversary of Muslim Inter-Scholastic Tournament New York (MIST NY) kicked off to a huge success, attended by Muslims and non-Muslims alike from numerous high schools across New York State. The annual three-day tournament aims to create a network of diverse peers who share similar interests, enhance students' thoughts and ideas through creative means, and spread a deeper understanding of Islam, all through a wide variety of competitive events.
Townsend Harris High School competed with its largest Harrislam team yet, consisting of fifty people. "[Our team] grew in size, which was actually pretty unexpected because a good amount of our team last year was seniors," observed Senior Sarah DeFilippo, co-president of MSA. "We didn't think we could replace them but we had a huge influx of first-time competitors—not only freshmen, but all grades."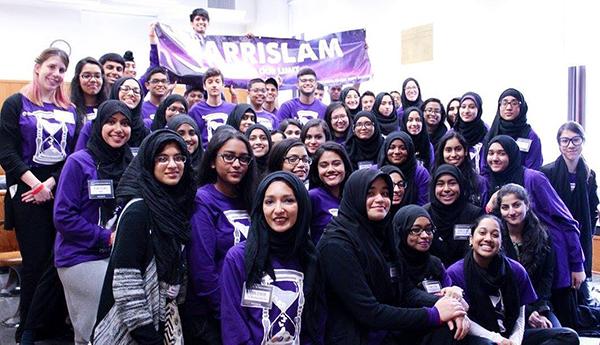 This year's tournament highlighted the Harrislam team's morale and enthusiasm. The team broke many barriers, placing in competitions the team had not gained recognition for in past years. Junior Tahiya Choudhury placed first in Qur'an memorization level 2, while Afeefah Anwar placed second in Qur'an memorization level 1. The Harrislam team achieved first place in both Math Olympics and Short Fiction by Aqib Sadique and Sarah Defilippo, respectively. "For 3 years we never won Math Olympics or Sister's Quran Recitation but we placed first in both this year. We never won before in 3D Art or Original Oratory but we placed in those competitions as well. The awards ceremony was very surprising for us to say the least," Aqib commented on his reaction to the results.
Aside from the ten year celebration, many students noted changes which made this year's event more memorable than previous years. Seniors Aqib Sadique and Malik Khan agreed attending Columbia's main campus rather than the medical center was very memorable. Specifically, Aqib stated, "The most notable difference in MIST this year was that it took place at the Columbia University main campus instead of at the Columbia University Medical Center, where it used to be for the past three years. The change in venue was definitely a plus, since I was seeing the campus for the first time, and it was beautiful."
"It also felt really powerful seeing so many Muslims united at MIST," Tahiya contributed to the experience. "There are lots of people who aren't Muslim that attend MIST as well, so it was nice seeing them learn more about Islam and all the negative portrayal there is in the media."
Sophomore Zayyan Alamgir, who also experienced MIST for the first time, remarked, "The workshops talking about empowering us to avoid oppression and being sincere with the people around me has helped me shape myself into a better person."
Ellen Fee, who has been a part of MIST since 2012 said, "I was so proud of our underclassmen (esp. 9th and 10th graders) who worked very hard and placed in many events!"
Attending MIST for the first time as a guest, English teacher Georgia Brandeis stated, "I heard lots of students screaming and cheering for [participants] from Cardozo…I saw these students from Townsend Harris also cheering for participants from Cardozo. It was so beautiful to see just how supportive everyone is… The unity that MIST brings cannot be found anywhere else."
Leave a Comment
Your donation will support the student journalists of The Classic. Your contribution will allow us to purchase equipment, support our extracurricular events, celebrate our staff, print the paper periodically, and cover our annual website hosting costs.