Classic poll of students finds 1% of current Harrisites support Ms. Jahoda for permanent principal

In The Classic's last interview with Interim Acting Principal Rosemarie Jahoda, she told The Classic that she believes she has a "great deal of support," but she is unsure of whether all voices are being heard.  In an attempt to ensure fairness in our reporting of the controversies surrounding Ms. Jahoda, we polled the student body to get a sense of who supports Ms. Jahoda. 89.03% of the student body do not believe Ms. Jahoda should be appointed permanent principal. 9.83% of students were not sure,  while .95% of the students said she should be appointed as permanent principal.
Our poll consisted of multiple questions. We asked students to fill out these surveys anonymously, unless they wanted to provide a comment. The first question was regarding whether or not students believe that Ms. Jahoda should be appointed permanent principal of Townsend Harris High School.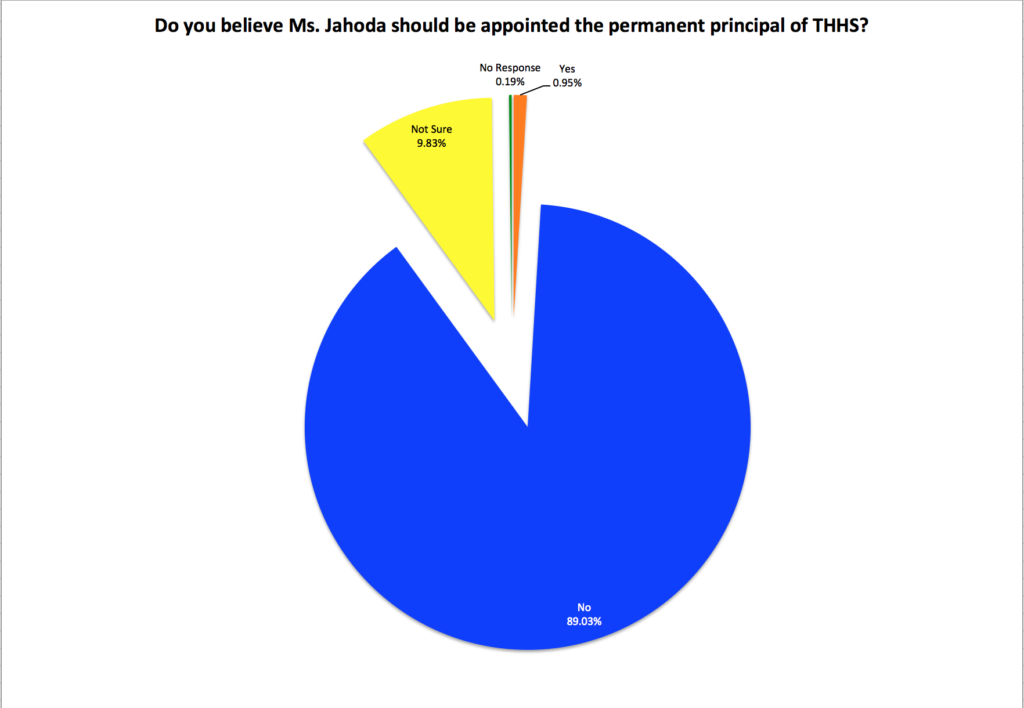 Many students who were polled provided their opinion on Ms. Jahoda. Freshman Rohan Iger wrote, "IA Jahoda has done nothing but ruin the reputation of THHS. The only reason she is still considered is because [of the] corrupt DOE system."
Sophomore Andreas Migias wrote, "Ms. Jahoda has caused a hostile environment."
Similarly, sophomore Alexa Barisano wrote, "Someone from our school should become our principal because they know the values of Townsend."
However, some did demonstrate support for Ms. Jahoda. Freshman Tamanna Uddin wrote, "I feel as if people are making this bigger than it seems…We should give her another chance instead of complaining."
Following news that assistant principals Ellen Fee and Susan Brustein were not given interview for the C-30, many expressed that the DOE was "rigged," or "corrupt." We polled students to see how many preferred Ms. Fee to be the principal compared to Ms. Jahoda.
83.87% of students preferred Ms. Fee, 14.69% were not sure, and 1.05% preferred Ms. Jahoda as principal. .38% left the question blank.
When asked if they preferred Ms. Brustein as principal or Ms. Jahoda, 73.47% preferred Ms. Brustein, 25% were not sure, and 1.24% preferred Ms. Jahoda. .19% did not respond to this question.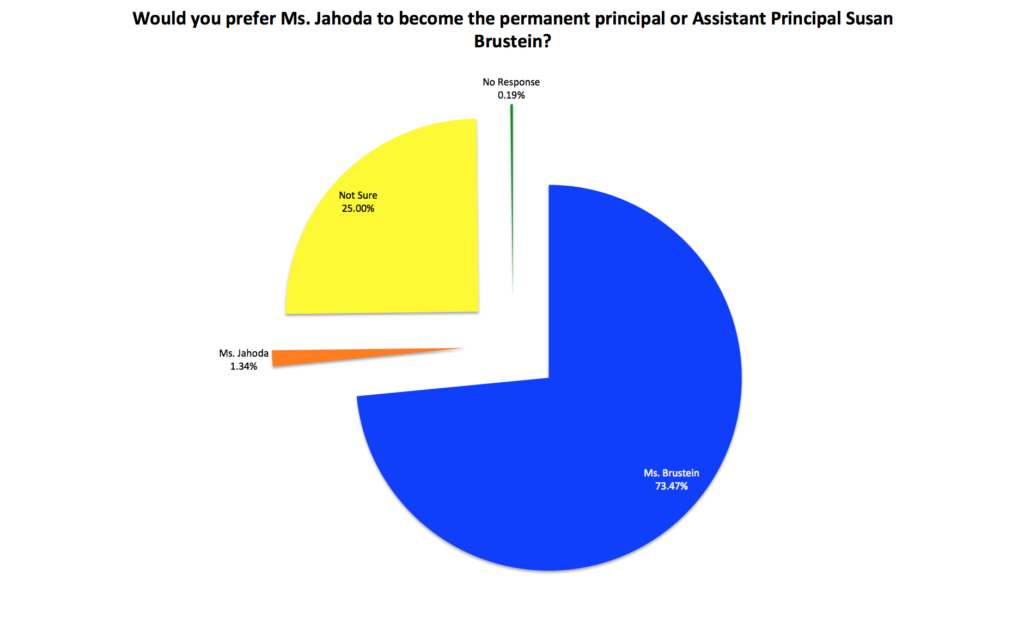 We polled students on whether they agreed with a statement made by Ms. Jahoda. Ms. Jahoda told news agencies the following: "I remain 100% focused on serving students and families at Townsend Harris and working to move the school community forward." We asked students if they agreed with this characterization of her work at THHS. 75.67% said no, 21.37% said they were not sure, and 2.96% said yes.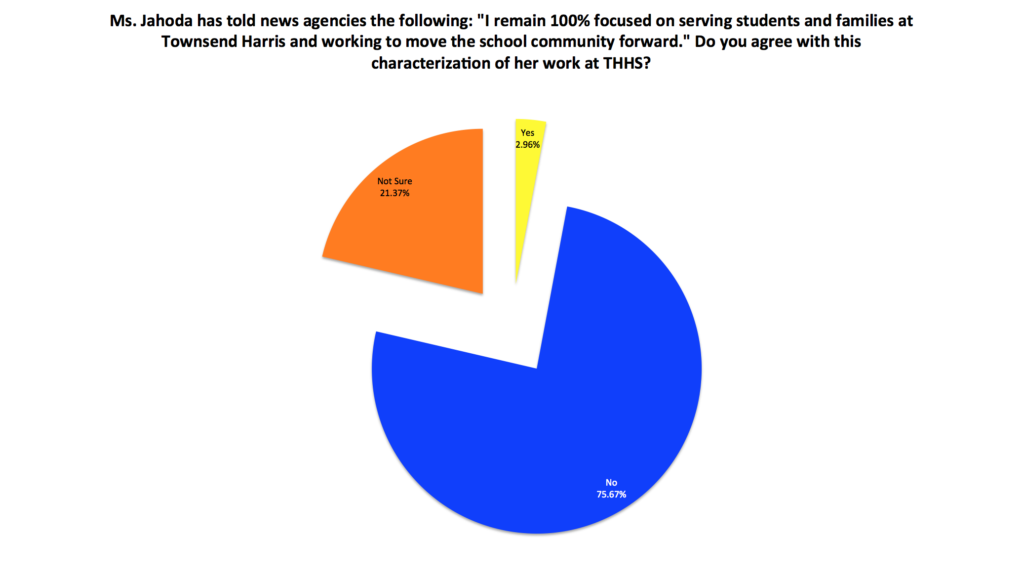 Sophomore Nathan Fredere wrote, "While Ms. Jahoda may believe that her actions are best for the community, the repeated objections to her behavior and her refusal to apologize have shown otherwise."
Many cited Deputy Superintendent Pineiro's behavior and Ms. Jahoda and the DOE's treatment of The Classic, as reasons why they felt Ms. Jahoda was not supporting students.
In December, the Parent Teacher Association called on the Department of Education to apologize to the students of Townsend Harris due to the behavior of Deputy Pineiro at the December sit-in. We asked students if they believed the DOE should do this. 84.06% of students said yes they should, 12.31% of students said they were not sure, and 3.63% of students said no.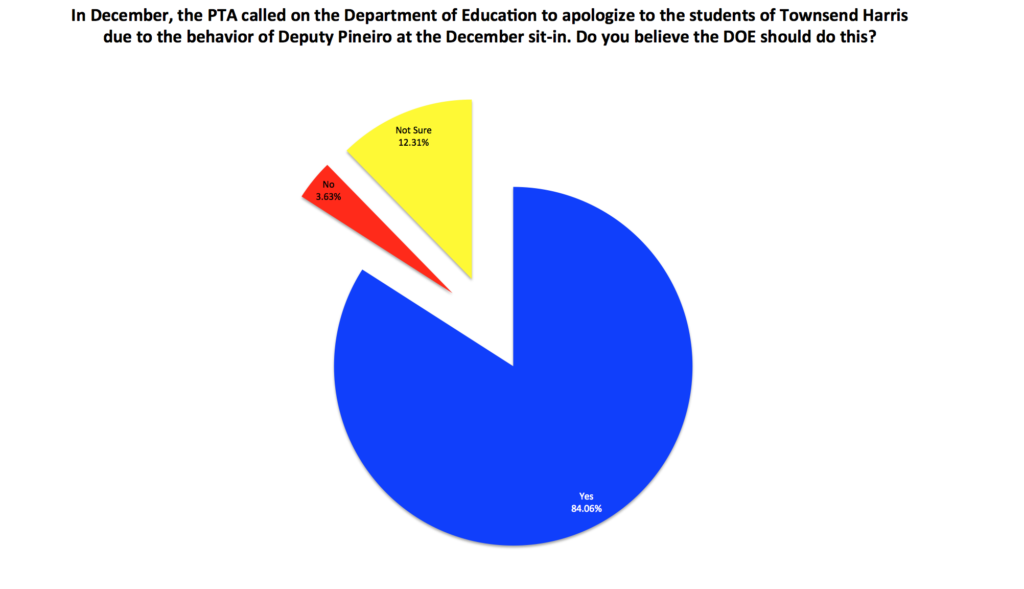 Regarding these results, Co-President of the PTA Susan Karlic said, "The numbers do not surprise me at all; [they] show how united the students are as part of the Townsend community."
Classic editors used their free bands to go to each grade's English class (or, in the case of seniors, their Social Studies class, since not all senior English classes meet each day) in order to collect polls regarding the ongoing principal controversy. Out of 1,105 students that are enrolled, we spoke to 1,048 people, which is 95% of the student body. 1,072 students were in the building the day we conducted this survey.
Sources of error may include data collection and data entry. Students may not have been completely honest, changed their answers based on the responses of others, or their conception of the majority and since we polled students with printed questions and then inputted the data onto a spreadsheet, there could have been some errors while inputting the data. Given the size of our sample, however, we are confident in these results being a strong representation of the opinions of the student body.
We later plan to poll other groups, such as faculty, in a similar manner.
Ms. Jahoda did not return requests for comment sent earlier today.
Leave a Comment
Your donation will support the student journalists of The Classic. Your contribution will allow us to purchase equipment, support our extracurricular events, celebrate our staff, print the paper periodically, and cover our annual website hosting costs.