As coronavirus fears rise, students express dismay at lack of soap in school bathrooms

With the arrival of coronavirus (COVID-19) in New York City, the NYC Department of Health has released a series of precautions to prevent the spread of COVID-19. As the virus spreads, health officials have stressed the importance of washing hands properly. Recently, students and staff alike have expressed concern about an inconsistent availability of soap in Townsend Harris restrooms. The Classic surveyed bathrooms throughout this week and found that depending on the bathroom and the time of day, the supply of soap was varied and inconsistent. While some bathrooms had empty or broken dispensers, the fifth floor boys bathroom had no soap and no soap dispensers earlier in the week.
Acknowledging the issue, Principal Brian Condon has directed the THHS custodial engineer to ensure all student bathrooms have at least two functioning and well-stocked dispensers by Monday. 
On Tuesday afternoon, after surveying bathrooms, a Classic staffer took pictures (pictured below) of the bathroom that lacked soap, and the pictures were shown to a THHS administrator Thursday morning. The pictures showed three areas on the wall with indents where rectangular soap dispensers should be; they were each empty and no other soap was near the sinks. In our next survey on Friday morning, that bathroom had a Purell bottle filled with soap placed near the sinks. Later on this morning, Principal Condon surveyed the bathrooms to inventory them personally.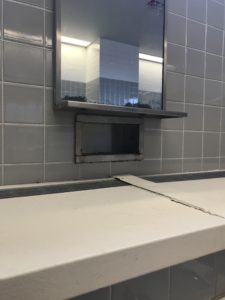 Numerous students shared their experiences with a lack of soap in the school bathrooms. 
"Sometimes you can find soap in the bathrooms, but a majority of the time there isn't any," said junior Christopher Sullivan. "I've grown accustomed to just washing my hands without soap in school, but it would be nice to have some in school bathrooms." 
Senior Jennifer Mendez said that there has "rarely [been] soap in the bathrooms" when she has gone and was concerned that some sinks are also not working. With the current warnings from health officials, Jennifer added that she feels unsafe with the sanitary conditions in the bathrooms. "I have started to carry around my own hand sanitizer, courtesy of my mom."
However, student experiences varied.  In regard to sanitary resources, freshman Jason Song has found that "there's always soap in the bathrooms." 
One teacher was alerted to the soap issue earlier this year and brought it to the attention of the administration.
"Many students [had been complaining] about the lack of soap in the girls bathroom, specifically on the fifth floor," said math teacher Aleeza Widman. "On occasion I would go in there just to wash my hands if the staff bathroom was being used. On most of my visits there was no soap in the girls' bathroom."  
Ms. Widman sent an email about the issue to Assistant Principal of Organization Ellen Fee in mid January. "Since then the past few times I went to wash in the girls' room there was soap available," she said. It is unclear, however, when the fifth floor boys bathroom dispensers were removed or how long the room lacked soap overall. 
Mr. Condon acknowledged that students had concerns about soap availability prior to recent COVID-19 developments. 
"We did know that there were some issues with some of the soap dispensers in the bathroom," he said, explaining that earlier today he conducted "an inventory of all of the bathrooms, adult and student bathrooms." He then spoke with the custodial engineer and was assured that missing dispensers would be filled with new dispensers and "broken [soap dispensers] would be replaced as quickly as possible." At the moment, small hand soap pumps have been added as a temporary fix. 
Ms. Fee said, "Each time my office gets a report of no soap (or low soap), we immediately contact the custodial staff and request that soap dispensers are refilled." She believes it is not as much an issue of low supply of soap so much as managing how often to refill it. The administration is working closely with " the custodial staff to keep bathrooms stocked more frequently."
In a recent letter sent to all custodial engineers, CEO of School Facilities John T. Shea wrote, "All custodian engineers must ensure that all buildings under their care have at least a 30 day supply of hand soap, paper towels and antiviral disinfectant in inventory. Supply orders for these products are to be placed immediately."
On Wednesday, students received notice from Richard Carranza, Chancellor of the New York City Department of Education regarding COVID-19 in public schools, which described protocols to ensure that "all bathrooms are continuously stocked with soap and paper towels, and…students and staff [are encouraged] to wash hands frequently."
Representatives for the DOE did not immediately return requests for comment.
Townsend Harris's custodial engineer Gary Viola recently retired. We visited the engineer's office but were unable to find the temporary custodial engineer for comment. One custodian maintained that there have been adequate sanitary supplies during and prior to the outbreak of COVID-19, assuring that soap and cleaning materials have always been in stock, ready for use when needed, and replenished by the night crew.   
Nonetheless, Mr. Condon suggested that changes on how the DOE governs custodial budgets might have led to a short supply in circumstances like this. "Custodians used to have more robust budgets and more control over their budgets," he said, explaining that these changes may have led custodial engineers to focus more on day-to-day stocking, which would make it difficult to plan for emergencies. "I can't blame the temporary custodian or the past custodian completely," he said.
Senior Ashley Facey felt these recent school and DOE actions should have been taken already.
"It's not okay," she said. "I know that [the custodial staff and the administration] will become more aware of the lack of soap in the bathroom because of the coronavirus, but it shouldn't take an entire epidemic for people to realize that we need soap in our bathrooms."
We spoke to students at a range of schools throughout the city. Many were satisfied with the conditions at their schools and described their bathrooms as being sufficiently stocked with soap. Others, however, shared similar concerns to THHS students about the availability of soap in their bathrooms since the rise of COVID-19.
A junior at a Queens high school said, "There is soap in the bathroom, but once they're empty, they don't really refill it until later. They'll be empty for a while throughout the day."
A Queens middle school student said, "I mostly use my friend's hand sanitizer because the soap in the bathroom is always watered down."
A student in a Manhattan school also felt their bathrooms needed more attention and had particular concerns about other supplies. "People have been resorting to bringing their own toilet paper in their book bags. My teachers have even been going around during class giving out pumps of hand sanitizer to all the kids."
A student from another Manhattan school was happy to see an abundance of soap and hand sanitizer stations positioned throughout the building. A middle schooler at another Queens school said, "Previously, there wasn't always soap in the bathrooms, but they just started putting soap because of the coronavirus scare," commented another middle schooler.
Mr. Condon stated that administrators have taken their own steps to address the concerns of the Townsend Harris community. "I actually had Ms. Fee order a large amount of hand sanitizers to be placed in each classroom." Ms. Fee said "This shipment [of hand sanitizers] was paid out of our school budget that we did on our own, not from Central NYC DOE. " Apart from the changes in the availability of soap, Mr. Condon concluded, "There will be hand sanitizer in each classroom." In addition to ensuring that at least two working soap dispensers are in each bathroom, Mr. Condon also said, "There will [soon] be hand sanitizer in each classroom." 
The editorial team of The Classic contributed to this story by contacting students throughout the school and city for comment.
Leave a Comment
Your donation will support the student journalists of The Classic. Your contribution will allow us to purchase equipment, support our extracurricular events, celebrate our staff, print the paper periodically, and cover our annual website hosting costs.