Boys Varsity Basketball Team aims high as close of season approaches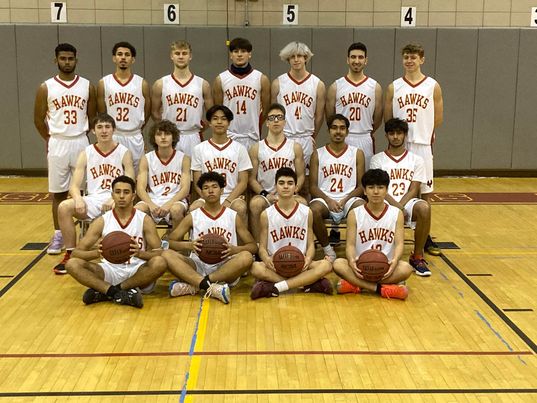 Into the last stretch of their season, the Townsend Harris Boys Varsity Basketball team remains top of the PSAL Queens B division with a record of 11-1 and , with their most recent win on January 21 against Queens Gateway to Health Sciences by a score of 48-18. These recent showings have left the team with confidence and high hopes. In light of their performances, The Classic spoke to the team about their goals and assessment of the season thus far.
Freshman Sebastian Morales said, "After going 5-0 to start off the season, I feel very confident in what this team can bring to the table."
Sophomore Iyad El Bouanani said, "We're feeling pretty confident, while of course making sure to remain humble. We still have mistakes to work on as a team to solidify our wins and overall we're pretty optimistic." With this successful run, the team hopes to remain at the top of their division. Junior Finn Cervino said, "The rest of our schedule has many teams that we have beaten in the past, giving us ample opportunity to work things out. Needless to say, we're confident, but that's no excuse to take our foot off the gas order and stop working to get better." 
The players also expressed how their bond has helped them continue to win games this season. "Our strong relationship always shows on the court," said Iyad. Sebastian also said, "Our team has a great bond and has quickly adjusted to each other's play style. Most of the upperclassmen have been together since their freshman year which helps, but in all, we all get along well together." 
During the limited spring season last school year, spectators were not permitted to attend the games. This year, there has been a slow return to in-person spectating, with only a limited number of  parents and students allowed to watch home games. Nevertheless, Finn said, "Coming back to play in front of fans every game is a joy. Even if it's just a couple of parents watching, the crowd always has a positive impact on the home team."
While wanting to have fun, the team is eager to bounce back after playing only five games last season due to the COVID-19 pandemic. They spoke about continuing the successes of previous seasons, including that of the 2019-2020 season, in which they went 15-0 before losing in the second round of the playoffs. The team currently has four games remaining before the playoffs.
Photo by Abid Choudhury
Leave a Comment
Your donation will support the student journalists of The Classic. Your contribution will allow us to purchase equipment, support our extracurricular events, celebrate our staff, print the paper periodically, and cover our annual website hosting costs.