When The Classic spoke to student teachers Carlin Lee and Juliana Grant earlier this week as part of its coverage on the THHS music program, they had just completed their stints at Townsend Harris and graduated from New York University and Queens College respectively. Yet despite completing their responsibilities at THHS, Mr. Lee and Ms. Grant stayed to perform, conduct and support their former students at the Spring Concert. Now, Mr. Lee is supporting the THHS Wind Ensemble on their Washington DC trip, which began yesterday. In light of their roles in the THHS music program, The Classic took this opportunity to ask Ms. Grant and Mr. Lee about their experience in the THHS music program, and the reasons behind their extended stays. Below are their responses.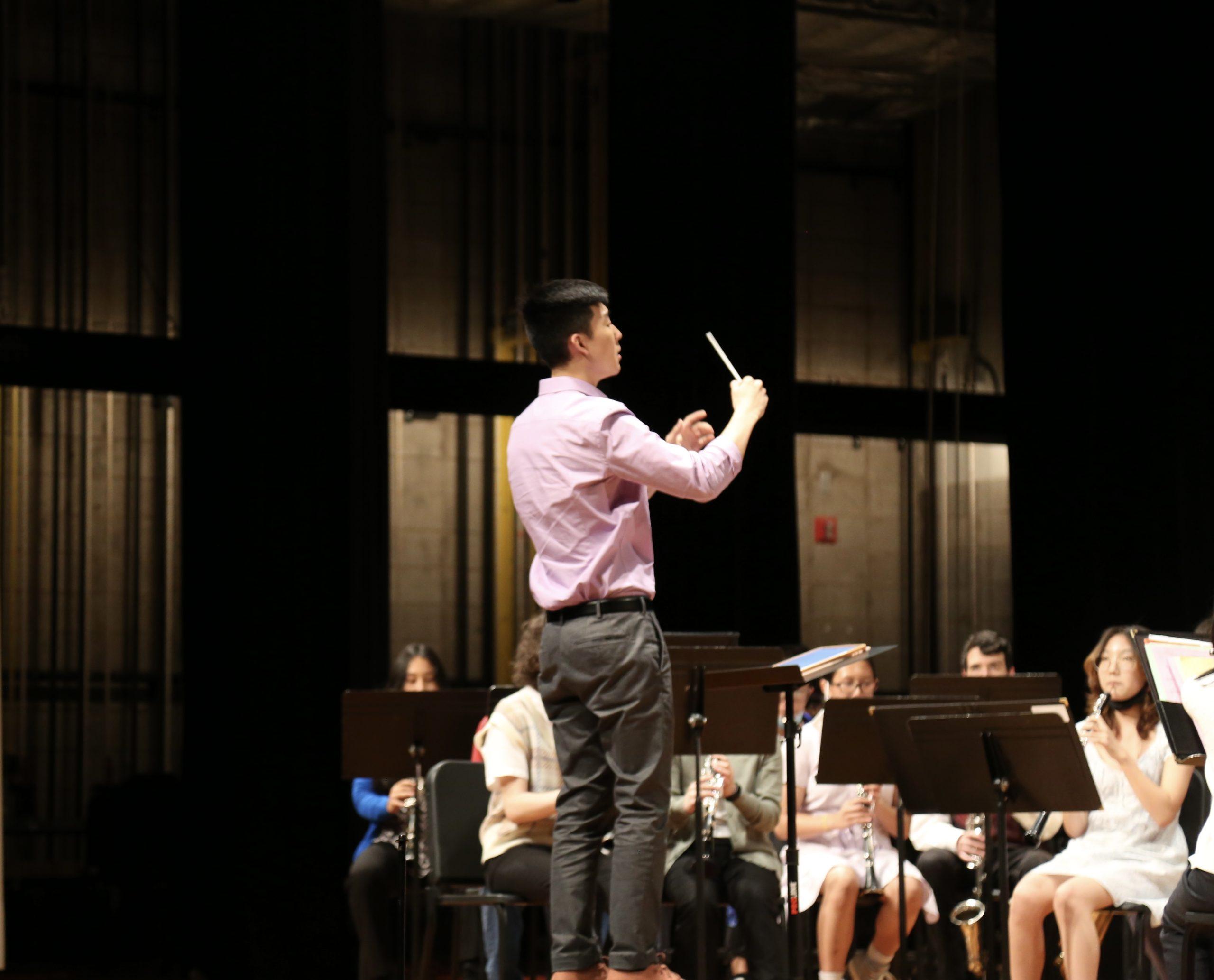 Q: How would you describe your experience in the THHS music program?
Ms. Grant: Working at Townsend Harris was like a dream. The students were so kind and welcoming, and genuinely interested in learning. That made it very fun and interesting. I would get all sorts of great questions from students especially in my intermediate strings class. And these questions would always branch off into good conversations about music. I was really able to work on my craft especially at Townsend Harris. Because the students are so amazing, I was able to focus on how I want to teach, and find things that I found worked for me as a teacher.
Mr. Lee: This is going to be a bit of a recap as to how I found myself at Townsend, and then of course an overview of my experience during my time here. This is long, but its archival for my own fleeting memory:
Back in May of 2021 I was notified by NYU that I would be placed at Townsend Harris Highschool for the Spring of 2022 semester. When I saw how far the school was from my apartment in downtown Manhattan, about an hour and a half by train and bus, I really was not happy. What ended up happening though is a friend of mine moved to Queens, rather close to the school, and let me lease the spare room in his home for 3 nights a week. So every Monday I'd pack some clothes and whatever I needed to teach, and I'd go live in Queens before returning to Manhattan on Thursdays to work, perform, and teach more over the weekend.
On day one of my student teaching, the first thought I had when introducing myself to the different classes I'd be teaching was "this is going to be a long semester". I had just finished my student teaching at an elementary school and when I first met my classes there, the students would swarm me with questions like "how old are you?" or "when is your birthday?" They just wanted to get to know me and couldn't get enough, but at Townsend, there was absolutely none of that, just blank stares. I thought I was entering a factory where all I would get to do is show up, teach notes and rhythms, and leave. I was really uninspired.
I was also severely out of my own comfort zone teaching an instrumental band program. See, I was never in a concert band or wind ensemble during my highschool years like most of my other Music Education peers were. After sitting in with the bands, and having Mr. Heathwood bring me up to speed on things I started to feel a bit more comfortable with existing there, but teaching was still something that seemed far away. Eventually though, I had to step into the teaching role and [while] at first it was still very uncomfortable, Mr. Heathwood encouraged me and told me I was doing the right things and would point out where I could improve.
One day, I realized I was not okay with just showing up, getting the band to sound better, and leaving. So I sat down and memorized all the students' names as best as I could so I could begin forming connections with them. This was the most important move I made during my time at Townsend because once I showed the students that I cared about them, and not just their musicianship, I think they started to enjoy the class much more. And because we began enjoying class more, the work we did became more internalized, and the students were more likely to really listen to what I had to say, versus if I continued to just expect them to listen to me since I was the "teacher." 
The last two months of my time at Townsend were simply amazing. I had finally built enough rapport with the students that they were completely transparent with me and that helped me teach better. I also got to have so much fun with all of their quirks and personalities. It was really humbling that they felt comfortable asking me if they could bring a waffle maker to school and use it in the band room during lunch, or start a reality TV show for the band instagram, but also were able to respect me when it was time for instruction and work.
The Townsend Harris band program is still coming off fresh from the remote year, which was a major reset button on any progress that the band had made prior, but the amount of talent and potential the students have is inspiring. The combination of musical excellence and good natured fun that the band has is the perfect mix. I think anyone with any interest in playing an instrument should consider joining this wonderful and welcoming community. While my time with the program is over, Mr. Heathwood is going to continue to foster the wonderful energy that the Townsend Harris High School band has and really take it to far places. 
Q: What is your most memorable moment at THHS?
Ms. Grant: My most memorable moment in class was actually in the music technology class. While I didn't do as much teaching in that class, I learned a lot about different technologies used to create music. One of my best memories was with Carlin (the other student teacher), and the students in that class. We created a topic of writing a song and went over how to write lyrics. We created a song based on the hatred and awfulness for two classes that students mentioned. We created a chord progression and just jammed out on all of our instruments to the music we all just created. That is truly the joy of music.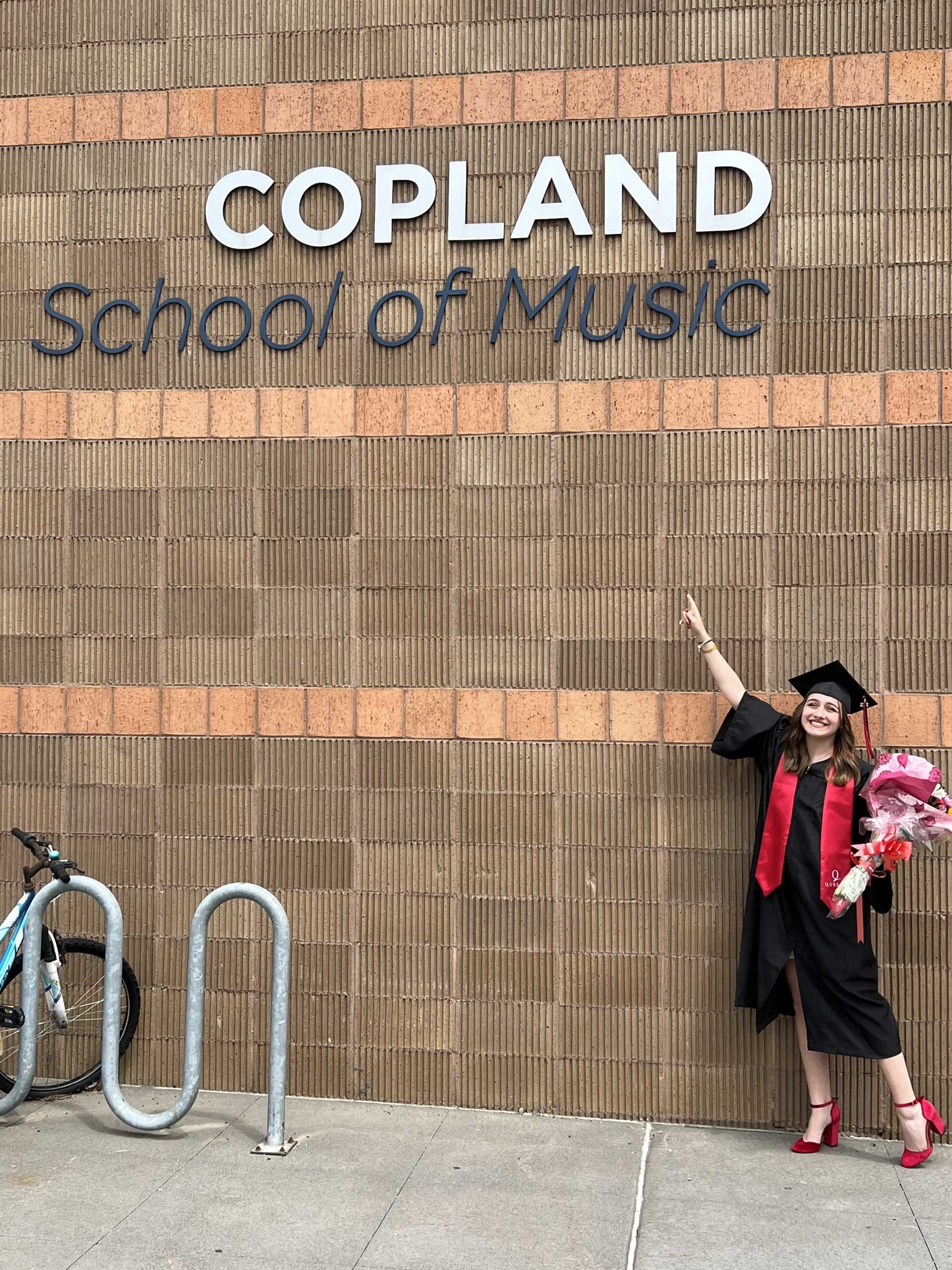 Mr. Lee: That's really not a fair question to ask. I don't think I could give up a single day's worth of memories at Townsend. This sounds cheesy but my favorite memories of Townsend span my entire placement, because no singular incident could sum up or represent the millions of daily interactions that led to the connections that I now have with all of the students there. Sure you can look at Waffle Day, or the post NYSSMA falafel/ice cream run, or the Spring Concerts, but still none of those compare to the passing jokes or fun teaching moments that would happen each day. But I guess putting whipped cream on the floor waffle still crosses my mind every few minutes or so.
Q: What are your thoughts on the spring concert? How was it like to be able to showcase the compositions that you've worked on for one last show?
Ms. Grant: I thought the spring concert went amazing. I think what was so special about this concert was I was feeling everything the students were feeling. This was my first concert conducting an orchestra, so I can imagine I was just as nervous as some of my students, but I also think that I was just as excited as them. I think this mix of excitement and nervous combined created the best performance of the Dvorak piece I have ever heard from the group. I could not be more proud of all of the students I had the pleasure to work with. It felt great to see everyone again after so long and it felt even better to make such amazing music with everyone.
Mr. Lee: The spring concerts were a really beautiful time. Both Mr. Heathwood and I were completely overjoyed with how good the band sounded, but also how much fun everyone was having. To me, the latter is far more important. The audience was engaged and full of proud parents, the students were fully committed to being the best they could be, there was celebration, it was all a teacher could really ever ask for. The fact that it was essentially the last show I'd be putting on with the band does make the event bitter sweet, and the seniors wrote me a really touching card, but overall it was an amazing, unforgettable few days. "If this week doesn't make kids want to stay in music, or join music, then I don't know what will" – Kevin Heathwood.
Q: Despite the fact your stint as a student teacher in THHS is over, you decided to travel with the wind ensemble band to Washington DC. Can you explain your decision, and what are you looking most forward to?
Mr. Lee: I guess the short answer would be that I was invited, so why not? When you are in my position of having the most good natured, funny, and talented students, how could you say no to going on a bus ride to DC for a band competition with some visits to cultural centers and amusement parks sprinkled in? I also want to make sure my students know that I came to Townsend Harris to give everything I possibly could. Staying past my placement to do the concerts and go on this band trip, is how I'm telling them that I'm here for whatever they need. I hope they hear that. Oh and I'm most looking forward to this band trip being the first of many trips from the Townsend Harris Highschool Bands, with the future holding possibilities for internationally won gold medals, lifelong memories, and artistic achievement and fulfillment for my students.
Q: Despite the fact your stint as a student-teacher in THHS is over, you still decided to return to play with the THHS musicians, including during the school play and spring concert. Can you explain your decision?
Ms. Grant: I always talked with people about how music teachers are different from all other teachers. While a math teacher might teach math, they are not mathematicians, while a science teacher might teach science, they are not scientists. They are teachers. But music teachers are different, our craft follows us outside the classroom, whether it's playing in an orchestra, playing a gig at a jazz bar, playing in a quartet at a wedding, or just playing a new piece of music for fun. All music teachers I know still do music outside of teaching because we love it. We are musicians and teachers. I came back to play in the concert because making music and playing music is one of the most enjoyable things in my life (even if it is playing the violin).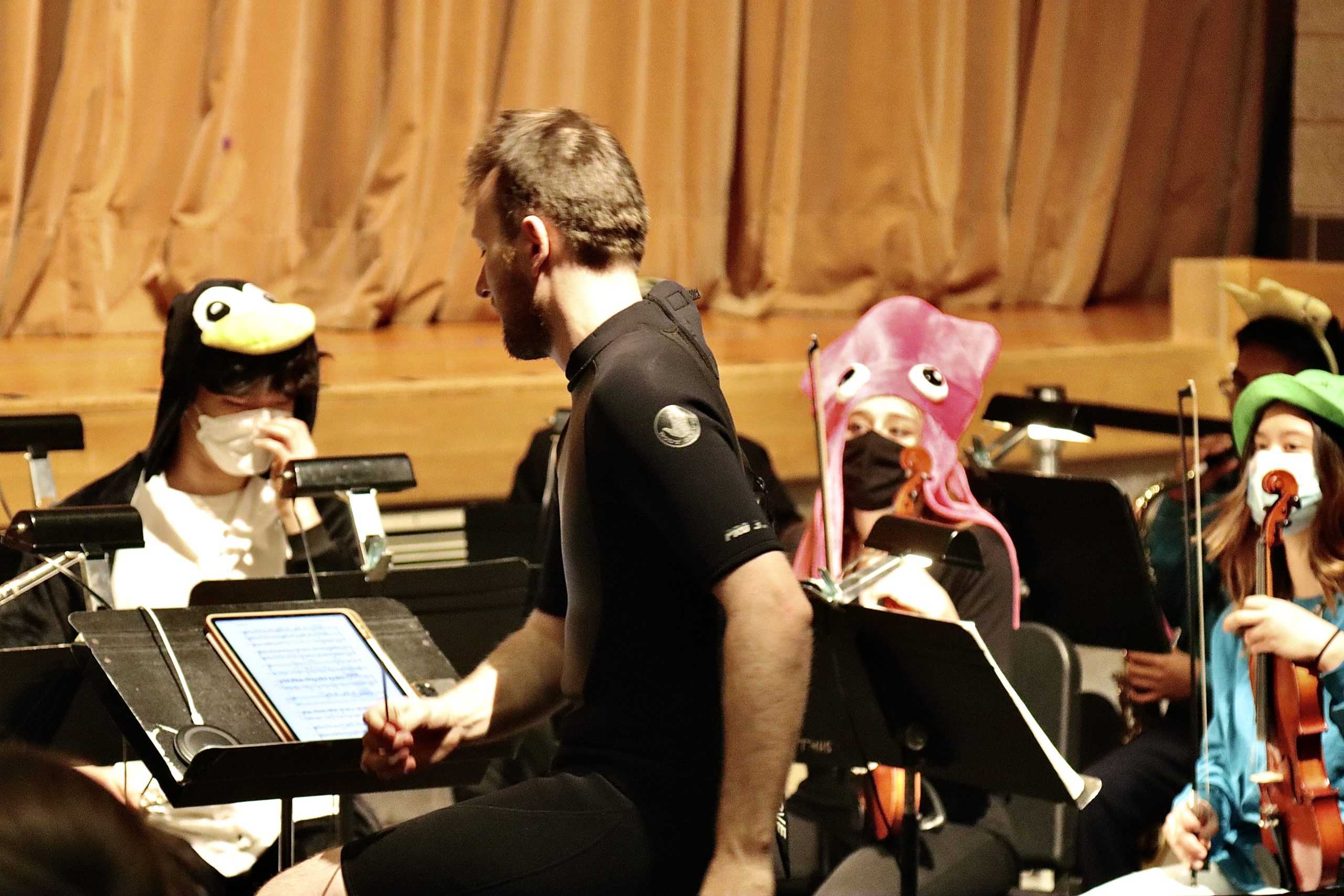 Q: What message do you have for all the musicians that you've worked with for the past few months?
Ms. Grant: Enjoy and appreciate music. Music is always all around us, everywhere we turn. Learning an instrument is a gift, and you should treasure that gift forever. Music allows you to express yourself in ways that nothing else could. While at times it could be very very boring and technical, the rewards of creating music is so much greater than the not so fun parts. And I wish all of my students the best of luck as they finish up their time at Townsend Harris and begin a new chapter in your lives! Also violas rock, shout out to all my violists who don't get appreciated enough.
Mr. Lee: This past year has been a rather difficult time for me. I struggled a lot with my mental health, my academic and professional futures, and in my family there has been a lot of health related suffering. When I first began getting to know all of you beyond your responsibilities of doing assignments and being in the classroom, I really began to look forward to each day of teaching. It was healing for me to learn what made you laugh and what about music kept you from abandoning Mr Heathwood and I for some AP class. By the end of my placement, each day made me want life to just keep on going and going. Quite frankly I don't get to feel that way very often so it was something really special for me. I don't know if you knew you had that effect,  but all I can say is that you all have so much potential and power to make this world better by being yourselves. I might not be at Townsend anymore, but I'm always reachable if you have any questions or need to tell me anything, find my email from Mr Heathwood. I will miss you all very much.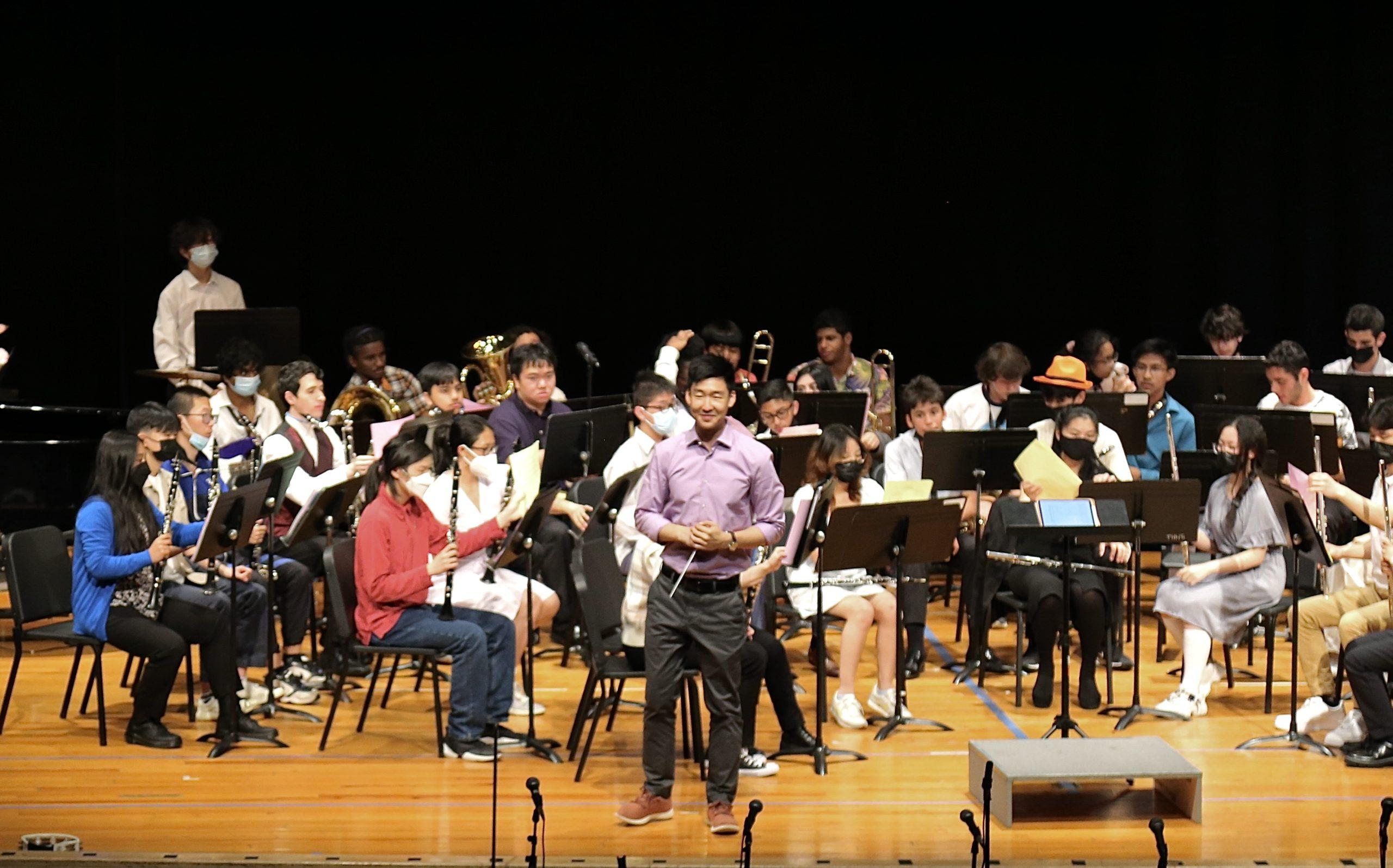 Photos by Haley O'Toole and courtesy of Juliana Grant and Carlin Lee