New Girls Varsity Swim Team Captains share their thoughts on the upcoming season

With the Girls Varsity Swim Team's first meet of the season only days away, the new captains have shared their experiences and goals for the team.
This year's team captains are seniors Sophia Kouchtaf, Kylie Chiang, Zaynah Shariff (who is also a Classic sports editor), and Gabriella Fusco, and they have all been on the varsity team since their freshman year. Sophia said, "I feel really ready to lead this team, and I think with my experience and team spirit, I can really get the team in shape." Zaynah said, "It's been an amazing experience. I've always felt like we are a super supportive team, and I've made some of my best friends here. The atmosphere is just so welcoming and fun. These people feel like family." Gabriella also said, "Since my freshman year, I've loved being a member. I never swam competitively before so it was slightly daunting at first, but I've met an amazing family since."
The captains also shared their responsibilities and how they feel about fulfilling them. Sophia said, "My responsibilities include making sets, creating the lineup for meets, pushing the team, and getting our spirit up. Each captain also has a fun job and mine is blowing the horn before each meet." Kylie said, "Being a captain comes with a lot of responsibilities from organizing lineups to making sure that everyone on the team is safe and happy. I'm looking forward to this year because I get to take on a role that I've never had before."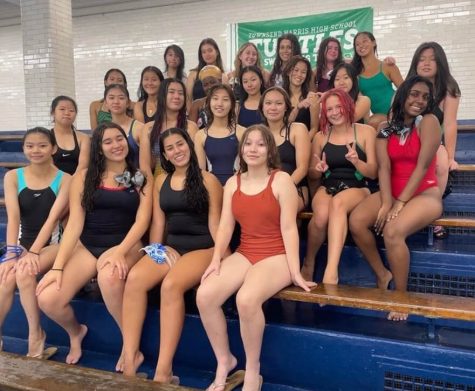 With new swimmers joining the team, the captains also reflected on team bonding efforts and their first practices. Zaynah reflected, "Team bonding has been going pretty well so far. We're already a close knit group, and it's been exciting and a lot of fun to bring in new girls to join in on all of our craziness. I'm excited to see what this season has in store for us, and I can't wait to build even stronger friendships." Gabriella said, "Every year we have a team bonding picnic that we [all] are looking forward to holding, which allows everyone to officially meet and get to know the freshmen. Traditions are very important on our team, so it's a great event that everyone looks forward to every swim season." Kylie also said, "This year, we're really excited to welcome all of the new team members. As captains, we make sure that every swimmer learns how to be supportive of their teammates and emphasize the importance of hard work and discipline."
Each captain also shared their personal and team goals for the upcoming season. Sophia said, "I would love for us as a team to get to the playoffs again, like we usually do. Individually I would really like to make states. I still need to shave a few seconds off my time but I really want to aim for that." Zaynah shared, "My hopes for this season are mainly to be as strong as possible and go far in the playoffs. My co-captains and I are working really hard to ensure that the team functions smoothly and improves constantly this year. We've made it to the playoffs every year since I first started, but it's my hope that we can attempt to win at least our division this year, if not the city title. My goal for myself is to enjoy this last season as much as I can, and make sure this season is the best one yet." Kylie also said, "This season I'm hoping to get all the girls working hard at practice so that they can see positive results. I know that if they are happy with their times, we will be happy for them too." Gabriella said, "I really hope for the team to get further into the playoffs than last season, because we are hopeful we will get far this year. For myself, I really want to try and do a successful job bonding with everyone else on the team and also making the swim team a fun atmosphere."
Leave a Comment
Your donation will support the student journalists of The Classic. Your contribution will allow us to purchase equipment, support our extracurricular events, celebrate our staff, print the paper periodically, and cover our annual website hosting costs.