Senior Bashe Miller saves her way to victory as goalie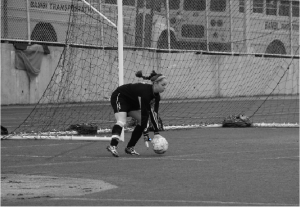 A striker approaches the penalty box with mere blades of grass denying her kick from piercing the boundary of the net. Senior goalie Bashe Miller lunges into the picture denying the soccer ball from putting the Hawks behind on the scoreboard. Usually it is said that the third time is the charm, but Bashe has proven otherwise in her second year as a member of the Girls Varsity Soccer Team.
As a returning member of the team, Bashe's senior athletic experience has helped her become arguably one of the most improved and valuable members on the team, also earning her captaincy. Transitioning from a part-time goalie to a full-time position guarding the net, Bashe has dramatically improved her performance. By increasing her save percentage by a massive ten percent, she has helped keep the team performing at a high level, balancing out the loss of key seniors from last year's team.
Aiding in her preparation for this season's games, Bashe utilized some ironically sweet methods. "I try to find strawberry shortcake ice cream before a game. I don't even remember how that ritual even started, I've just been doing it." She added, "Before a game I usually listen to music and try to relax. I always tape up my ankle before a game just to be extra safe."
Looking forward to the future of the soccer team, Bashe was extremely optimistic for the squad's direction. "As the season progressed, we've grown closer as a team making my senior year that much more enjoyable. I consider these girls like family and I can't believe I won't be a part of it next year. But I'm sure the team will remain successful because of Coach Sioukas and the motivated underclassmen and returning players who make up a big part of the team."
As a leading senior of the team, Bashe had the support of not only the underclassmen, but the only other senior as well. Derya Rodoplu had high praise, saying, "She is great! [She is] very experienced, so I never worry about her in goal. She is a good friend too."
Contributing to the overall Hawks athletic community, Miller is moving right into a key role on the Varsity Basketball team. Gearing up for a push to back up last year's outstanding undefeated season, Bashe looks to improve just as she has on the soccer team.
Senior Samantha Koloniaris, a member of the Varsity Basketball team, said, "Not only [is she] an academically incredible student, but also an amazing athlete and person. She does not only excel in one sport, but she is a remarkable athlete in all the sports she participates in. You can always count on her!"
Balancing three seasons of varsity sports in one academic year is a challenge, yet Miller has done it to perfection.
Girls Tennis Coach Shari Basis had nothing but praise for the senior. "Bashe is a very skilled tennis player who stays cool, calm, and collected on the court as she takes on her opponents in the number one singles position."
This calmness is of great use for the workload which THHS students encounter daily.
Bashe said, "It's pretty hard to balance the workload of Townsend with all the teams I participate in, but practices usually tire me out so much.  When I get home I do my work as quick as I can so I can go to bed. But, because I've been doing this since sophomore year, I've gotten used to the whole routine."
For an incoming sophomore having grown into a premiere female athlete at Townsend Harris, Bashe Miller is Female Student Athlete of the month.
Leave a Comment
Your donation will support the student journalists of The Classic. Your contribution will allow us to purchase equipment, support our extracurricular events, celebrate our staff, print the paper periodically, and cover our annual website hosting costs.