Limited availability of more desirable field at Kissena Park leaves soccer teams frustrated

The Kosmos Soccer Field at Kissena Park is in high demand during the fall months due to its convenient location and turf pitch. Recently, however, local NYC schools (including Townsend Harris) have had limited access to the field, leading many school soccer teams to resort to secondary fields such as the Kissena Cricket Field or Flushing Meadows Park.  
Boys Soccer Coach Matt Curiale said, "This year, only six permits total were available for all PSAL teams to use at the Kosmos Soccer Field." The field is the closest for Robert F. Kennedy High School, John Bowne, and THHS. 
Due to this arrangement, the Girls Varsity Soccer Team plays no games at this field, while the Boys Varsity Soccer Team is playing two games there this season. 
Senior Max Silver, captain of the Boys Soccer Team, said, "I would definitely prefer to play [or] practice on the Kissena turf as opposed to Flushing Meadows because it's closer—only a 10 to 15 minute walk. The bus we take to games at Flushing Meadows is usually late or slow."
However, according to the NYC Parks permit application website, schools outside of the PSAL system can and have reserved the field repeatedly, with one school booking 19 games at the Kosmos Soccer.
Junior Max Golosovker said that he thinks there should be a system to ensure that schools have more evenly distributed access to desirable fields. "[It] is extremely unfair to our school and we should come to a compromise to let our school use Kissena more often," he said.
When the field is occupied, our school's teams resort to practicing on the grass Kissena Cricket Fields. However, this has caused many inconveniences to the players. 
Freshman Sophia Lee said, "It's hard to pass the ball on the grass field because of bumps, while on a turf field you can move the ball easily. It's also easier to run on a turf field because there are usually no bumps or dips."
In the past, the school's soccer teams have found more success in securing the Kosmos Soccer Field. "We had a good amount of practice on the turf compared to this year where we practice every day on the grass," said Senior Natalia Ramlogan, captain of the Girls Soccer team. 
Although Girls Soccer Coach Vaselios Sioukas admits that the grass cricket pitch is sub-par, he is sure to make the most out of it. "I try to look for the flattest area and try to get to the field as soon as I can to claim it," he said.
Leave a Comment
Your donation will support the student journalists of The Classic. Your contribution will allow us to purchase equipment, support our extracurricular events, celebrate our staff, print the paper periodically, and cover our annual website hosting costs.
About the Contributor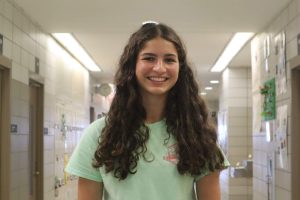 Carina Fucich, Editor-in-Chief
Carina Fucich is a senior at Townsend Harris High School. She loves to play sports and solve puzzles in her free time. Her favorite memory of The Classic...