Students' take on Bella Hadid's spray-on dress

Bella Hadid, a popular American model, emerges from a dimly-lit corner of the 2022 Paris Fashion Week catwalk and steps onto the brightly illuminated runway in nothing but beige underwear and a pair of heels. Two men come out and spend about fifteen minutes airbrushing her body with a white, paint-like substance, creating the illusion of an off-shoulder bodycon dress. The crowd observes as the paint begins to web together, solidifying into a flowy fabric. A woman then arrives to tweak the neckline and cut a leg slit into the garment. Hadid proceeds to strut down the runway in her apparent spray-on-dress, while the audience watches in awe. This instance would reverberate around the internet and cause people to view fashion in an entirely new light.
Anybody that has some form of social media, whether it be TikTok, Instagram, or even Facebook, has likely come across a video of this intersection between fashion and technology. The designers at Coperni, the brand that showcased this spray-on-dress, collaborated with its creator, Fabrican, and used the piece for their finale at the latest spring/summer show for Paris Fashion Week this past October. 
Sophomore Tristin Hall said, "When I saw Bella Hadid's dress, I was shocked and amazed at how the dress manifested itself out of nothing and went from a spray paint to a moveable fabric."
Coperni wasn't the only brand to strategize ways of putting mesmerizing, innovative designs in their show for the latest Paris Fashion Week. The Spring 2023 shows have signified the long-awaited full return to in-person fashion after the pandemic, during which social media usage skyrocketed. Upon the return to in-person shows, various brands like Coperni, Balenciaga, Vaquera, and more worked extensively to create innovative designs with shock value and marketability; their goal was to go viral, and they accomplished just that.
The head of this year's Costume & Makeup department for the S!NG Semores, senior Bonnie Chen, said "I think the wow factor definitely came from the fact that the dress was sprayed on the model live on the runway. I think this will inspire other designers to focus more on creating visual effects and eye openers similar to the Coperni show."
Freshman Nikki Saenz said, "I thought it was very unique and abstract. I think this will impact the fashion world by opening up a different way to view fashion." 
Unique and eye-catching designs such as those of Coperni bring increased attention to the fashion industry. Prior to their show in early October, Coperni wasn't as known of a brand compared to Gucci or Chanel, for instance. However, after the show, Coperni received a surge of attention, allowing them to be featured in countless articles and other forms of media.
Sophomore Chloe Chen said, "There have been thousands of runways in the past century, so it's incredibly hard to be unique and bring something new to the table, but I think [Coperni] executed that really creatively."
Leave a Comment
Your donation will support the student journalists of The Classic. Your contribution will allow us to purchase equipment, support our extracurricular events, celebrate our staff, print the paper periodically, and cover our annual website hosting costs.
About the Contributor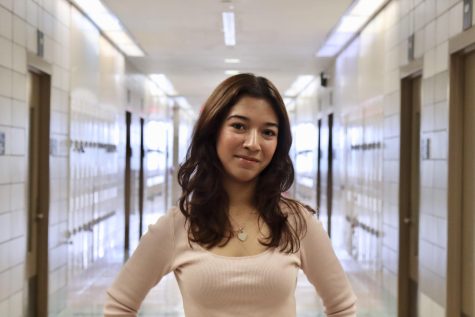 Isabella Zapata, Managing Editor
Isabella is a junior at Townsend Harris High School. She loves capturing moments in photographs and loves to travel to new destinations. She also enjoys...