Opinion Roundup: What makes THHS worthy of its reputation?

As we approach the end of the school year, many Harrisites have become adjusted to the school environment and most have found a place in the various niches that exist in Townsend Harris High School. It is no secret that our school is ranked as one of the best public high schools in New York State, alongside the select specialized schools. Every year, we receive thousands of applications from 8th graders who hope to spend the next four years of their academic journeys as THHS students. 
As a top ranked high school, we are fortunate enough to provide our students with a plethora of opportunities for college readiness and career exploration. Albeit, there are still underlying issues within our community that impact many students' daily experiences and other aspects that can be further improved. 
This begs the question: is THHS deserving of being called the #1 high school in all of New York City? 
Below are a few opinions from students, highlighting their experiences in THHS and why or why not they think the school is worthy of its reputation.
Freshman, Aydin Yildiz: 
"What makes [Townsend] an honorable school is that teachers and students work collaboratively with each other and the teachers help [students] as much as possible. [This school] provides us with a lot of opportunities which can be used towards college. Even though we may [have a competitive environment], it will be beneficial towards the future."
Freshman, Yugesh Kumar: 
"THHS is an honorable school because of its remarkable history and long list of distinguished alums who have made notable contributions to our community."
Freshman, Jazlyn Lyric Febles: 
"I think Townsend Harris high school is a prestigious high school that is worthy of much praise because students chosen to join this community are some of the [most academically gifted] in the state." 
Sophomore, Aima Hossain: 
"With a variety of programs, clubs, and classes to choose from, there are talented kids coming from all over the five boroughs wanting to attend THHS. I do wish there could be availability in more advanced versions of certain clubs such as computer science or math; I realized that there was a math team only two weeks ago, and when I attended one of their meetings, it wasn't as supported as many other groups." 
Sophomore, Zofeya Dookie: 
"I think what makes THHS an honorable school is the high standard of work and performance that students here hold themselves to. An aspect of this school I think people tend to overlook sometimes is the mental toll it can take on you sometimes. Not only is it pressuring to maintain high grades, but the service hours and club credit requirements can be stressful in terms of time management too."    
Junior, Jeremy Fernandes: 
"Many people boast about the status that THHS holds, including myself. But my feelings of honor and distinction only followed me in my first year here. By my sophomore year, it slowly evaporated [because] being among so many intelligent and talented overachievers, I felt humbled. I still feel as though the school is quite prestigious, but as a Harrisite, now I would probably say I feel like 'one thousand in a million.'"
Senior, Irene Skandalakis:
"I think that [THHS] is an honorable school for the high expectations and the rigorous coursework many students follow [that] exemplify the eagerness of [THHS to] nurture hardworking and intelligent students. [However], the pressure on students can foster a toxic learning environment when students become pitted against each other. This issue needs to be addressed to promote a healthier learning environment and to severely reduce the stress associated with our academic workload."
View Comments (3)
Your donation will support the student journalists of The Classic. Your contribution will allow us to purchase equipment, support our extracurricular events, celebrate our staff, print the paper periodically, and cover our annual website hosting costs.
About the Contributor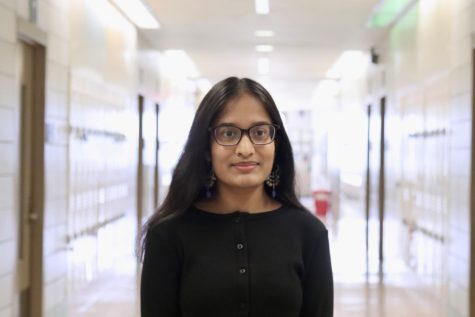 Bridgette Jeonarine, Managing Editor
Bridgette is a junior at Townsend Harris High School. In her free time, she loves reading romantic comedies and catching up on the latest news stories....