FON Spotlight Series: Filipino FON Leaders

As the Festival of Nations makes its annual return, so do many of its beloved cultural dance cohorts. With their clapping sticks and catchy songs, Filipino FON has caught the attention of many Harrisites. Led by seniors Andre Doyoan, Allyanne Ilasin, Cora-Grace Sagario, and Jessica Sandoval, the leaders are striving to create another memorable year of Filipino FON with their dozens of members. 
Traditional Filipino FON mainly consists of two dance styles: tinikling, a folk dance where people tap or slide a pair of sticks that others dance around, and candila, a folk dance performed while holding candles in each hand. Modern Filipino FON, alternatively, takes tinikling and puts a twist on it through modern songs and hip-hop-like dance moves. 
The current leaders are longtime members of the FON and have been involved for almost three years. Aside from being just another school event, the leaders are able to connect with Filipino FON culturally and personally. 
Andre said, "It enables me to have this connection to my culture that I didn't really have growing up. FON is a way for me to express that in a unique way that I wouldn't have before." 
"I love that it takes Filipino cultural dances and gives them a more modern twist," Cora-Grace said, "Personally, I've never done tinikling before joining Filipino FON freshman year, so it's cool that we're able to do that."
Allyanne said, "I never grew up seeing Filipino representation in school, whether it be through performances or clubs," but when she first came to THHS, that changed. "I was interested in FON because I was already passionate about dancing; when I learned about Filipino FON, my interest piqued even more," she said.
Jessica said, "This year, being a FON leader has really taught me patience. I don't think a lot of students realize how much work being a FON leader is, but personally, I love it. It's been an amazing experience, and I've gotten really close with the leaders." 
Sophomore Cris Ian Pagcaliwagan, a member of Filipino FON, said, "It's very energizing, [the sticks] add a unique traditional factor. I look forward to dancing and showing off my culture and nation."
"[We want] to make sure that all the dances are completed and they flow smoothly," Allyanne said. "I want to be able to produce something that's going to make people say, 'I'm doing this next year.'"
View Comments(1)
Your donation will support the student journalists of The Classic. Your contribution will allow us to purchase equipment, support our extracurricular events, celebrate our staff, print the paper periodically, and cover our annual website hosting costs.
About the Contributor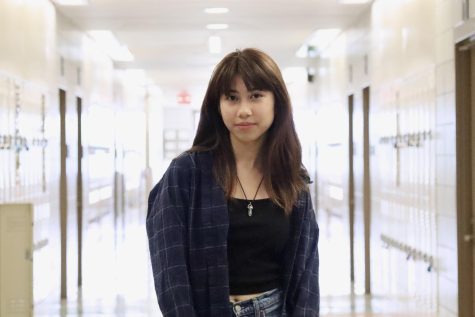 Katherine Lian, Multimedia Chief
Katherine Lian is a senior at Townsend High School who enjoys taking pictures, dancing, and trying new things. Her favorite memory with The Classic was...