School athletics department hosts series of events with NYPD to raise awareness about cancer

This school year, the NYPD's Youth Strategies Division has partnered with the Townsend Harris Athletics Program to raise awareness about cancer through two separate events. On October 5 the NYPD joined the THHS Girls Varsity Volleyball Team, along with five other high school teams in the annual NYPD "Block Out Cancer Volleyball Tournament," to raise awareness for breast cancer. A few months later, on January 25, NYPD Community Affairs collaborated with the school to host the 2023 "Coaches vs. Cancer" charity event, this time involving both the girls and boys varsity basketball teams. 
Regarding the fall event, volleyball player and senior Camila Zarama said, "It was nice to host teams from all over the city to provide the opportunity for all of us to come together." Junior co-captain Jenna Diaz said, "It was really amazing, I thought everybody had a great time, and it was a great bonding experience for the team and a great cause."
Athletic Director Lauren Ciaccia said, the purpose of involving the girls varsity volleyball teams from THHS, Forest Hills HS, Metropolitan HS, New Corners HS, Stevenson HS (The Bronx) and New Dorp HS (Staten Island) in this game against the NYPDs' co-ed team was to "raise awareness for early detection of breast cancer, especially during Breast Cancer awareness month…because while breast cancer affects both men and women, predominantly the majority of cases still affect women." The event included donations from BJs and Chick-Fil-a, providing the athletes, coaches, and police officers with money for lunch packs as well as pink shirts to advertise the event. 
Police officer Yvette Franquiz said that  this annual tournament was inspired by her own experience with volleyball and an event she experienced in high school called Dig Pink, hosted by the Side out foundation, which similarly involved recognizing and supporting the breast cancer community. Officer Franquiz said that THHS was chosen to host the tournament thanks to Ms. Caiaccia's "energy and support for the cause of the event, [which is why] we knew THHS was the right fit."
Ms. Caiaccia said that the event showcased members from the NYPD "building community connections [and showing how] they are approachable human beings that protect and serve." Reflecting on the event, Officer Franquiz said, "We can confidently say that this year's event at THHS has been the best one so far and we encourage other high schools to possibly host future block out cancer events. We also hope to get the Side Out Foundation involved for next year to raise money to find better and more affordable ways to help cancer patients."
In January, the school was joined by Metropolitan High School's girls basketball team and Robert F. Kennedy's boys basketball team in support of cancer awareness at the Coaches vs. Cancer event. The event consisted of three games- one boys' game, one girls' game, and one staff vs NYPD game. 
The event was connected to  the American Cancer Association, who provided purple shirts for police officers, coaches, and athletes.Police officer Soto explained how she held this event especially "close to heart" because of her personal experiences facing cancer, making the event more meaningful to her team. She said, "Many people are misdiagnosed because they don't know and are not aware. So, the main reason why we hosted this event was to let people know there are so many cancers out there. We just want everyone to know they're not alone." 
Assistant Boys Basketball Coach Abid Choudhury said, "My expectations were exceeded, as it was a great environment with very high energy." Coach DeNunzio of the Boys Varsity Basketball team also said, "The students got really involved. It was great for the teams to have games afterwards, especially the actual game between the student faculty and the police. It was a great game with a great atmosphere." 
Junior and basketball player Andrew Chen said, "It was really fun and exciting to watch the staff members play against the police officers because I got to see a different side of the teachers than I see in school."Senior Aissatou Lam, co-captain of the Girls Varsity Basketball Team, said, "I felt very fortunate to be a part of this event because we help raise money and awareness about cancer, a disease that continues to impact the lives of those around us. I enjoyed seeing how basketball was a great way to bring people together and support the American Cancer Society." 
"It was a great event for everybody to take part in for a great cause. We should do it every year," Coach DeNunzio said. 
Leave a Comment
Your donation will support the student journalists of The Classic. Your contribution will allow us to purchase equipment, support our extracurricular events, celebrate our staff, print the paper periodically, and cover our annual website hosting costs.
About the Contributor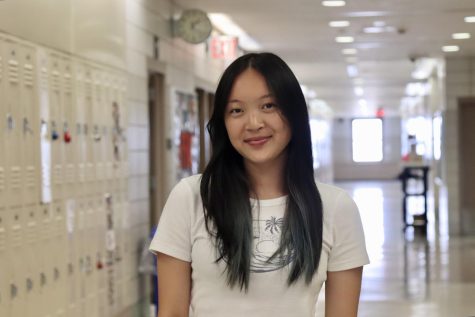 Chloe Mau, Sports Editor
Chloe Mau is a senior at Townsend Harris High School. She enjoys playing volleyball and baking in her free time. Her favorite memory from the 2022 - 2023...