Nightingale theatre performers reflect on Into the Woods production

This year's spring production was based on the 1987 musical Into the Woods: a beloved musical that intertwines the plots of several classical fairy tales while exploring the consequences of characters' wishes and quests to produce an enchanting yet poignant adventure. Harrisites involved in the musical spoke to The Classic about their experience working on the Into the Woods production.  
With grand productions that are held at Townsend Harris High School, like SING and FON, the highlight of these shows is the meaningful cooperation that sparks between the staff, teachers, and students. Into the Woods itself has a lot of moving parts, combined with many important set buildings, characters, costumes, etc. Co-director and English teacher Mr. Schwab said, "The entire process has been getting lost into the woods essentially because it has been one the hardest shows to produce this school year because there are so many elements to it. It was essential that everybody conversed with each other to influence the actors' performances, body languages of their character, and basically embody their characters' from head to toe."
Junior Sally Zheng, who plays the lead role of the Baker's Wife, recalled the light-hearted moments she shared with her castmates during rehearsals: "I just always enjoy the times when certain lines are said in funny and unexpected ways, or when someone says their line wrong and implies a different meaning. We always have good laughs at those." Alongside this, she expressed the immense growth she experienced through challenging herself musically and physically, seen as this particular musical "was physically demanding and a lot to bear, despite the lack of dancing." 
Junior Franxalier Causapin, who plays Florinda, shared the intricacies of cast collaboration that had to be addressed while beginning work. "Working on a theatrical performance can sometimes lead to misunderstandings and disagreements, so it was critical to have a lot of teamwork and communication amongst the cast and crew, so that we could work together successfully and professionally to get rid of any unnecessary tension or personal grudges," said Franxalier.  
Junior Amelia Lauren assumed responsibility as one of this year's stage managers. She emphasized backstage organization as a vital component that sets the scene for a successful and alluring production, which prompted her to partake in this year's production as a stage manager. She mentioned that her primary goals included "staying organized and on top of my blocking notes, scripts, files, and queues, and ensuring that the other crew members knew what they were doing to ensure proper stage set up and smooth set changes." 
Amelia also acknowledged the rough start the team experienced during their first rehearsal but revealed the notable improvement they progressively achieved, saying, "I'm very proud of the point we've reached in the show. Seeing how the set and elements we imagined have finally… transitioned onto the actual stage is definitely my favorite part of doing a production like this." Franxalier similarly said, "Seeing the characters come to life with the costumes during the dress rehearsal was really exciting." 
Sophomore Joshua Chung, who plays Steward, Cinderella's father, said, "My experience in the show was extremely unique and unlike anything I have ever been in. The members are great to be around every day and were great to help me with my lines and prepping for my role, which from this I have learned many lessons from." 
Senior Pierre Marbid, a member of Tech Crew, commented on the new lighting that allowed this year's musical to shine both physically and expressively: "Typically, for S!NG, we were only limited to the equipment that we had at school, but for the spring musical, we have all these new different light systems that we get to set up, so it's great to be able to see this new equipment bring the show to life." 
The cast unanimously recognized the overarching sense of communal support that flooded their environment, which made "being part of the show 10 times better," said Sally. "They're just a really talented and fun group of people, and I very much enjoy working with all of them," said Amelia. 
With collective efforts from tech crew, set design, stage managers, cast, and the co-directors to bring the show to life, the THHS Nightingale Theatre Company proudly presented their unique take on Into The Woods this spring as students, family, and faculty watched the compelling production become a reality on April 28th at 2pm and 7 pm, and April 29th at 7 pm. 
Leave a Comment
Your donation will support the student journalists of The Classic. Your contribution will allow us to purchase equipment, support our extracurricular events, celebrate our staff, print the paper periodically, and cover our annual website hosting costs.
About the Contributors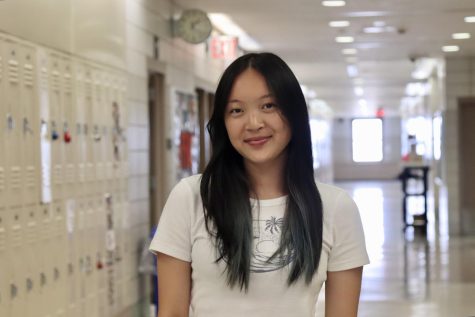 Chloe Mau, Sports Editor
Chloe Mau is a senior at Townsend Harris High School. She enjoys playing volleyball and baking in her free time. Her favorite memory from the 2022 - 2023...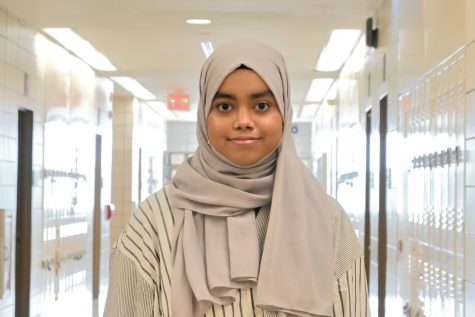 Maimuna Amina, Features Copy Editor
Maimuna is a sophomore at Townsend Harris High School. She enjoys to read in her free time. Her favorite genre of books is mystery and thriller. With that,...