Girls indoor track sprints into fourth place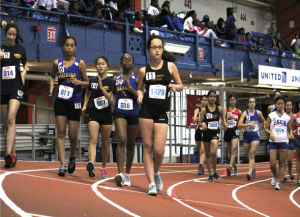 On December 8, the Lady Hawks raced over to the Armory Track to participate in  the Jim McKay Games, where they finished fourth.
The morning began with the freshman 1500-meter racewalk event. Led by Eileen Jimenez, who set a new personal record of 9:52, THHS took home the gold, silver, and bronze medals. Freshmen Dulce Cervantes and Maressa Cumbermack placed second and third, respectively. Their varsity counterparts were led by senior captain Sophia Mahin, who placed first. Sophomores Patricia Wang and Wendy Liu placed fifth and ninth, respectively.
In the varsity 600-meter run, sophomore Joanna Huo set a new personal record of 1:52, finishing in the top twenty-five with junior Rythika Francis. In the freshman 600-meter run, freshman Noreen Mohsin placed third with a time of 2:01.
The Hawks finished strong in both the 4×400 and 4×800 meter relays. The freshmen team of Noreen, Jillissa Drayton, Brianna Manginelli, and Sasha Balkaran finished ninth out of 16. Two THHS teams competed in the varsity 4×800 relay. The first team, comprised of sophomores Joanna and Yasmeen Ally and juniors Rythika and Elaine Li, placed sixth out of 40 teams. The second team, made up of junior Gabriela Kluzinski, sophomore Hailey Lam, senior captain Stephanie Loo, and senior Annika Joeng, finished shortly thereafter in eighth place.
In the varsity 1500-meter run, Stephanie led the girls across the finish line, setting a personal record of 5:35. In the varsity 1000-meter run, Gabriela set a personal record of 3:45.
The girls also participated in both the freshman and varsity 300-meter runs. The freshman team was led by Jillissa, who finished with a time of 52.10 seconds. Sophomore Toni Alexander led the varsity team with a time of 48.63 seconds.
THHS participated in every field event at the meet. Toni set a personal record of four feet, six inches in the high jump. In the long jump, seniors Cydney Downes and Michelle Wagner placed thirteenth and seventeenth respectively. Junior Gabrielle Gozdyra and sophomore Ivy Lam placed seventeenth and thirty-second respectively in the shot put. Ivy also participated in the 55-meter high hurdle event, finishing with a time of 10.89 seconds. Sophomore pole vaulter Kellie Zestanakis followed up her first place victory at last week's meet with another gold medal, setting a personal record of seven feet, six inches.
At the end of the meet, the girls felt that although they were on the right track to a very successful indoor season, there was still room for improvement.
Sophia praised her team's performance but pinpointed issues they could work on: "The girls should work on pushing through during races. Many girls go out very quickly, but when they feel fatigued, they let that get to them and slow down."
Some teammates commented that they have big shoes to fill, considering last year's performance.
Gabriela stated, "We're doing well transitioning from cross country to indoor. We're not at the times we ended indoor with last year, but we're getting there."
Leave a Comment
Your donation will support the student journalists of The Classic. Your contribution will allow us to purchase equipment, support our extracurricular events, celebrate our staff, print the paper periodically, and cover our annual website hosting costs.