Girls indoor makes top ten at frosh-sophs

The PSAL Freshman-Sophomore City Championships marked the end of indoor track season for the Lady Hawks. On Sunday, March 2, the freshman and sophomore trackies traveled to the Armory to compete against athletes from all five boroughs. Both the freshman and the sophomore teams placed in the top ten, with the freshmen placing eighth and the sophomores placing sixth.
The freshman and sophomore teams both had top place finishers in the 1500 meter race walk event. In the sophomore event, Hannah Yoo placed second with a time of 9:00. Her teammate, Wendy Liu, also medaled by finishing fourth out of 18 with a time of 9:17. Dulce Cervantes earned the title of best freshman race walker in the city by placing first with a time of 8:25. Freshmen Eileen Jimenez also earned a medal by placing sixth with a time of 10:08.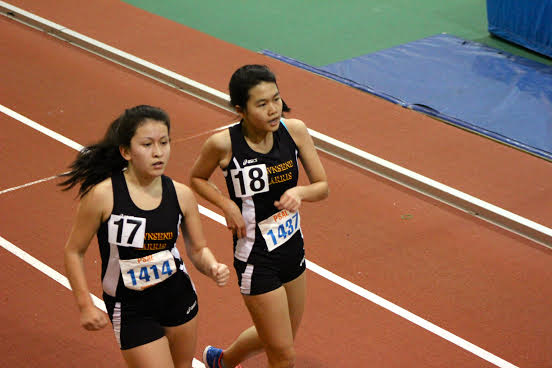 "[The race] was a constant back and forth with this girl from Hunter, and every time I sped up she would speed up even faster and it was just like that for the entire race," said Hannah, who felt accomplished after her performance. She added, "I was able to get into the top three and there's just something really satisfying about knowing that you poured your all into the race and that it paid off."
In the sophomore high jump, Toni Alexander medaled by placing sixth out of twelve and jumping a height of four feet, two inches. In the sophomore pole vault, Kellie Zestanakis jumped a height of seven feet, earning her a first place medal. Sophomore Joyee Mok set a personal record of five feet, six inches in the event and placed fourth out of six.
"It was the best performance I had all season long. At previous meets, I could barely make five feet," said Joyee, pleased. She attributed some of her success to her teammate saying, "Usually I'd be nervous right before jumping, but Kellie was right there with me and gave me a lot of encouragement. She's probably why I did so well."
In the freshman 3000 meter run, Noreen Mohsin placed sixth out of twelve. She earned a medal and set a personal record of 12:43. Noreen also medaled and set a personal record in the freshman 1500 meter run, where she placed third with a time of 5:50. Her sophomore counterpart, Yasmin Ally, placed eighth in the sophomore 1500 meter run. Yasmin set a personal record of 5:33 in that event.
The sophomore THHS 4 X 800 meter relay team placed sixth in their event. The team, comprised of sophomores Toni, Joanna Huo, Hailey Lam, and Yasmin, completed the race with a time of 11:36 and earned a medal.
"Knowing that this was my last time running as a sophomore at the Armory definitely pushed me beyond my limits in the relay. There were so many moments where I wanted to give up, to jog, or to slow down, but knowing that my team was counting on me and what my coach expects from me, I knew I couldn't disappoint them," said Yasmin.
Many of the girls felt as if they did well, but they could have been stronger if they had not missed so much practice due to their participation in Festival of Nations. Overall, however, they all felt as if the season had ended well.
"We were really strong as a whole and some of us truly shined through. We showed a lot of perseverance and willpower, and that's what makes me the proudest," Noreen said.
"Due to FON, I wasn't able to dedicate myself entirely to my practices which really affected my progress and overall time," said Eileen.
"I don't think the results showed how hard we've worked this season," Yasmin added. "We're all so strong in so many different aspects in track, but we didn't necessarily have the best race day at this meet. Overall, it was a championship meet, and at these meets you don't run for yourself, you run for your team. It was truly a great way to end the indoor season, and an even better way to start outdoor."
The first meet of outdoor track season will take place on Wednesday, March 19. The girls have high expectations for the spring.
Hannah said, "A personal goal of mine is to make it to outdoor cities, and from my team I'm just expecting us to give it our all, and for a lot of our girls to make it to cities, and win champs."
Leave a Comment
Your donation will support the student journalists of The Classic. Your contribution will allow us to purchase equipment, support our extracurricular events, celebrate our staff, print the paper periodically, and cover our annual website hosting costs.