Q&A with alumnus, soldier Jordan Brandwein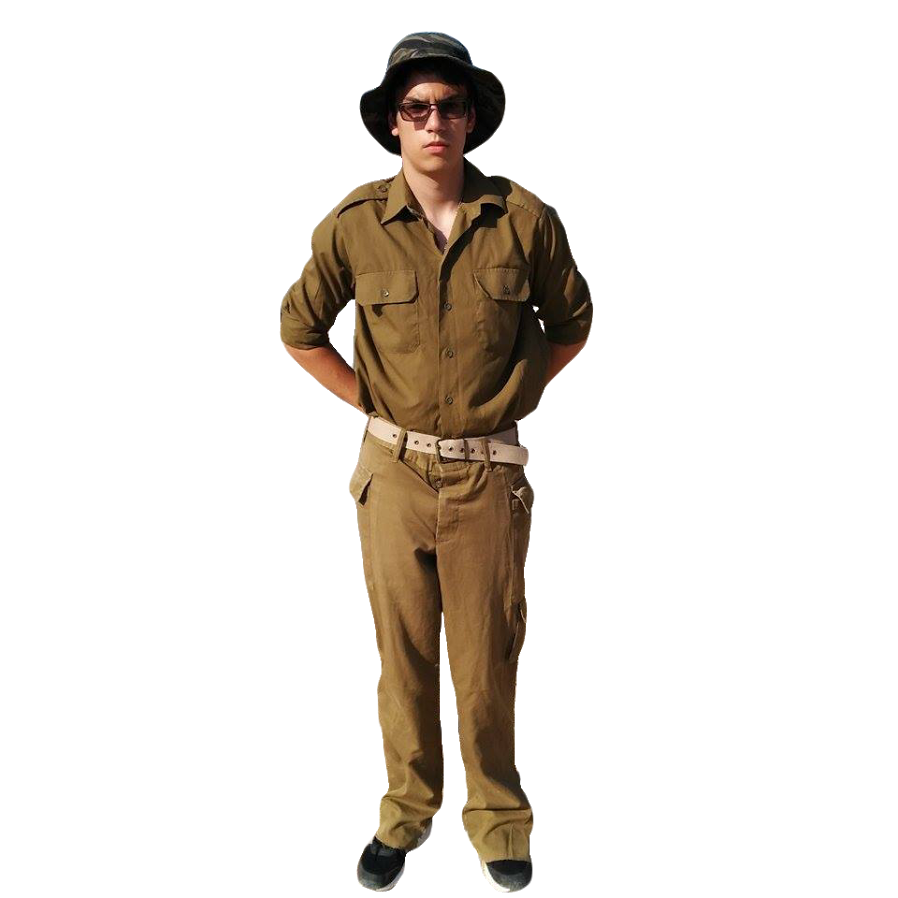 Jordan Brandwein '14 recently joined the Israeli Defense Force (IDF) after graduating from Townsend Harris. Jordan is officially designated by the IDF as a Lone Soldier (chayal boded), or a soldier with his or her immediate family not living in Israel. Lone soldiers serve in the same capacity as others in the military, but are also provided with stipends and additional lodging and academic opportunities to ease financial stress resulting from their service. All Israeli citizens are conscripted at the age of eighteen, and there is a mandatory three-year commitment for males and a two-year commitment for females. Like a drafted Israeli soldier, Jordan will be serving for three years. On his blog, Life on Lahav, he chronicles his experiences during his transition to life as a soldier. It can be found at lifeonlahav.wordpress.com.
Nearly everyone at THHS goes to college immediately after high school. What prompted you to follow a different path? Why did you decide to enlist in the IDF? 
I always had this idea of being a soldier in my mind even before I came to THHS. Not only was I raised in a proud Jewish family, but I also have several family members and friends living in Israel. 
What connects you to Israel?
As stated above, several important people in my life live in Israel. Also, I was always taught that Israel is the only nation where a Jew can live without fear of persecution. That's why I wish to defend her.
What part of the military are you planning to join? Why? What will it entail? 
I currently hope to be assigned to the Navy, but I could technically be sent to anywhere that I'm needed. It will be a three-year commitment, just like any other soldier over here.
What were your experiences like making aliyah [moving to Israel]? 
Making aliyah was probably one of the most difficult things that I've ever done, not due to the fact of where I was going, but simply out of fear of the unknown. Then again, who isn't a little worried when moving out of their home? However, it was comforting that we were received very well in Israel, with the president even coming out to see us. Since then, this country has done a lot to make sure that we're settling down comfortably.
How have you been learning/training? What is a typical day like?
So far, we haven't really settled down into a schedule. We just finished a week of infantry (foot soldier) training called "Gadna," which includes physical training, basic rifle training, and getting yelled at a lot by angry commanders. On Sunday we'll be beginning our refresher Hebrew courses. I speak Hebrew pretty well for an American, but there's still a lot of room for improvement. Our conventional basic training truly begins in November.
Do you have any specific memories of starting IDF training that you'd like to share?
My most vivid experience here so far is definitely observing just how calmly the Israelis handle the rocket attacks. In one such situation we were escorted to a bomb shelter nonchalantly and were the only ones in the entire safe room who were actually afraid. It was then that I realized that these rockets aren't an anomaly: they're the reality of life here and just must be lived with.
Has the Israel/Gaza conflict influenced your decision to join or your desire to stay in Israel? How so?
This most recent round of fighting between Israel and Gaza hasn't really done much to influence me, because I was already committed before it began. For the sake of the civilians on both sides, however, I am very glad that a ceasefire has been reached and pray that this one will hold.
What about your experiences has surprised you the most?
I was honestly surprised the most by just how welcoming the Israelis have been for us. Random people whom I've met have, after talking for a little, taken steps to help such as genuinely inviting me over for dinner. Its really comforting because it makes me feel like I'm not truly alone while doing this.
Why did you decide to start your blog?
I started the blog because a) My family and friends back in new York wanted me to keep them updated on my activities and b) Our coordinators over here actually said that I should in order to keep the parents of my fellow immigrant soldiers updated and satisfied that we're safe. So far, the blog has also helped me a lot personally. I never realized that writing things down can help take my mind off of troubles or calm me down.
What do you plan to do after you finish your service in the IDF? Where do you plan to live?
As for where I live after my service, I have no idea. My experience in these next three years will decide that.
Leave a Comment
Your donation will support the student journalists of The Classic. Your contribution will allow us to purchase equipment, support our extracurricular events, celebrate our staff, print the paper periodically, and cover our annual website hosting costs.