Boys Indoor Makes Borough History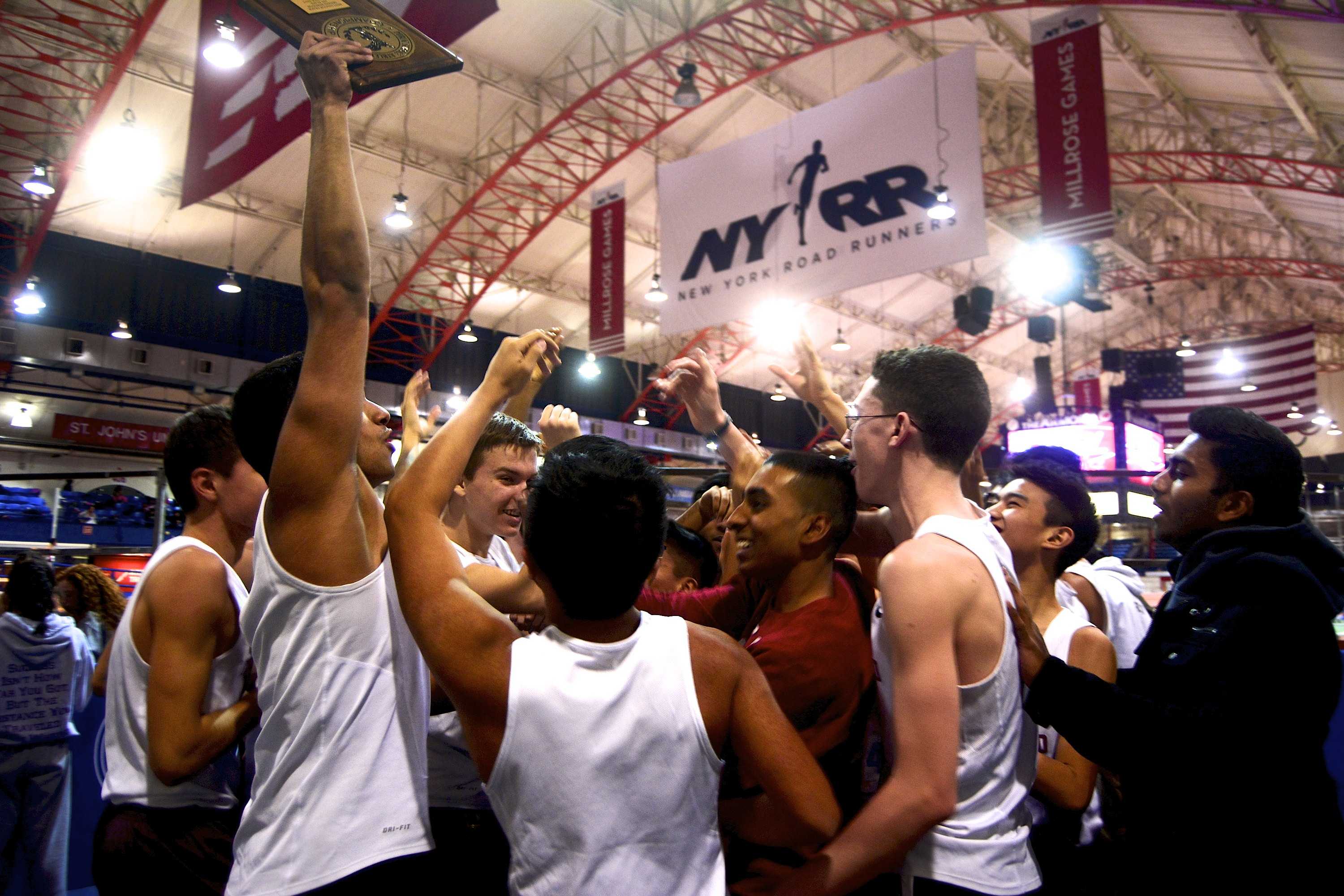 For the first time in Townsend Harris history, the boys indoor track team won the PSAL Queens Borough Championships. At the meet, held on February 15, the boys triumphed with 115 points, leaving second and third place teams Forest Hills (58 points) and Franklin K. Lane (48 points) in the dust.
The boys focused on placing high in each event, as only the top six runners received points. They scored in all but four.
In the 3200 meter run, senior captain Yash Sharma placed second in 10:25. Sophomore Muhamed Bicic finished third twenty seconds later.
Senior captain Minhaj Rahman placed fourth out of 21 runners in the preliminary 55 meter high hurdles. He advanced to the finals and placed fifth out of eight runners, setting a school record of 8.37 seconds.
In the 600 meter run, junior Abdoulaye Diallo placed first, finishing in 1:24. Junior Dysron Marshall finished six seconds afterward, placing fourth.
Abdoulaye also placed first in the 1000 meter run. In the final lap, he distanced himself from his competitors with a huge kick, finishing in 2:44.
In the mile run, Yash placed second in 4:55. Junior Matthew Sullivan finished in just over five minutes, clenching sixth and a point for the team.
Furthermore, the boys profited significantly from the field events. Sophomore Adam Sosnicki and junior Evan Noblesala each placed in the top six of the high jump. In the shot put, Minhaj placed third. By throwing a distance of 48 feet, 6.00 inches, he secured first place in the weight throw. Sophomore Omar Daoud and juniors Aidan Moran and Ross Bonete swept the remainder of the top four. Pole vaulter, senior Romil Parikh, tied for second with a height of 8 feet, 4.00 inches, smashing his previous personal record by a foot.
"When I cleared [the eight foot jump], I was extremely happy and I could hear our team cheering louder than anyone else," Romil recalled. "It was exhilarating."
In accordance with their strategy of maximizing point gain, coaches Orlando Martinez and George Rio loaded the 4 x 800 meter relay. Abdoulaye, Muhamed, junior Benjamin Chang, and sophomore Justice Williams seized first place. A second team, comprised of Dysron, Yash sophomore Agastya Vaidya, and senior captain Stanley Harcharan, finished third.
"Absolutely stunning performances," said Stanley. "Everyone contributed to this effort whether they scored points or not."
Alumnus and former track team member, Jyothis Johnson, who came to support the boys, said, "It was amazing to see how much improvement has been made in the last two years. I was very proud of everyone, and it felt great to see that newfound determination from winning third three years ago [in my senior year] hasn't disappeared."
"They [the team] practiced. They exhibited perseverance. We always knew there was talent on this team," Coach Martinez added. "This is the first time that we won Queens Champs. For several years, we came in second or third place. [Assistant coach] Rio and I are very happy and the athletes are very happy."
Leave a Comment
Your donation will support the student journalists of The Classic. Your contribution will allow us to purchase equipment, support our extracurricular events, celebrate our staff, print the paper periodically, and cover our annual website hosting costs.