Kellie Zestanakis: NY1 Scholar Athlete of the Week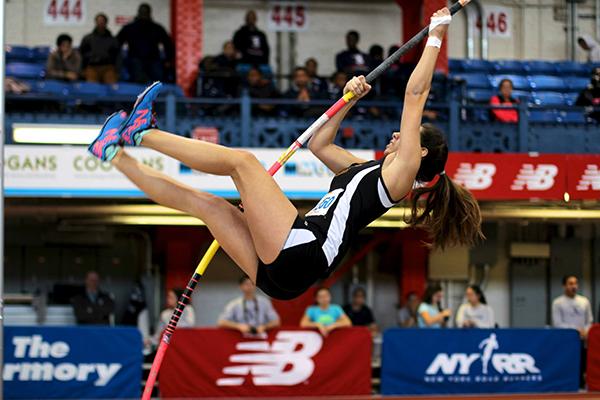 Written
She's cleared more than a few heights.
Senior pole vaulter and javelin thrower Kellie Zestanakis has marked herself as one of Townsend Harris' most outstanding athletes in the school, as well as in the city, being named "Ford Lincoln of Queens Scholar Athlete of the Week" by NY1. The honor is bestowed upon New York City public high school seniors who demonstrate excellence in both the classroom and in their respective athletic field. In addition, the student-athlete must show they are an active participant in their community or other extra-curriculars.
The title is accompanied by a $1000 scholarship to be used for educational purposes, a plaque denoting the athlete's achievement, and a short filmed segment for NY1. Filming began earlier in this week while the actual segment aired on television on April 8.
Kellie expressed her gratitude for winning. She said, "I knew that being a part of Townsend Harris and a [three-time] city champion really helped me stand out among the other candidates."
Track and field coach Timothy Connor said, "I nominated her because she deserved it, with her winning [PSAL] City Championships in pole vaulting three seasons in a row as well as [in] javelin, on top of maintaining a [high] average."
THHS has sheltered a number of these scholar athletes, the most recent one being alumna Debra Chan, a member of the class of 2015. Debra, who was nominated last year by basketball coach Lauren Caiaccia, showed similar remarkable qualities of athleticism and studiousness. She now plays Division III basketball at the City College of New York (CCNY).
Kellie discussed the academic benefits of being able to play her sports. She said, "Track keeps me balanced and I know that at the end of a terrible school day, I can run it off or in my case, throw or jump it off. It's a stress reliever and definitely difficult, but not going straight home after school to do work actually helps me."
Her personal best in the pole vault is 9'1", but Kellie has set herself the goal of breaking PSAL's outdoor track all-time record of 9'8".
"It really is all in my head and if I jumped as well as I did in practice during competition, the record would have been broken a year ago," she said.
"My coaches and my teammates really are a blessing when it comes to me and my performance… Even though I'm the one jumping off the ground, I could not have accomplished most, if any, of this without them," she said.
Leave a Comment
Your donation will support the student journalists of The Classic. Your contribution will allow us to purchase equipment, support our extracurricular events, celebrate our staff, print the paper periodically, and cover our annual website hosting costs.