Virtual schooling calls for online guidance counseling

As the students, teachers, and staff of the Townsend Harris community begin the transition to remote learning, counselors are now offering guidance counseling sessions for students. These conference calls are available via Zoom or Google Hangouts during school hours. 
The counseling sessions assist students in various ways, ranging from technological aid to emotional support opportunities. During group sessions, students can participate in guided imagery, book club, and counselor talks. Individual sessions help students balance their stress and anxiety in the midst of the COVID-19 pandemic. Students may also schedule a conference with their counselors to work on their time management and better focus on their schoolwork at home.
 "The counseling sessions help students to cope with the difficulty of dealing with the new environment we are living in. In times like these, our emotions can be all over the place, and difficult to manage," said guidance counselor Sara Skoda. "So we are hoping the sessions can be helpful to students who may need some new coping skills in this time."
Guidance counselor Jeremy Wang also explained that some THHS students have an IEP, or individual education plan, for which they are required to have a mandatory meeting with their counselors. The guidance staff is currently trying to work out the logistics of having the meetings online.
These conference calls are especially important for juniors. Many juniors previously had scheduled college meetings, which are now being done virtually. 
Guidance counselors encourage students to request guidance counseling if they are stressed, worried, or anxious about these uncertain times. Mr. Wang also encouraged, "I think in-person meetings and FaceTime are better [than email]. I miss seeing my students." He added, "I see a reaction and I know how to react to that. Through email, you can't do that because you don't see people's faces."
Students who have already attended sessions report positive experiences with the system. Freshman Arietta Xylas expressed, "It is super easy to set up a meeting and I think it's a great way for kids who haven't met with their guidance counselors yet to seize the opportunity and speak to theirs now that they have more time."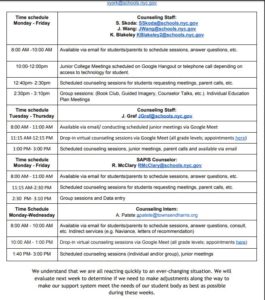 Students can coordinate these sessions by filling out a Google Form attached in an email Ms. York sent out, and by sending emails to their guidance counselors. Drop-in sessions are also available during scheduled times. 
Whether students decide to participate in guidance counseling or not, the guidance staff notes that they are always here to help, and they would love to chat and interact with their students. "We are only a video conference away," said Mr. Wang.
Leave a Comment
Your donation will support the student journalists of The Classic. Your contribution will allow us to purchase equipment, support our extracurricular events, celebrate our staff, print the paper periodically, and cover our annual website hosting costs.