Following the return to in-person school, hallways and staircases face heavy congestion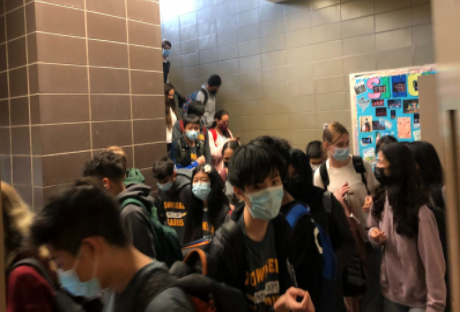 After over a year of remote learning, returning students have faced overpopulated hallways and staircases between class periods despite the CDC's 3-feet social distancing guidelines. While classrooms are organized to maximize space between students in response to COVID-19, hallways and staircases are constantly crowded promptly after the bell rings. 
English teacher Kevin McDonaugh said that the layout of Townsend Harris makes it difficult to execute a distancing plan when passing between classes. Because guidelines only recommend distancing wherever possible, he said, an implementation of social distancing was not feasible given the size of the school.
"Students are always packed like sardines during passing period, [with people] waiting outside to get into the classrooms, as well as everyone pushing past each other to get to their next classes," said freshman Mila Servania. "The school should try to initiate some sort of rule set or increased passing time." 
"[The lack of social distancing is] everywhere. You see it on buses, restaurants, gas stations," said history teacher Blayne Gelbman.
According to the NYS Department of Health Interim Guidance for In-Person Instruction, "where feasible, Responsible Parties should put in place measures to reduce bi-directional foot traffic using tape or signs with arrows in hallways, or spaces throughout the school." 
"We're all just walking towards each other in the same direction. And everyone gets out at the same time," said junior Adeebah Zaman.  
Certain students are concerned that if such measures were to be put into effect, given that students are permitted only three minutes to get to their next class, the logistical difficulties would make them late. 
Nevertheless, Mr. McDonaugh said that THHS has implemented the best possible policies, and students and staff should feel safe enough to move forward. Similarly, Mr. Gelbman agreed that the administration has already accomplished a lot by reopening schools for students and staff during a time period where "every solution will be imperfect."
Photo by Sophia Sookram
Leave a Comment
Your donation will support the student journalists of The Classic. Your contribution will allow us to purchase equipment, support our extracurricular events, celebrate our staff, print the paper periodically, and cover our annual website hosting costs.