Led by the South Asian Student Association (SASA), Harrisites gathered on March 25 to celebrate Holi in the school library patio. A Hindu festival of new beginnings, the celebration is also referred to as the Festival of Colors or the Festival of Spring. 
"Seeing how much of an impact celebrating my South Asian heritage had on me, I wanted to bring a Holi event to Townsend Harris where students of all backgrounds could come together and embrace any newcomings," senior and president of the SASA Asha Suganthan said.
Explaining what celebrating Holi meant for her, Asha said the first time she had celebrated the event was on the Queens College campus as a freshman along with friends. "This was such a nostalgic moment for me because it marked the beginning of my high school journey with the people who are my best friends now," she said. 
Senior Dylan Budhu, secretary of the Bollywood Dance Team, spoke of the many traditions associated with Holi. "On the eve of Holi, some celebrate by lighting a large bonfire and smearing ash on each other to commence the celebration. The fire is symbolic of consuming negativity and leaving behind harsh, winter months depicted with the ash," he said. 
Another tradition is Chowtaal, a "traditional form of singing that is reserved for this period and is accompanied by cymbals and drums," Dylan said. Families and friends also exchange sweets during the festival, an act signifying "the hope that sweetness will permeate within the recipients' life," he said. 
Sophomore Puja Biswas reflected on the personal and emotional attachments Holi holds for her. "This holiday is very important to me as it's one of the holidays that brings me and my whole family together. I remember one time where moms would put red powder all over my face and it stained for days," she said. "During Holi, various foods are cooked and eaten, from my experience, it's always been the same foods cooked. Daal, rice, and other curries." 
One of the most crucial parts of the festival involves colored powder being thrown at others.
"It's by far the most fun," Puja said. "You see everyone around you laughing and having fun and it's truly a beautiful sight."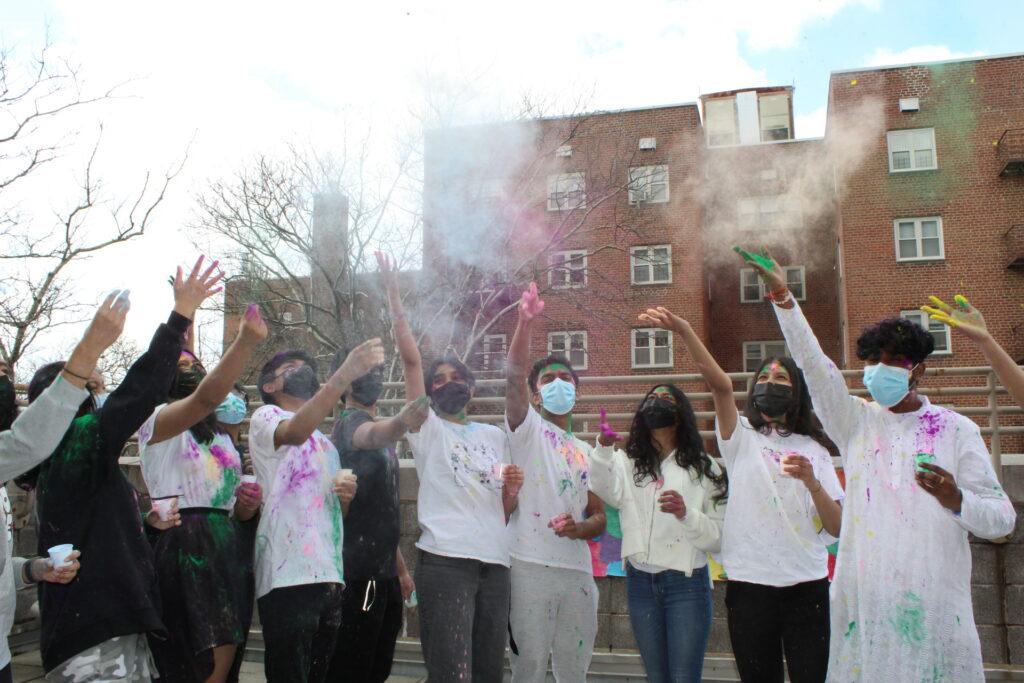 For senior and vice president of SASA Sai Choudari, Holi is "the celebration of life, color and the end of winter. I love seeing all the color and the joy spread during the holiday."
In a similar vein to Puja and Sai, Asha described the act of powder throwing as one of unity. "As soon as everyone received a cup, all the small groups dispersed and everyone was just smearing holi powder at one another, regardless if they even knew each other. By the end of the event, students were covered head-to-toe in holi powder, reaching into the bag for more," she said. "Seeing students live in the moment and celebrate carelessly was the highlight of my day."
Photos courtesy of Sai Choudari