Come lunch time, students have a variety of food options to consider. Those who opt to bring lunch from home may find half-squashed sandwiches and leftover pasta stuffed into their lunch boxes, while others may decide to put in a quick delivery order. There's also those who make the long wait in the lunch line to get the styrofoam/paper trays topped with DOE-proffered hot lunches. To get a sense of their preferences, The Classic spoke to Harrisites about their opinions and experiences with lunch choices at school. 
Freshman Abigail Kronenberg, a fan of the DOE hot lunches, said, "I actually enjoy most of the school lunches. Whenever there's one that I don't like, I just get the peanut butter-jelly sandwich. I don't really get why so many people are against school lunch — it's normal food made for you right here in school. If more people tried it they could see that there's really nothing gross in it." 
On the other hand, freshman Hayden Wong, who eats school lunches twice a week, said, "The quality of school lunches are egregious, but they do have to serve large amounts." 
Senior Maisha Rahman said she doesn't like the school lunches because of the inconsistent food portions. "I used to get hot lunch all the time, but I genuinely do not like it," she said. "There will be days that the people ahead or behind you will get two plates worth of food while I get half or even a quarter or the actual portion. There's a lot of inconsistency in the food portions itself and it doesn't even fill me up."
Junior Jolin Huang expressed her preference for the mozzarella sticks, saying "The only school lunch I eat is mozzarella sticks. If they are serving mozzarella sticks I will go down to the cafeteria and eat it." 
Some students commented that there is a lack of inclusive food options for those with dietary restrictions. Sophomore Hira Malik, who also eats school lunch occasionally, said she "usually eats an apple for lunch," and when asked if she enjoyed the lunches, she commented, "No, there are barely any vegetarian options." 
Maisha also felt dissatisfied with lunch options and said, "They now removed the salad bar which I loved a lot because I would add toppings to my burgers to revive it somehow, but I understand there is COVID. Even before COVID, there used to be boxed salads, but that's gone too." 
Lunches from home are another popular form of lunch for Harrisites. Junior Arietta Xylas said that taking lunch to school does not require a lot of extra spending because you can use the materials you already have at home. "I usually just eat a sandwich and whatever is inside of it varies depending on what I have at home," she said. 
Some students at THHS choose to order food and have it delivered to the second-floor lobby on occasion. Senior Danielle Chiu gets her lunches from UberEats deliveries, school food, and leftovers from home. She usually orders Mexican food from Hot Peppers, Korean food from Bonchon, or Thai food. "I mostly just eat hot lunch [from school] because it's free and I usually stay late after school due to clubs," she said. "The quality isn't the greatest but I just need something to sustain myself throughout the school day and after school activities." She eats school lunch once or twice every week.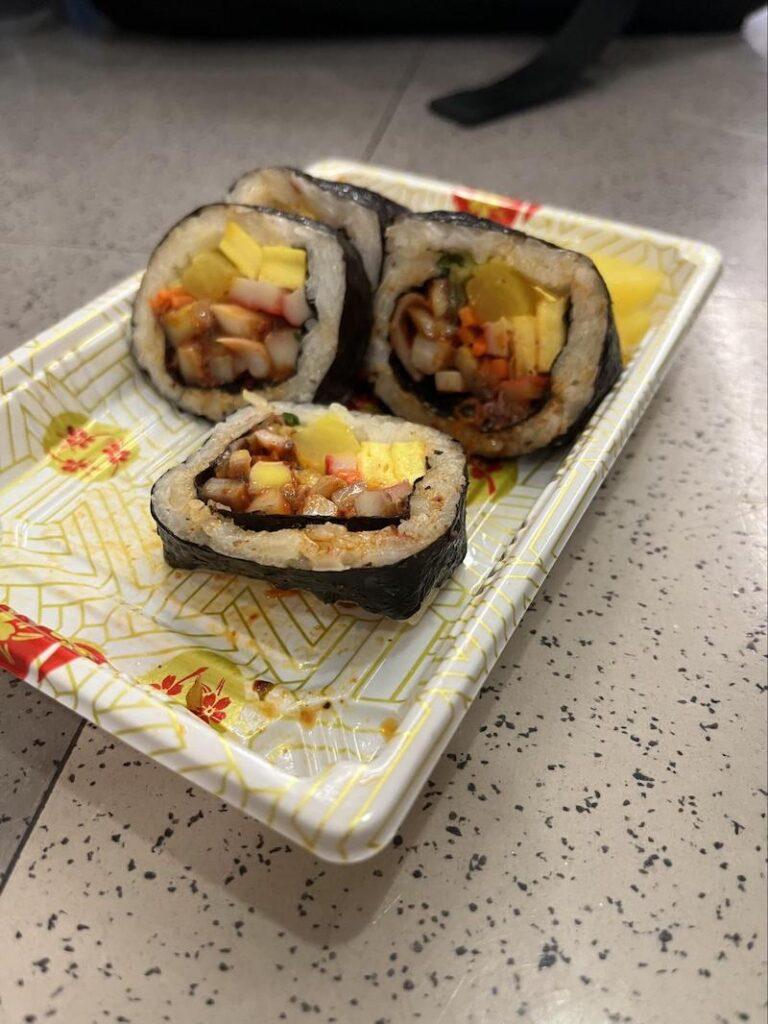 Junior Mace Choo also gets her lunch from numerous places such as DoorDash, Uber Eats, or home. Mace said, "Recently I've been having more salads, but I used to go for more fast foods." 
However, some students said ordering off of delivery apps like DoorDash and UberEats can be pricey. "I limit buying from outside, so I try to make myself food the night before," Maisha said. "I used to eat school lunch and sometimes buy food," she said. "Now I just bring lunch from home and sometimes buy food every two weeks or so." 
Like students, some teachers also grab lunch from deliveries. "When we order we get delivery directly from the restaurant or from Uber Eats," said social studies teacher and senior advisor Jaime Baranoff. "Some weeks I bring [lunch] most days and some weeks I order [lunch] most days."
Photos by Emma Joa, Cate Nguyen, and Mace Choo