OPINION: COVID-19 numbers tend to rise during school breaks, so it is important to take the proper precautions as you enjoy the holidays

As students and staff prepare to travel and gather with loved ones during the Winter Break, COVID-19 continues to circulate worldwide. 
Returning to school after the four-day Thanksgiving weekend, the Townsend Harris High School (THHS) community saw an increase in COVID-19 cases. Data provided to The Classic by Assistant Principal Ellen Fee show that from Thursday, November 24 to Wednesday, November 30, 18 new cases were reported, 13 by students and 5 by employees. In the weeks leading up to Thanksgiving, cases were fewer than five per week. 
The jump in new cases during the Thanksgiving break provides further evidence of what has been seen in the past: holiday breaks, which often result in more opportunities for social gatherings, may increase peoples' risk of transmission and lead to a growth in reported cases. 
Looking at data from last year's holiday season, we observed a steep increase in new cases after students and staff entered Winter Recess. Since the reinstatement of in-person learning, this time period was likely the biggest spike in COVID-19 cases due to the Omicron variant surge. 

An initial impression of the data suggests that close contact resulting from family gatherings during the off week is a probable cause of the observed spike. However, close contact acts only as an aggravating factor. According to experts, the sudden and massive influx of COVID-19 cases, observed both locally and nationally, resulted from the rapid spread of the Omicron variant in late 2021. 
Evidence of surges from Omicron prevents us from extrapolating previous Winter Recess trends to the upcoming ones. Nonetheless, the data shows another increase in people contracting COVID-19 during a break.
While definitive conclusions are difficult to draw, our reports of COVID-19 trends after Thanksgiving 2022 and Winter Recess 2021-22 strongly suggest that the coming holiday break will cause an increase in infections. Though difficult to pin down, the exact number will more closely resemble the smaller numbers seen during Thanksgiving than those seen in the 2021-22 Winter Recess. Unlike Thanksgiving, however, the coming Winter Recess will afford students and faculty more time—10 full days rather than 4—to celebrate, socialize, and travel. According to Johns Hopkins Medicine, cases tend to rise when more people engage in activities requiring close contact. Many of us will not deny that social interaction is the essence of the holiday season, but engaging in close contact activities risks causing another spike in COVID-19. 
Even though COVID-19 has become less of a threat due to vaccination and medical treatments, it is still important to remember that this virus can potentially uproot anyone's life, and that it remains a lethal threat for many in our lives. That being said, we can prevent COVID-19 from spreading by taking protective measures. Yes, you have probably heard them about a million times, but they are essential to make sure that a COVID-19 surge does not occur again, and it bears repeating. 
Wearing a high quality mask remains one of the easiest and most effective ways to protect yourself and your loved ones from COVID-19. This is especially important in crowded areas where COVID-19 and other diseases can spread easily. When wearing a mask, please make sure that it covers your mouth and nose.

Additionally, make sure you are up to date on your COVID-19 vaccines and booster shots. Even if you already got your initial vaccination and booster(s), you can check if you are eligible for another booster shot. COVID-19 vaccines and booster shots are free and are available across the city. For more information on the COVID-19 vaccine, visit Vaccines.gov. Being vaccinated greatly reduces the severity of COVID-19 symptoms, protecting you and your loved ones. 
Our "return to normalcy" seems to be a work in progress. While our next few holiday seasons will likely see COVID-19 try to do its worst, we can always do our best to keep ourselves and those around us safe. 
Special thanks to Ms. Fee for working closely with us throughout the process. Ms. Fee responded to our emails promptly and provided us with the data we needed, offering us guidance along the way.
Leave a Comment
Your donation will support the student journalists of The Classic. Your contribution will allow us to purchase equipment, support our extracurricular events, celebrate our staff, print the paper periodically, and cover our annual website hosting costs.
About the Contributor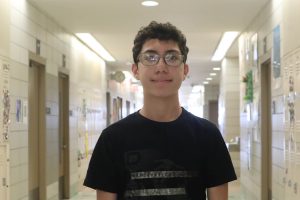 Michael Babayev, Opinion Editor
Michael is a senior at Townsend Harris High School. As an opinion editor for The Classic, he has covered topics ranging from artificial intelligence to...