Teachers before Townsend: Mr. Heitman's career in the airline industry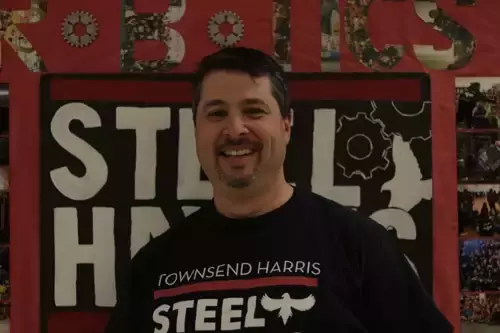 Before working at Townsend Harris, many teachers had different careers. For science teacher Joel Heitman, his job before working at THHS was plane and simple. 
Prior to teaching physics and chemistry, and coaching robotics, Mr. Heitman worked in the airline industry. He held a variety of positions, but his last job in the industry was in "operations," which involved scheduling with air traffic management and ensuring that planes would arrive on time and safely. 
His interest in teaching was piqued once he became ill and had to train new hires. He particularly recalls one of the new hires having a difficult time grasping what he learned in class about the process of working for the airline. In order to prepare for a multitude of tests, the new hire turned to Mr. Heitman for help. "Everyday after class, I would sit with him and work with him and go through the whole material," Mr. Heitman said. Since then, Mr. Heitman found a desire for helping people succeed and decided to pursue an alternate career in teaching. 
"Since I didn't want to do anything easy, I chose science," he said. 
Science Department AP Susan Brustein recalled observing Mr. Heitman as a student teacher at THHS. "I saw how students really gravitated to him as a teacher, and also [he was willing] to get involved in extracurricular activities," said Ms. Brustein. 
The lessons that Mr. Heitman learned while working in the airline industry have carried over to his current career. He explained the significance in hearing everybody's perspectives and being able to come to a consensus with colleagues in the aftermath of 9/11. "There was a big shift in the airline industry after 9/11 and people [would say] 'well that's not how we do it here, we do it a different way.' But really the idea is that everybody has a good voice and being able to understand [and accept] their perspective, and being able to talk through it is more important than just discounting someone's voice," he said. 
Mr. Heitman said he applies this message in the classroom by amplifying that everybody has a good idea that deserves to be heard. 
"I appreciate the time and effort he's put into teaching me how to not only be a better teacher, but a better person overall," said physics teacher Michael Quach.
Ms. Brustein said she values the unique experience Mr. Heitman has. "When teachers are exposed to different perspectives, we all grow. This department is made up of a lot of different people with a lot of different skills, and we learn and grow from each other," she said.
Reflecting on his transition from working for an airline to teaching at THHS, Mr. Heitman joked, "I work a lot more than I ever have for less money."
View Comments (1)
Your donation will support the student journalists of The Classic. Your contribution will allow us to purchase equipment, support our extracurricular events, celebrate our staff, print the paper periodically, and cover our annual website hosting costs.