Boys XC team, second in Queens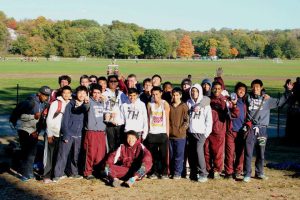 On Saturday, October 26, the Townsend Harris boys cross country team traveled to Van Cortlandt Park to compete in the PSAL Queens Borough Championships. They raced against several runners from public high schools all over Queens.
Before the first race, the boys gathered by the straightaway of the Van Cortlandt course. Because it was cold and windy, many of them kept their jackets on during the warm up.
"I'm just trying to keep warm the best I can," sophomore Matthew McAndrew said, as he shivered in the fifty-three degree weather.
Others were more concerned about their nerves than the cold, including freshmen Vasilis Papa, Benjamin Pulatov, and Patrick Menchaca.
"I'm nervous because I've never run a 3.1 mile [5k] before," said Patrick, "But I'm also excited because I'm going to try my hardest."
The time came for the varsity team to assemble at the starting line. Members of both the girls and boys THHS track teams lined up by the grass to cheer on the boys as they ran around a large field of grass, through a hilly forest, over a wooden bridge, and through another forest composed mostly of steep downhills. Junior captain Yash Sharma was spotted by one of his teammates as he came out of the forest, sporting bright orange shoes. He led the THHS team across the finish line with a time of 18:25, setting a new personal record, and placing fourth. Senior captain Thomas Sullivan and freshman Muhamed Bicic placed in the top ten, both completing the course in just under nineteen minutes. Sophomore Abdoulaye Diallo, senior Kyle Su, and juniors Zach Ooi and Shaunak Kapse all completed the course in under twenty-two minutes. Overall, the varsity team finished second, behind Francis Lewis.
"I did feel apprehensive and anxious," said Muhamed, who was the only freshman in the entire competition running varsity. "However, it also gave me confidence throughout the whole race. As I was sprinting the straightaway, I used every runner in front of me as a target to beat and I knew that I had to fulfill my team's big expectations of me."
Abdoulaye also showed great commitment when he finished strong even while feeling stiff halfway through the race. He said, "After I collapsed due to my ACL injury, a fellow trackie from Construction [HS for Construction] stopped to help me up, then continued running. That's pure sportsmanship."
The junior varsity team took the stage next. They, like the varsity team, finished second, with sophomore Matthew Sullivan leading the THHS team across the finish line. He finished with a time of 20:27, setting a new personal record and placing third. Matthew McAndrew finished fourth with a time of 20:53. Juniors Igor Portnoi and Stanley Harcharan, sophomores Noah Silversmith and Aidan Moran, and senior Jack Yuan also finished in the top fifteen, all completing the course in under twenty-two minutes.
Running at Van Cortlandt was generally more difficult than at Cunningham, and the boys experienced various reactions to their performance at the Queens Borough Championships.
"Van Cortlandt is more painful than Cunningham, and is psychologically oriented," said Aidan. "It was definitely challenging attacking the hills and remaining confident mid-race when my legs didn't want to go anymore."
In addition to the rough terrain, the cold climate served as an obstacle for the runners.
"The weather, especially the wind, made it really a tough challenge, especially along the last straightaway where the wind was pushing us back," Noah said.
The boys will spend the next two weekends at Van Cortlandt Park for City Championships, where they expect to do very well.
"I expect all around personal records," said Yash. "Cities is always a big meet, and everyone's adrenaline is pumping. Not to mention, it's the seniors' last high school XC race at Van Cortlandt Park."
While it seems that the more seasoned runners have higher expectations, the underclassmen are simply happy to see their team try their best and end the season on a positive note, win or no win.
Matthew said, "I expect our team to show up and run to the best of their abilities, and if we win cities, that's great, if not, it'll be a great culmination to the cross country season."
View Comments (1)
Your donation will support the student journalists of The Classic. Your contribution will allow us to purchase equipment, support our extracurricular events, celebrate our staff, print the paper periodically, and cover our annual website hosting costs.