Members of the Student Union brought something new to this year's Spirit Week. In order to honor the Ephebic Oath's commitment to service, students had to raise money for a cause in addition to adorning their floors with unique designs during Monday's hall-decorating festivities.
Junior President Nina Leeds said, "This year Hall Decorating has changed. Not only will each grade be responsible for following a theme in Hall Decorating but the theme is tied into a cause."
Students raised money for various non profit charities. According to COSA advisor Aleeza Widman the causes for each grade were selected by the grade leaders. This year, the freshmen color was red, which represented the Red Cross, the sophomore color was purple which represented pancreatic cancer awareness, the junior color was white which represented the Herbert Irving Pavillion Cancer Center, and the seniors color was blue which represented the We Create Change campaign.
On October 21, students from each grade stayed after school to help design their floor by using the colors chosen by the grade leaders. The students were only allowed to use their specified colors and were penalized if other colors were used.
The first place winner of hall decorating will get 1000 points, while the second place gets 800 points, the third place gets 500 points and fourth place gets 200 points. However, Hall decorating was just the beginning of the competition. Each following day, Senators counted the number of students in their history class that were participating in the specific spirit day. A point was given for each student who was participating. There was also large jug containers set up for donations. The money was not counted as actual money but as points. A penny was worth 1 point, a nickel was worth 5 points , a dime was worth ten points, a quarter was worth 25 points and a dollar coin was worth 100 points. Negative points were given out if bills were placed into the containers. According to Ms. Widman, the point values were created to increase the amount of money raised for the individual charities. The grade with the most points at the end of the week becomes the victor.
According to Junior Karen Su, a member of Townsend Harris's executive board, Spirit Week has changed from last year for the better.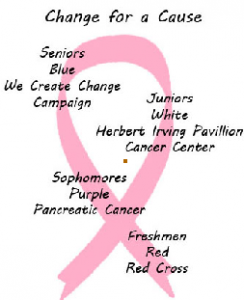 Nina added, "It's a great way to get something more beneficial out of hall decorating, and we're leaving our city greater than we found it."
Students were prepared for the new addition to Spirit Week.
Sophomore Kellie Zestanakis said, "I think it's smart to incorporate causes because it raises awareness, but just because we decorate the halls differently doesn't make the difference. There needs to be a focus on raising funds for the particular causes as well."
Spirit Week has always been a favorite at Townsend Harris.
Each day gives students and teachers the opportunity to show off their creativity and their school spirit. With activities such as the pep rally, hall decorating, pajama day, and Founder's Day, students are able take a break from their grueling work to appreciate the school and all that it does for them.