Big Fish is quite the catch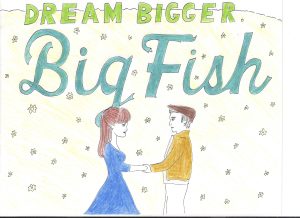 In this new age of media and entertainment, when's the last time you sat down and heard a fantastic story from someone?  Just an old-fashioned, sit down where you suspended your disbelief and listened to storyteller share his tale.
It's probably been a while, right?
Well, a trip to Big Fish, currently playing at the Neil Simon Theatre, is as good as any chicken soup or traditional fairytale for the soul.
Big Fish, based upon both the 1998 novel by Daniel Wallace and the 2003 Tim Burton movie of the same name, follows young Will Bloom (Tony Award-nominee Bobby Steggert) in his journey to piece together the truths of his dying father Edward's past from all his fantastical tales over the years and to reconcile their strained relationship.  From working at a circus in efforts to winning the love of his life to meeting mermaids and giants, Edward Bloom (Tony Award winner Norbert Leo Butz) has supposedly seen it all, and he quite enjoys recounting his adventures to anyone who would listen.  However, facing his own mortality, Edward struggles in realization that he cannot rectify his, in all honesty, neglectful parenting to Will, and that his personal myths cannot help him face all aspects of the journey we call life.
One has to admit that the Blooms would fall under the category of dysfunctional families, and such a heavy story doesn't necessarily provide for an enjoyable time.  Somehow, Big Fish is a heartwarming tale of self discovery and human capacity to change.  If I were to describe this production in one sentence, I would say that the show is the quintessential American musical.  Catchy tunes and lyrics lauding qualities such as "being the hero of one's own story."  A well-written but somewhat cheesy book flowed relatively smoothly between each one of Edward Bloom's stories, as he progresses through his life, and places emphasis on the big, showy dance numbers featuring a large ensemble and even flying fish.
Visually, the production is an absolute feast for the eyes.  The lighting, projection and set designs transform a simple stage comprised of various wooden thatch-like pieces from a desolate cave to a welcoming house to literal field of vibrant yellow daffodils (a hallmark  scene) as quickly as Edward's tales progress.  The innovative costumes add an extra dimension to the extraordinary characters- a giant, a mermaid, a dancing campfire, among others.
What truly made the production outstanding was the stellar cast.  Butz's brilliant stage presence captivates and carries the audience along with the character in his journey as he seamlessly transitioned between the younger and older versions of Edward.  Led by Broadway veterans Bobby Steggert and Kate Baldwin (Sandra Bloom), the talented ensemble cast covers upwards of ten roles each to bring to life all of Edward Bloom's mythical stories and provide them with depth that helps propel his choices and decisions.
Big Fish is a family-friendly, adventurous and heart-warming production that  is not to be missed this holiday season.
Big Fish is currently playing at the Neil Simon Theatre (250 W. 52nd Street) through December 29th only.  Visit BigFishtheMusical.com for tickets and more information!
Think theatre is out of your budget?  Big Fish currently offers student rush tickets for day-of performances at only $27!  Tickets only available in person at the box office on the morning of the performance with student ID.
Leave a Comment
Your donation will support the student journalists of The Classic. Your contribution will allow us to purchase equipment, support our extracurricular events, celebrate our staff, print the paper periodically, and cover our annual website hosting costs.