"Oh my gosh, I am so going to tweet that!"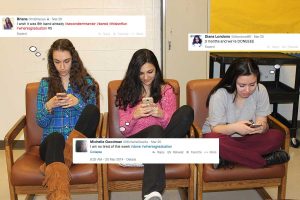 This phrase is becoming commonplace in the THHS vernacular as more students get active on the social media platform Twitter.
Public relations manager of the SU board, junior Yash Sharma, is not new to the social media game.
"I find that social media is a quick and simple way to spread the word out on school events and news. Almost everybody in school is on some type of network, and everybody is friends with somebody who is on these networks," Yash explains.
THHS students are not strangers to Wafels & Dinges, a business that has built itself up via social media. They are constantly tweeting about locations and ways to get free dinges. Wafels & Dinges (@waffletruck) has 35.3K followers and relies heavily on Twitter to create revenue for their carts and cafes throughout the city.
Besides promotional purposes, the students of THHS use the network for personal thoughts as well. Twitter is beginning to trump Facebook as students' go-to social media outlet.
Senior Jamie Pfeiffer (@xoliljamieox321) says, "I use Twitter so much more than Facebook because it's easier to make silly posts and all of my friends frequently use Twitter now to update everyone about their lives, so Twitter is how I keep up with the world."
However, Twitter can become distracting, with social updates that some choose to stop using it all together.
Freshman Mehrose Ahmad says, "I was a frequent Twitter user, but I deactivated it because it was too distracting. I also only used Twitter to stalk my favorite celebrities."
Twitter has established itself as a unique and more accepting microblogging network. Users feel more comfortable posting to Twitter than to other social media sites.
Sophomore Angelina Liu (@a_liunatic) remarks,  "I basically just rant or post frivolous silly things that I feel would bother people if I posted it on anything else. I think Twitter has already become a typical social media outlet, but it's a little different in the sense that people post whatever is on their mind."
Senior Karan Chachlani (@karanc96) explains his thoughts on the flexibility of Twitter, saying, "I think it allows more freedom to post whatever you want. I tweet a lot during the day, and it's much better than updating your Facebook status like 10 times a day."
Senior Briana Draguca (@ImBrianaa) began using Twitter in seventh grade with a few friends, but now many of her friends at THHS use the site. Briana notes that Twitter "took a while to erupt in its popularity, but I think it's because Facebook had so much more to offer than Twitter. Now Twitter's simplicity is becoming more appealing."
"Some people are starting to use Facebook like Twitter with their multiple status updates, and that's what annoys me about Facebook lately," junior Sarah Elhachimi adds.
The Classic (@cravetheclave) has also started using Twitter to share news with the student body and other Twitter users who choose to follow.
Users have the ability to tweet whatever their hearts desire, but there is a 140-character limit placed on each tweet. While some believe the restriction is necessary, others want to be able to get their idea across using more than 140 characters.
Sophomore Emmaly Guitierrez (@0hemgee) feels that "the character limit is horrible. Everytime I try to tweet something long, I pass my character limit and then just decide not to post the tweet because I'm too lazy to make my post shorter."
But just like any other website on the internet, there is never guaranteed staying power. Myspace came and went, and Facebook is starting to lose its user base, so it is hard to predict what will happen to Twitter. THHS users feel that Twitter isn't just a fad and that it will be around for a while.
Senior Caitlin Ortiz (@caitortizz) says, "I'm sure it could last because a lot of celebrities use it. If people want to follow them and see what they're up to, they can."