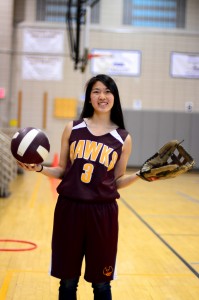 MANY STUDENT athletes find the combination of work and play difficult to maintain. Juggling a sport and schoolwork can prove to be challenging, but some do find a balance between the two, albeit most are usually forced to sacrifice success in one for the other. Senior Debra Chan is not among these people. Debra, who plays for the Hawks year-round, was named the Ford Lincoln of Queens/NY1 Scholar Athlete of the Week on April 17 for demonstrating both outstanding scholastic and athletic achievement.
This scholarship and honorable mention is awarded to students in the New York City area who have excelled in both their academics and respective sport(s). Winners are granted a small monetary reward and spotlight on a NY1 weekly highlight.
From hitting and pitching to shooting and scoring, Debra has written herself a considerable legacy in the record books and in Hawk history. She was a member of the girls varsity volleyball team, captained the girls varsity basketball team, and is currently a captain of the girls varsity softball team. She's been a starter for the girls varsity basketball team for all four years, and has scored over 1,000 career points, a feat rarely met at the high school level.
Outside of school, she's involved in her church's youth group and has participated in Relay For Life, a charity organization dedicated towards raising money for cancer research.
Physical Education teacher and coach of the girls basketball team Lauren Caiaccia nominated Debra for the award. "She's a well rounded student athlete, she's had great academic success, and she excels at multiple sports. With the way she's played over the last four years, I thought she would be a good candidate to win the award," she explained.
Despite receiving such support and confidence from her coach, the award still came as a bit of a surprise to Debra. "I thought that I had a pretty good chance because I looked at the past winners, but I didn't expect it," she says.
Harris athletes aren't unfamiliar with receiving this distinction. Debra is one of few Harrisites who have won this honor in recent years. Last year, former track and cross country captain and current University of Pennsylvania student Stephanie Loo won the award. In years prior, former track captains Ellie Wu and Jennifer Gersten won as well.
Although she is graduating, Debra plans to pursue competitive athletics after high school. "I will be attending Macaulay Honors at City College of New York and will continue to play basketball at the collegiate level," she concluded.