How to have a Staycation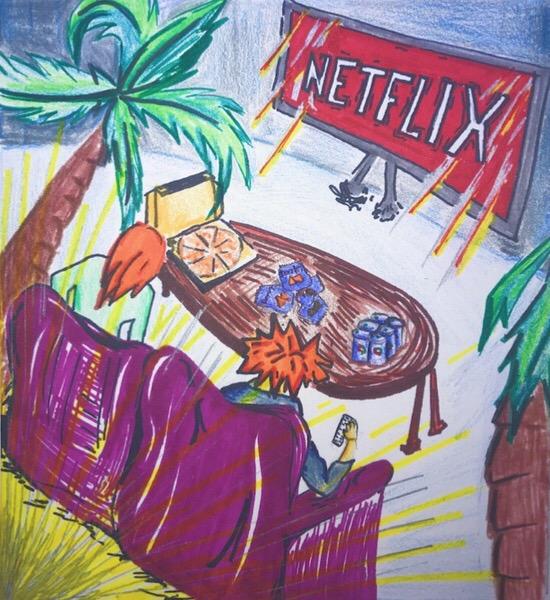 By Yadira Gonzalez and Kelsey Zhen, Staff Writers
Staying home for spring break? Without any plans, we know how tempting it is to live on the couch for the next few days. To help you get off the coach, here are a few ideas on how to make the most out of your Staycation:
1 – Get a new hobby. Pick up an interest that you haven't had the time to try or that you aren't the best at and make it your goal to improve by the end of the break. For instance, baking isn't easy for everyone. With a week at home, find any recipe online for chocolate chip cookies or banana bread and just start baking! Hobbies aren't limited to your kitchen, however. Youtube tutorials offer an infinite number of possibilities to learn anything by the end of spring break. Sit down, take out a blank sheet of paper, sharpen your pencil, and just draw. Dance. Sing a song.
2 – Redecorate and Renovate. We've all seen those bedrooms with fairy lights and polaroids lined up on the wall that have made us sigh at the sight of our rooms. Well, what better way to spend spring break than remodeling your bedroom. First, do some spring cleaning and clear up any clothes lying around and random items that have been collecting dust all year. Find models of aesthetic bedrooms through Tumblr, Instagram, or Pinterest to spark some ideas about how you want your room to look. Then, all that's left to do is to get off your phone and get to work.
3 – Sleepover without the sleep. To make sure you have a night full of laughter until the sun rises, we've thought of ideas for everyone to enjoy. Best done when the rest of the house isn't asleep yet, in-house karaoke is a great way to start the night. Simply find karaoke versions of any song you like on Youtube, crank up the speakers, and sing. For those preferring a peaceful night, switch up the music to a piano soundtrack and pull out the sheet masks for a DIY in-house spa. For our nature-lovers, it's time to pull out the tents and camping bags because camping in the backyard is on our mind.
4 – Binge watch a series. We know we don't need to elaborate, but if you are stuck with what to watch, here are suggestions of what's trending on Netflix, Hulu, and other streaming platforms.
Season 2 of

On My Block

just released, continuing the story of street-savvy teens trying to navigate their way through high school.  

C

hilling Adventures of Sabrina

follows the story of a girl who is half-girl half-witch, like the '90s show

Sabrina the Teenage Witch,

but in a much darker manner.  
The Handmaid's Tale.

Based off the book written by Margaret Atwood, this show depicts a totalitarian society that treats women as property and sentences them to sexual servitude. The show progresses as the protagonist Offred tries to navigate through this world.
Sex Education

follows the story of Otis, a socially awkward high school student who seeks help in the love department. This British comedy will release its second season near the end of the year.
Your binge marathon doesn't have to stop on the screen though. Several binge-worthy shows use real locations in NYC. These shows include Friends, Seinfeld, and Gossip Girl. In Friends, Monica's apartment is located on the corner of Grove and Bedford in Manhattan. Seinfeld's Monk's Cafe uses Tom's Restaurant on Broadway as their set appearance. Start making plans to explore these places after your binge marathon so you won't go into your normal show hole this spring break.
5 – Ever heard of a book? After being forced to read The Odyssey and Macbeth, reading a book by choice may seem crazy. However, if you pick a genre that interests you, find a cozy spot in your house, and crack that book open, it could feel like 5th grade again when you read for pleasure. Whether it's a thriller, sci-fi, or romance novel, there is something out there for you. You can get ebooks, go to your local bookstore, or try stepping foot in a library.
Artwork Courtesy of Sabrina Khaleque
Leave a Comment
Your donation will support the student journalists of The Classic. Your contribution will allow us to purchase equipment, support our extracurricular events, celebrate our staff, print the paper periodically, and cover our annual website hosting costs.